Homemade hits a new high: Monique Evans' entertaining style is upper crust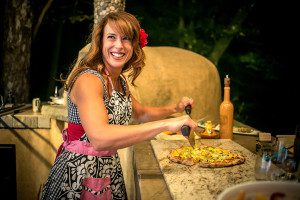 There are trained chefs out there who don't put as much time and effort into their cooking as does Monique Evans, a passionate home entertainer who opens her home to friends at least twice a month. No dish is too daunting for Evans—she makes her own honey bourbon, cures her own bacon and pulls her own fresh mozzarella cheese. Some parties are elaborate multi-course meals, while other gatherings bring together a carefully composed group of guests for gourmet wood-fired pizza.
About three years ago, Evans and her husband Brent installed a wood-fired pizza oven and surrounded it with a patio in their White Oak Landing backyard for al fresco entertaining. They have since mastered a rare breed of Italian pie. Forget rudimentary ingredients like shredded supermarket cheese and pepperoni. From the pizza dough to the toppings, everything is made from scratch with recipes that the Evanses have tested and perfected.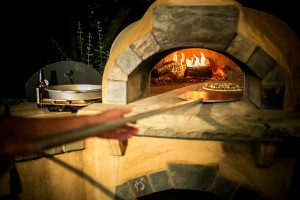 "Making something from scratch isn't always that labor intensive," says Evans. "Many times it's just as easy as a premade mix. And it's better quality than what's in the store, because I can control the integrity of ingredients that go into an item and I can purchase those ingredients locally. That's important to me as well. If I can buy it at the farmers market or from a local vendor, I do."
At Evans' events, guests arrive and are treated to a seasonal cocktail. Fall might bring a dinner drink made with homemade tamarind purée mixed with bourbon and fresh ginger. In the spring, Evans creates fruit and rum combinations and makes her own mixers. After cocktails, guests move outdoors to watch pizza after pizza slide into a 1200-degree oven whose fire was lighted much earlier.
"The oven does require some lead time. The amount depends on the dryness of the wood," says Evans. "New, green wood will take a day of burning and stoking the fire to get the oven up to temperature for cooking the next evening. If the wood is seasoned and dry, then it only takes two to three hours to heat the oven and get the fire steady with coals and little, if any, open flame."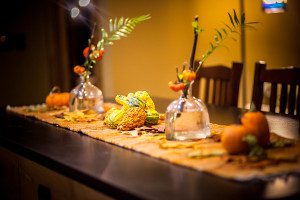 It may be pizza al fresco, but it won't be served on paper plates. In fact, Evans doesn't use paper products of any kind when she's entertaining.
"It comes from my desire to not waste anything and also because when I entertain someone in my home, I want to serve them in a way that's befitting a guest," she says. "I want everything to be perfect and wonderful. I want them to see my brand of hospitality."
Evans keeps detailed notes on pizza flavor combinations—the more unusual the better, she says. Her "fiery florets" pizza features roasted broccoli, chili flake oil, preserved lemon and Manchego cheese. She also likes a pie with fresh corn, chili oil, fresh tomato sauce and fresh leeks, inspired by a well-known pizzeria in Providence, Rhode Island. The pizzas are confected one at a time, and their order is chosen based on ingredients. Later in the evening, the couple might break out a pizza with sweeter components, like a pie made with Monique's homemade bacon jam, fresh pears, local goat cheese and fresh arugula.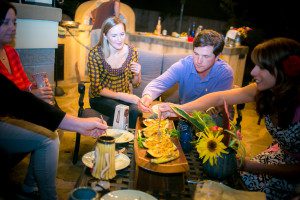 The pacing of the evening is all about savoring, not gorging, Evans says. At the end of the night, the conversation naturally turns to which pizza was everybody's favorite. The couple also might make a "dump" pizza with whatever ingredients remain, as long as those ingredients will complement one another.
After an evening of carbohydrates, Evans serves a dessert that doesn't feel too bready. She might make s'mores with graham crackers, marshmallows and Brent's handmade chocolate. She's also known for making homemade vanilla ice cream with three different types of vanilla for homey root beer floats.
"When someone is welcomed into my home I want them to feel comfortable and special," says Evans. "Hospitality is of the utmost importance. Part of that includes showing my guest that they are important and worth the effort."
---
Menu: Impossibly homemade and detailed
Bar: Craft cocktails with fresh mixers
Seating Strategy: The guest list of eight is painstakingly chosen. No place cards needed.  
---
Menu: It's Finally Fall, Y'all Pizza Party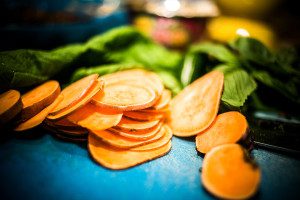 Appetizers
24-hour sous vide and wood oven roasted pork belly bites
Roasted fennel with truffled honey sprinkles and Belle Ècorce Farms Trés Belle Chèvre
Roasted eggplant stuffed with sous vide garlic
Pizza
•Sweet potato and rouille
•Corn and leek
•Wild mushrooms and fontina
•Fiery florets
•Classic Margherita w/homemade mozzarella
•Southwest
•Pig & fig
Dessert
S'mores with homemade marshmallows and Brent's bean-to-bar chocolate
---
1 oz. Westerhall Plantation rum
 1⁄2 oz. Hamilton Demerara rum (no substitute)
3⁄4 oz. Giffard Ginger of the Indies
1 oz. high-quality pineapple juice
 1⁄2 oz. fresh orange juice
 1⁄4 oz. homemade sour mix
 1⁄2 oz. tamarind purée
 1⁄4 oz. agave syrup
Fill a tiki mug with crushed ice. Mix all ingredients vigorously over ice in shaker until shaker is icy. Strain drink into tiki mug. Place several dashes Angostura bitters on top of drink. Garnish with pineapple triangle and orange half-moon on bamboo pick.
---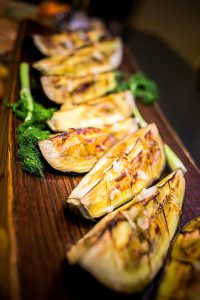 Roasted Fennel
Fresh fennel, trimmed, sliced in half and cored, saving fronds for garnish
Olive oil
Truffle oil
Metro Honey Truffleupagus granulated honey with truffles
Oil a grill pan, and coat fennel with olive oil. Roast until caramelized and cooked through, turning bulbs often as they cook. Place cooked bulbs on serving platter and drizzle lightly with truffle oil. Sprinkle with granulated honey and bits of goat cheese. Garnish platter with reserved fennel fronds.
---
Fiery Florets Pizza
Homemade or store-bought pizza dough
Homemade marinara from fresh tomatoes*
Par-cooked broccoli
Homemade preserved lemon*
Chili flakes
Sous vide garlic*
Olive oil drizzle (to finish once out of the oven)
*All available at Red Stick Farmers Market
If baking in indoor oven, place pizza stone on lowest oven rack and preheat to 500 degrees. Gently spread marinara on dough, being careful not to tear dough. Place broccoli evenly across pizza and sprinkle with preserved lemon, chili flakes and garlic. Crumble cheese over pie.
Slide pizza onto stone in oven. Bake until edges are browning, bottom is crisp and broccoli develops a char. Remove from oven and finish with drizzle of oil.