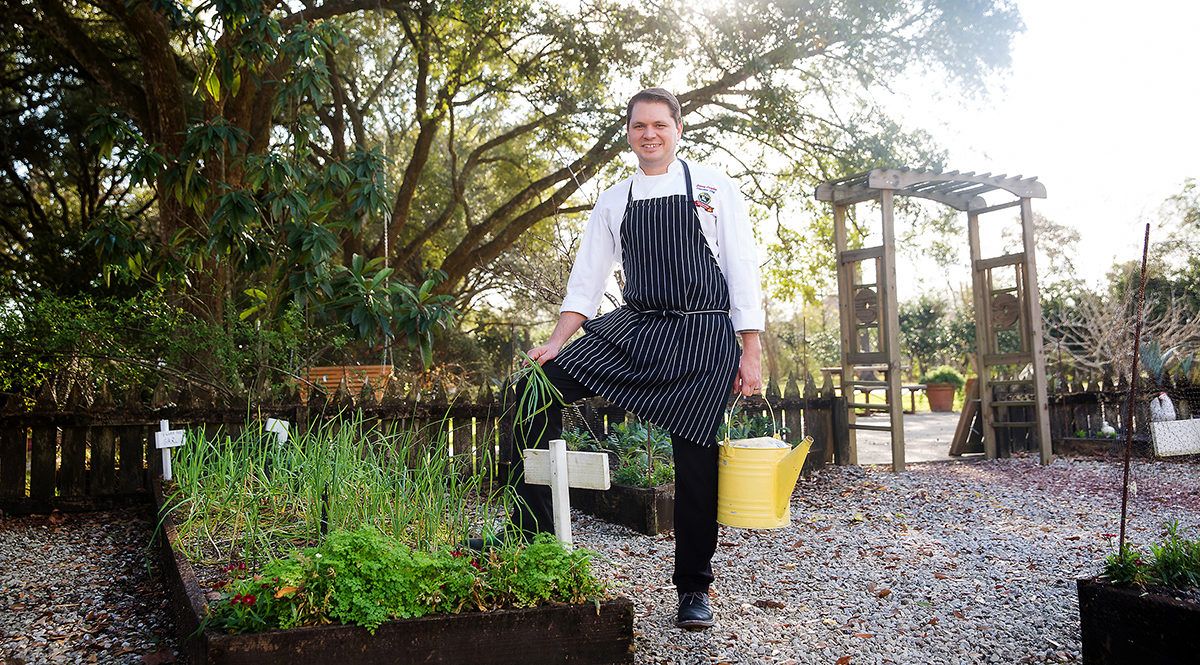 Homegrown: Chef Jeremy Langlois returns to White Oak Plantation and its new boutique farm
In 1996, a 16-year-old newly hired dishwasher at Chef John Folse's White Oak Plantation caught the culinary fever. The frenetic energy of producing great food on the line seemed infinitely appealing to the local teenager, who was instantly enamored by sharp knives and new aromas.
Fast forward to 2017 and that former dishwasher —Jeremy Langlois—is now considered a successful chef in his own right. And now, after years of wowing diners with his modern interpretation of Louisiana cuisine, Langlois has returned to White Oak to work once again with Folse.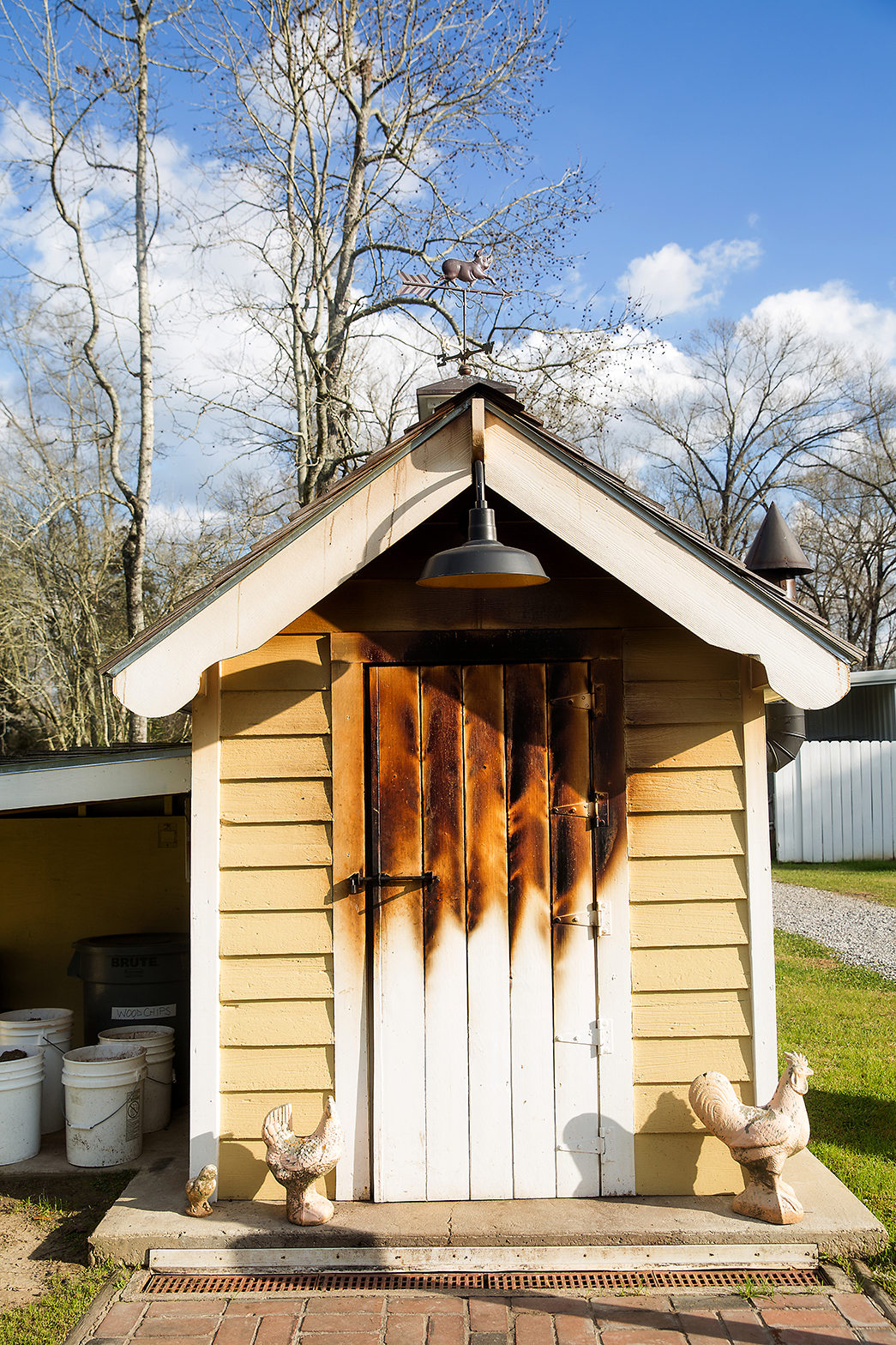 Langlois says what drew him back was the opportunity to help shape White Oak's new mission. While it remains a wedding and event venue, Folse has slowly been transforming the site into a boutique farm whose livestock, fresh produce and artisan foods support Folse's other culinary projects, including his Restaurant R'evolution in New Orleans and a growing number of public culinary events at White Oak.
"It's just an incredible opportunity to work with John again," says Langlois. "What he's being doing at White Oak is amazing. It's such a great place to be right now for a chef, and I feel like everything I've done in my career up to this point has prepared me for it."
When they first met, Folse spotted Langlois' potential, moving him to the line and later hiring him to work in the kitchen of his Sunshine Bridge restaurant, Lafitte's Landing. After Lafitte's burned, Langlois was given a scholarship to the Chef John Folse Culinary Arts Institute at Nicholls State University. He graduated in 2001 and Folse hired him as executive chef of Bittersweet Plantation Restaurant in downtown Donaldsonville.
It was the official launch of a culinary career that confirmed Langlois' talent and eventually led to his decade-long post as the executive chef of Latil's Landing at Houmas House Plantation in Darrow. While there, he earned accolades in Esquire magazine and competed on the Food Network show Chopped. Most recently, he served as corporate executive chef at Ruffino's Restaurant. Langlois says he was toying with the idea of opening his own restaurant when he ran into Folse and learned about White Oak's quiet expansion from events hall to heritage farm.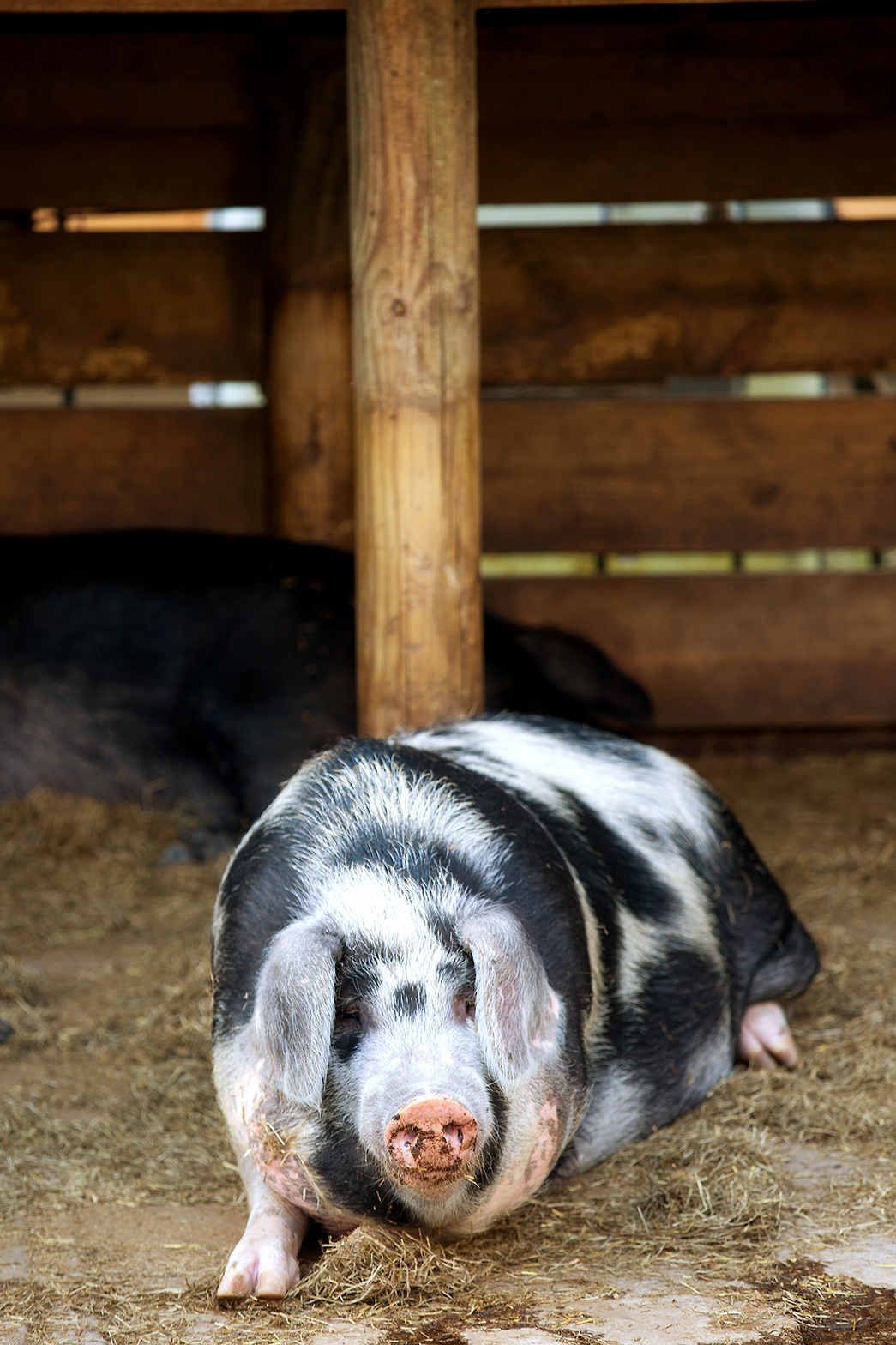 "The timing was really perfect," says Langlois. "And what John wants to do is right in my wheelhouse. I've spent most of my career working in this kind of setting and creating 'country fine dining.'"
Folse agrees.
"It's great to have Jeremy back," he says. "It was important for us to find somebody who understands the vision of what we're trying to do."
That vision is well underway. White Oak might be best known as an outdoor wedding venue on the eastern edge of town, but its grounds reveal Folse's passion for Louisiana's food history. Inspired by culinary retreat farms like Stone Barns Center for Food and Agriculture in upstate New York, the Herbfarm in Washington state, and Blackberry Farm in the foothills of the Smoky Mountains, Folse is in the process of creating a gastronomic ecosystem that now includes a kitchen garden, gristmill, apiary, fruit orchard and smokehouse. The White Oak team has also been raising heritage pigs, chickens, turkeys and rabbits.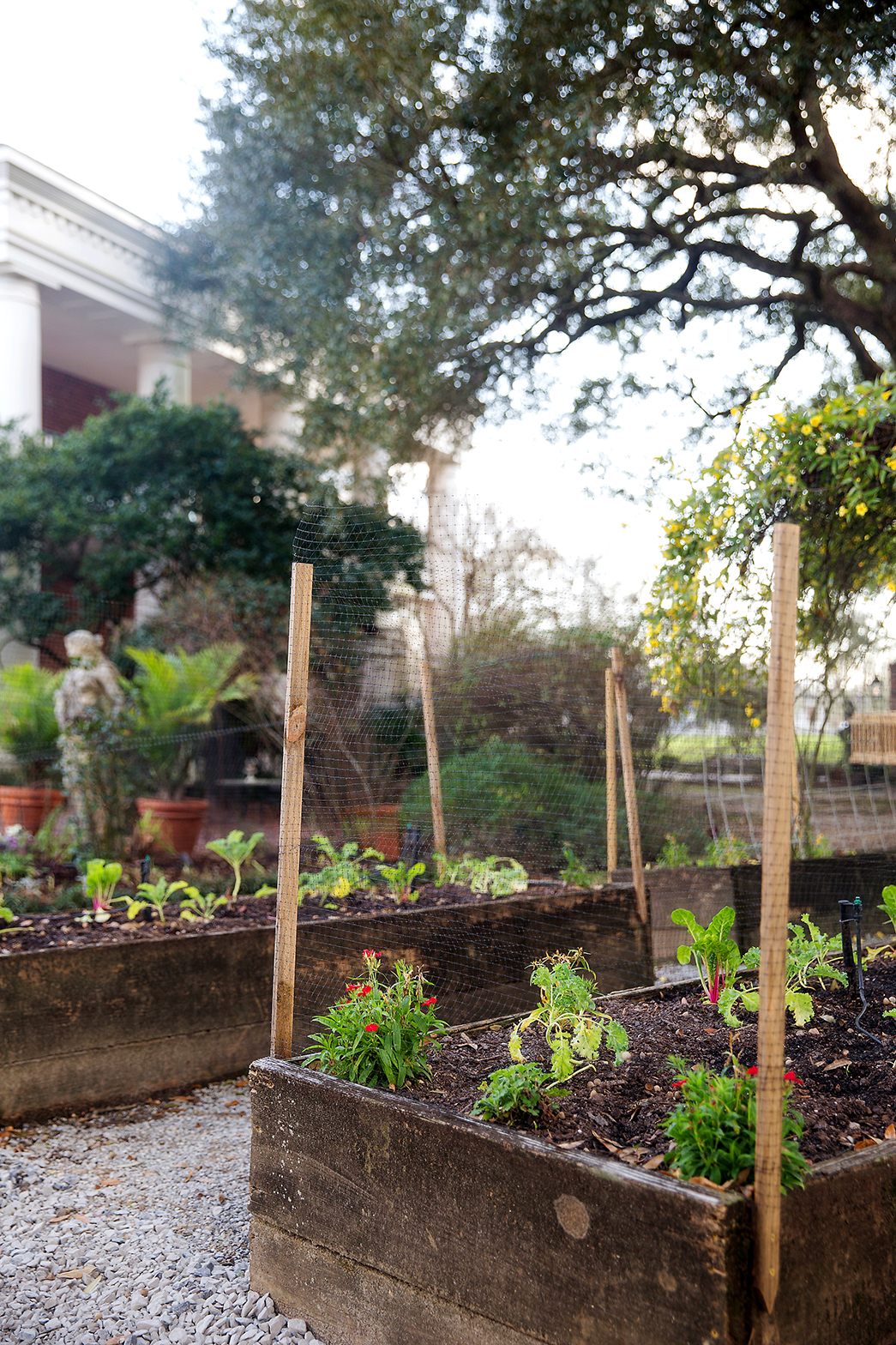 Moreover, Folse's sweeping vision for the site also includes plans to create seven themed gardens representing the cultures that principally shaped Louisiana's culinary identity: Native American, African, French, Spanish, German, Italian and English. He and Langlois are also talking about adding a whisky still to produce small-batch spirits to be served at artisan dinners.
On a recent spring afternoon, Langlois surveyed the raised garden boxes that lie behind White Oak's large patio and outdoor hearth. He and horticulture manager Burt Tragesser are in the process of deciding what herbs and vegetables to plant for spring and early summer menus. A short walk away, there is a 1922 gristmill as well as its modern companion, an efficient contraption capable of transforming corn into 4,000 pounds of grits in an hour.
A stone's throw from here is the henhouse where Buff Orpington, Black Australorp and Buckeye breeds of chicken coo and trill. Some peck at seeds in the dirt, while others roost inside.
"I never have to order eggs," Langlois says, pausing at the coop. "We come out here every day and bring in a flat. There's nothing like fresh eggs."
Meanwhile, the aroma of smoked andouille wafts by. It's coming from the smokehouse. Langlois and his team grind fresh pork and prepare sausage links inside, smoking it here in the onsite smokehouse over pecan wood. And yes, the source for the sausage—and the star ingredient of White Oak annual chefs' boucherie— lies a short walk away in the hog pen.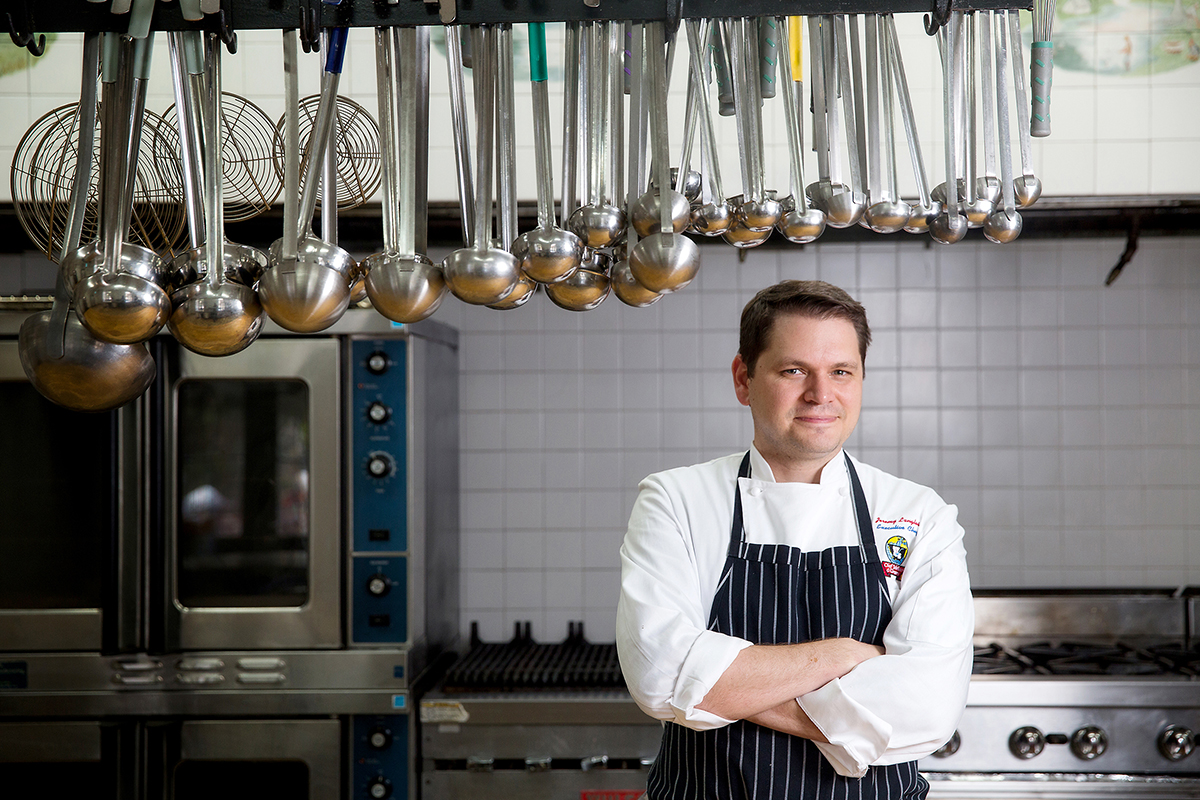 Heritage hogs, including the breeds Ossabaw Island, Iron Age and Berkshire, lie sleeping in the shade. One particularly large one hops up and eases his front hooves into the trough of water to cool off and drink. Each year, chefs from around the country arrive at White Oak to participate in an outdoor boucherie, a modern hog cookoff that both honors and reinvents the old Louisiana tradition.
Farm-to-table is a term much bandied about these days, but Langlois believes he's stepped into an enviable opportunity for a chef. Inspiration changes by the season, and ingredients are just outside the kitchen door.
"I'm really excited about what we're going to be doing," he says. "I think people are going to be blown away."