After a long baseball career, David Dellucci has come back—and given back—to the community he holds dear
David Dellucci could name-drop if he were that sort of guy. The former Major League Baseball outfielder and Catholic High School graduate was a teammate of Curt Schilling on the 2001 Arizona Diamondbacks team that won it all against the New York Yankees in a seven-game World Series. Dellucci led the National League in triples in his 1998 rookie season with Arizona. If you asked him about it, he could tell you what it feels like to whack a ball long enough to hit the Green Monster at Fenway Park in Boston.
Beyond the baseball field, Dellucci's life has been equally noteworthy. He is married to Rachel Reynolds, a Mandeville-raised fitness model and The Price is Right model whose striking beauty and easygoing demeanor are matched by athleticism: She ran the 800-meter and 4×400-meter-relay at LSU before moving to Los Angeles after college. Comedian and friend Drew Carey, host of The Price is Right, announced the couple's engagement during a May 2009 episode. The couple revealed they were expecting their first child on a later episode. Ruby Rey Dellucci was born in Baton Rouge in early 2013.
But David Dellucci is not a name-dropping sort of guy. Case in point: When he coached a youth baseball team in Ascension Parish a couple of years ago, he never mentioned his past as a big-league outfielder when arguing a call with local umpires. The 13-year-olds on his recreational league roster knew who he was, but the umps didn't have a clue. Dellucci preferred it that way.
"I'd say, Go ahead, tell them who you are,' " Reynolds joked on a recent morning at the couple's Shenandoah-area home. "But he always said, No way.'"
That unassuming attitude helps to explain why Dellucci's life after baseball is a far cry from the bright lights of his former career. With his family now rerooted in Baton Rouge, he dedicates himself to a variety of charitable pursuits, from free youth clinics to hurricane assistance. For him, it's all about helping the community that he loves.
"There is a glue that holds people together here," Dellucci says. "Our greatest asset is our community bond. That's absolutely something distinct in this town."
The couple could live anywhere, but they say there was never a discussion over where they wanted to put down roots. They wanted to be near family and longtime friends, so they chose Baton Rouge over the West Coast. Reynolds flies to Los Angeles every few weeks to tape multiple episodes of The Price is Right and keeps an apartment there, but she makes clear that her main focus is caring for Ruby and being home in Baton Rouge.
Like Dellucci, Reynolds is proud to share her Louisiana roots.
"People's faces light up when you say you are from Louisiana," says Reynolds. "I consider it the highest compliment when I tell people where I'm from and they say, Oh, that explains why are you are so down-to-earth.'"
Dellucci's on-the-field competiveness is matched by an off-the-field reserve, regular-guy sensibility and fierce devotion to family, according to friends. Before and since his nearly 20-year MLB career, he has enjoyed the same things: his family, his community and hunting. In some ways, he never really left town after graduating from Catholic High; he returned to Baton Rouge in the off-season every year during his pro career and spent much of his time at a hunting camp.
"You would never know he was a Major League Baseball player," says John Paul Tranchina, who met Dellucci in elementary school at St. Thomas More. "He has always stayed close to his roots."
Those roots trace back to the baseball fields at St. Louis King of France Catholic Church. That's where Dellucci's grandfather, Carlo Polito, ran the church league, maintained the fields, and taught his grandson the game that would become the center of his life. Dellucci held on to the lessons, which started at age 4: "I have the same swing of the bat as when my grandfather taught it to me," he says.
His childhood baseball heroes were Pete Rose and Lenny Dykstra, whose no-holds-barred approach Dellucci tried to mimic. He slid headfirst into bases, raced across the outfield after balls that seemed uncatchable. At about 5 feet 10 inches, he wasn't the biggest guy on the field, but he played like he had something to prove, which he did: that he could outplay every other guy out there.
Dellucci's standout athletic skills and work ethic were apparent from his earliest days on Babe Ruth and American Legion teams. Starting at 12 or 13, Tranchina and Dellucci played countless hours of baseball and football together. Dellucci would supplement those workouts by hitting the baseball off a tee in the backyard of his Sherwood Forest home. "He would do that by himself for hours," Tranchina says.
Kevin Ainsworth played ball with Dellucci from age 11 to 18, and then against him when Ainsworth was on the LSU Tigers' roster under former coach Skip Bertman, while Dellucci wore a University of Mississippi jersey. "He played with an attitude," Ainsworth says of his friend.
Ainsworth recalls Bertman telling the team that he would trade "a boatload of us for one of David."
"It would have been a good trade," Ainsworth says. "By college, it was clear David had moved beyond the rest of us to another level of playing ball."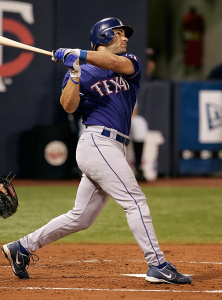 Dellucci was drafted by the Baltimore Orioles in 1995 and called up to the team's Major League roster in 1997. Over the years, he also played for the Texas Rangers, Philadelphia Phillies and Cleveland Indians. Since retiring from baseball, he has shared his expertise by providing baseball commentary for ESPN3 and the local Jordy Hultberg Show.
Dellucci says he sometimes misses the competition and the travel of professional baseball, but he has embraced the opportunity to put his experience to work in Louisiana. Following hurricanes Katrina and Rita, he started a charity to aid storm recovery. For years he has worked with organizations such as Easter Seals, Special Olympics, the Make-A-Wish Foundation and other groups. He organizes free baseball clinics for local children, but Dellucci's goal isn't just sharing technical sports skills. He says he wants to return the focus of youth baseball to fun, because fun is what made him love the game as a boy.
He acknowledges his community work without fanfare.
"It would be a shame for us to sit in this house and not share our experiences with this community," he says. "What would be the point of having all these experiences if we didn't look for ways to put them to work?"