Home Pages: Julie Sternberg's latest children's book is inspired by her family's retail legacy

---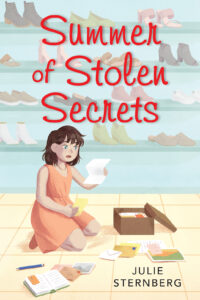 Breaking with the family tradition of running a successful Baton Rouge business wasn't exactly Plan A for children's book author Julie Sternberg. 
Then again, neither was her grandparents' escape from Nazi Germany and settlement in Baton Rouge, where, in the 1930s, they opened what would become the sprawling department stores Goudchaux's and Maison Blanche, located at the time at 1500 Main St. The lot now belongs to FEMA, the family having sold the stores 30 years ago, and Sternberg—thanks to a Princeton degree, a marriage and an initial career in law—eventually found herself swapping bayous for Brooklyn, but the glint of her family's history never quite left her periphery. 
After the success of eight previous children's books inspired by the lessons of growing up, including Like Pickle Juice on a Cookie and The Top-Secret Diary of Celie Valentine series, Sternberg's ninth, Summer of Stolen Secrets, out on May 11 from Viking Press, tells the tale of young Catalina, a precocious New Yorker sent to Baton Rouge to live and work under the hand of her Jewish grandmother, whose luxury department store serves as catalyst to a revelation. 
"I remember working as a child with my family at the store, earning 25 cents an hour, and hiding away in a corner of the books department, reading," says Sternberg. "It wasn't until college that I admitted to my dad what I had been doing, but of course everyone already knew."
Led into law by that same love of reading, eventually Sternberg decided to change course, completing an MFA in Writing for Children and Young Adults from The New School and finding herself able to write full-time. But the author also maintains another, more nuanced full-time job: parenting. 
"I started to write in part because I loved the idea of spending my days thinking about the problems my daughters might be facing in their lives," she says. "I stopped doing that as they got older, but it was such a fun way to connect with kids and explore how they respond to certain issues. That's really helpful to a writer of children's books."
Given her target demographic, Sternberg's continued connection with childhood spills naturally into her writing, especially in Summer of Stolen Secrets, whose epistolary style delves straight into the psyche behind Catalina's preteen perspective. The process toward achieving that voice, however, can be quite laborious, though ultimately rewarding.
"I work really hard to try to create an interesting and persuasive voice in all of my books, and that's actually one of the reasons why it took me a long time to write Summer of Stolen Secrets," says Sternberg. "I needed to achieve enough distance so that I could get out of my own way and not simply write as myself. I was just so relieved to finally find Cat's unique voice, and I'm excited to finally share these characters after such a long time."