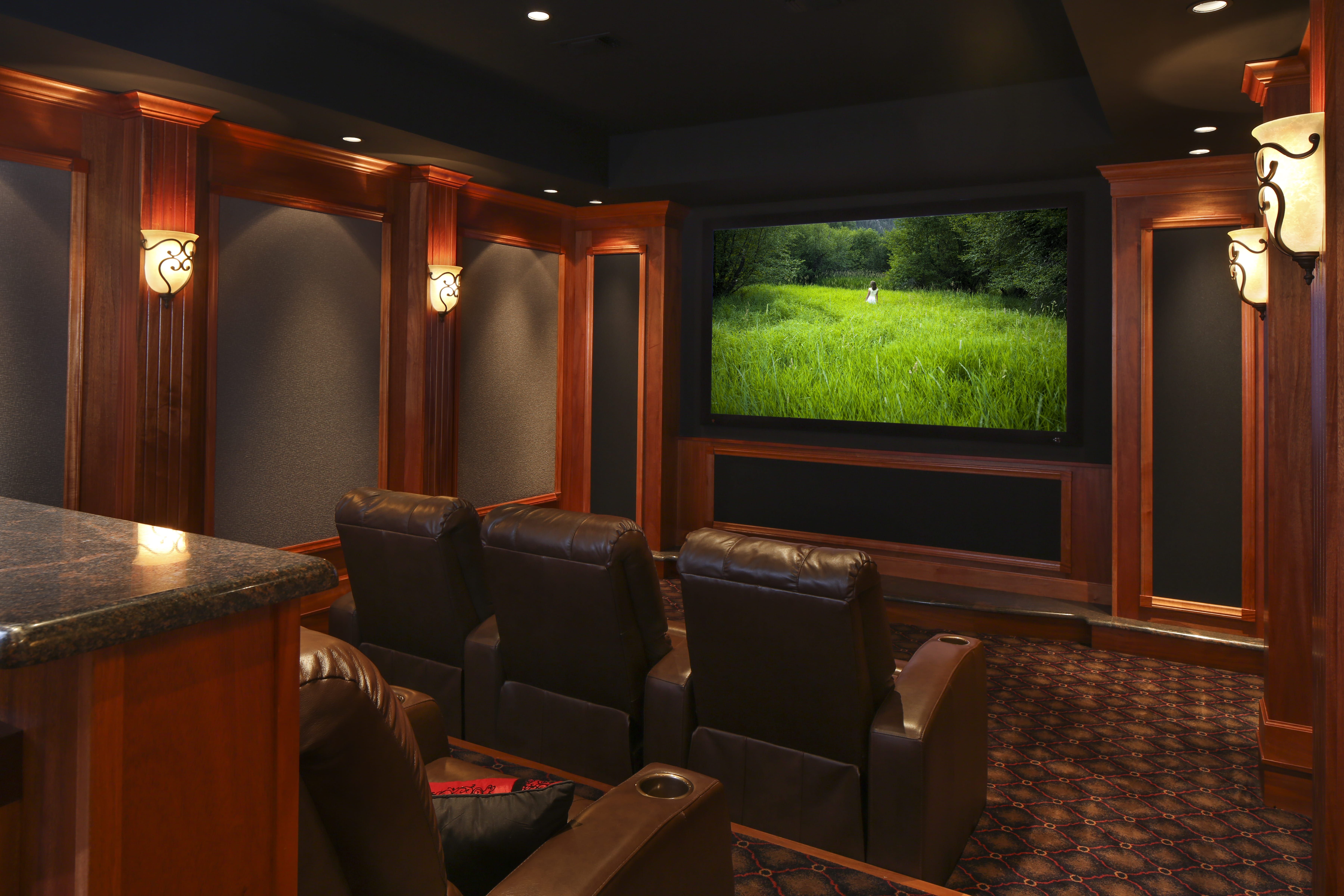 Hollywood comes home in luxe media rooms
You know what would have made the infamous incorrect announcement of La La Land as Best Picture at the 2017 Oscars even better? If the collective gasps and screams when the real winner was announced had been amplified with perfectly designed acoustics in a well-thought-out and properly lit room, with every crinkle on Warren Beatty's envelope and expression magnified for all to see. Well, maybe not all to see. But at least for your friend who–in reality–got stuck on the side-facing couch watching the Oscars at a gradually diminishing angle. Or your sister dealing with the weird glare from the lamp over the dining room table. Or your mom in the kitchen, squinting around a corner while she waited for the two-second sweet spot between the last few pops of popcorn. And missed the moment completely.
These days, a living room isn't just a place to entertain guests—it's a place to be entertained. So forget that extra square footage in the master bedroom. Think of, instead, where people really like to gather to play the latest game, watch the newest show, or settle down for some Netflix on a screen that puts laptops to shame. In that case, a media room or theater room might be just the thing for a home in the modern age, and both come with their own unique specifications.
"A media room is an open space used for a variety of entertainment purposes (pool tables, bars, theater systems, etc.), whereas a dedicated theater room is a closed-off room for the sole purpose of being a theater," says Scott Raposo of Integrated Home. "The media room normally has a variety of seating like sofas, bar stools and chairs, while a theater has specific theater seating, maybe with larger, comfier chairs in rows. The media room also has more ambient light while a theater is a 'dark' room normally without windows. Think of a media room as more of a gathering space, while a theater is a getaway. A dedicated theater provides, of course, for a more theatrical experience."
One easy way to provide that theatrical experience? The perfect pre-movie dimming of the lights.
"Control of ambient light is a must," says Raposo. "And for a home theater, so is dedicated theater seating. Frankly, design is such a personal decision, but lighting and seating have to be right."
To see a local take on home theaters and media rooms ready for any big-screen premiere, click on the photos in the gallery below for a closer look at our picks from the inRegister archives:
---