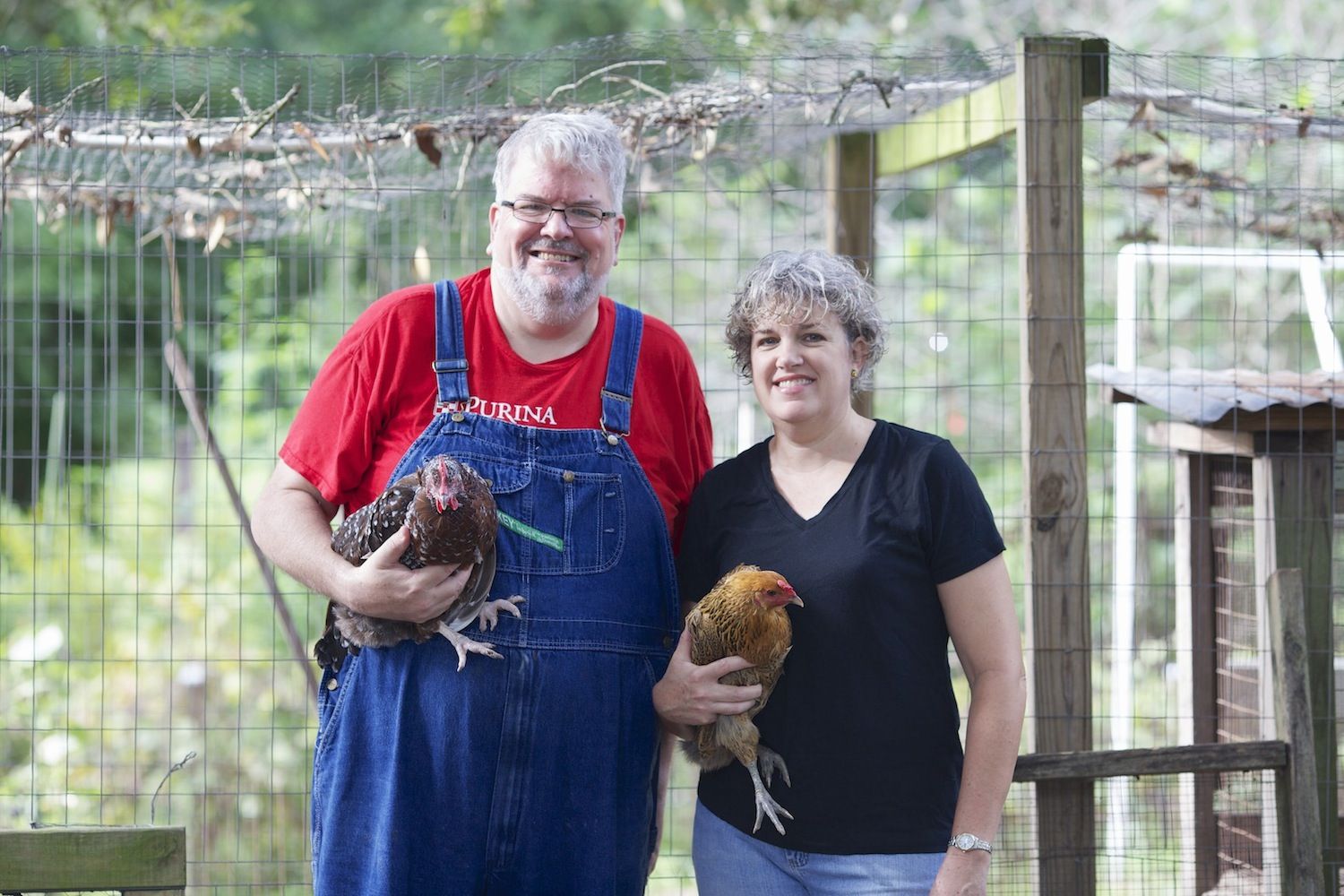 With favorable laws and renewed interest in sustainable foods, more Baton Rougeans are 'playing chicken'
Two years ago for her birthday, Cricket Gordon's husband Stewart gave her a card, inside of which there was a cutout picture of a chicken coop.
"It was kind of a running joke," Gordon says. "I had been talking about how much fun it would be to have chickens. I wanted farm-fresh eggs, and I wanted the kids to see the science behind raising animals."
And so, like a growing number of urban dwellers in Baton Rouge and around the country, the Gordons took the chicken plunge. They've been tending a flock of three chickens in their backyard in the Broadmoor neighborhood ever since. They feed the hens organic feed purchased from local feed stores and collect eggs every few days. Generally, a good layer will produce about six eggs a week.
"They sort of become like pets," Gordon says. "I go out and call to them, 'Come here, girls.' Our dog has gotten used to them, and they're like one big happy family. And we love the eggs. One of my sons has gotten to the point of not eating supermarket eggs anymore because these taste so much better."
Ask around, and it's not hard to find residents of the Capital City who are raising chickens. Gordon herself could rattle off names of three immediate neighbors, as well as acquaintances around town and a handful of teachers at the University Laboratory School. It's hard to pin down growth statistics, but there's no question that urban poultry, like farmers markets and small-scale livestock, has been steadily rising in the U.S. for the last decade, the result of consumers wanting to know more about where their foods come from. It's a movement fueled by organizations like Slow Food USA, films like Food, Inc., and books and articles by journalist Michael Pollan, which have all revealed the mass production of food in the U.S. and the way it compromises flavor and is likely impacting public health.
More local governments around the nation have passed laws making it possible for residents to keep chickens legally in their backyards. East Baton Rouge Parish has some of the most liberal laws on the books for raising poultry. If you live in the city, you can keep three hens on lots that are less than one acre. If your lot is larger, there is no limit. You can't keep roosters, turkeys, ducks, geese, peafowl or guinea hens in the city at all. In the parish, there are no limits on types or amounts of birds.
Moreover, the urban poultry movement in America has also seen an uptick recently due to the recession that hit the nation in 2008 and made economizing a widespread necessity. This, along with a continued interest in sustainable food, is what inspired Chris Frink and Emily Taylor to start raising their own laying hens.
"We had a lot of fruit trees in our backyard, and we thought, How else can we get this space to work for us?" Frink recalls. Frink and Taylor live on a nearly 2-acre wooded lot near the Main Library on Goodwood Boulevard.
Frink started by researching construction of a chicken run. He wanted a coop he could actually walk into to feed and tend the chickens and that would protect them from predators. Frink mail-ordered baby chicks and raised them in a dog kennel inside the house briefly until the run he designed was ready.
The couple now keeps about 20 chickens, which the run is large enough to accommodate. Frink has gotten so involved in the urban chicken movement that he now gives seminars on the topic. In September he held a workshop at the Rural Life Museum for Slow Food Baton Rouge, and 39 people attended.
"It was an amazing showing," says Frink. "More and more people are getting into it, and why not? I call my talk 'Chickens Are Easy,' because they are."
Frink says once you get the proper equipment in place and settle into a routine, chickens are relatively worry-free animals that generally get along with other pets if they're introduced slowly. You can even leave them for the weekend, he says, as long as they're locked up at night. It's sensible to consider a "retirement plan" for your birds though, Frink notes. Hens will lay eggs for about three years but will live to be six to eight years, leaving owners to choose between keeping the birds as pets or designating them for the stew pot.
The biggest threat to urban chickens is predators. Plenty of urban poultry enthusiasts, including Gordon and Frink, have stumbled upon strewn feathers and murdered birds. Some hens go mysteriously missing. Hawks, owls, opossums, dogs, foxes, coyotes and cats are all potential predators; but the worst, says Frink, is the raccoon.
"A raccoon will kill a chicken for fun, and it's smart enough to open eye-hooks on hen houses," he says.
He advises using welded wire, also called field fencing, on the walls of the coop, not chicken wire, which predators can easily penetrate. If Frink is at home and he can keep an eye on the chickens, he lets them roam in his backyard, where they have plenty of opportunity to explore, scratch in the dirt and peck freely in the weeds he has pulled from his vegetable garden nearby. When night falls, the chickens put themselves to bed, marching toward their coop—the dominant birds heading for the upper roosts, as is their custom.
Frink, who works at the Louisiana Legislature, and Taylor, a local veterinarian, recently began experimenting with meat birds: chickens raised specifically for humane slaughter and consumption. With his friend Tim Mercer, who keeps numerous birds on his 3-acre home site in the parish, Frink bought a portable plucker. The two mastered the humane slaughter of meat birds recently, and now Frink and Taylor have a freezer full of fresh, free-range chickens.
"The difference in taste is absolutely incredible," he says.
When Frink slaughtered his meat birds over the summer, his friends Gordon Mese and Julie Morgan came along to learn about the practice. Mese and Morgan both keep chickens—Morgan at her house, and Mese at his business, the Garden District Nursery on Government Street. Mese's customers have always known him to keep an animal or two around the shop, including a golden retriever named Isabella who lived to be more than 16 and a parrot named Ruby who died in her 20s. Not long ago, a chicken strolled into Mese's nursery grounds, presumably from a neighbor in the Garden District. Mese named the bird Happy, and eventually she elected to reside permanently at the store.
Mese became so fond of keeping chickens, he now has five who live at his nursery: two Leghorns, one Red Star, and two White-Laced Polish. They're sheltered at night in a coop and left to range freely during the day. While they're free range and get plenty of food and nutrients in the nursery grounds, he gives them organic feed as well. It's largely to train and control them. Mese collects eggs from two square-shaped openings in the back of the coop.
"I got them because I was concerned about food and where it comes from, but they're also my employees," he says. "They eat the weeds that grow in the gravel and in the pots. They really are a big help."
Mese recently started selling baby birds from a brooder he fashioned and keeps in the indoor part of his shop.
His last batch all sold in five days.