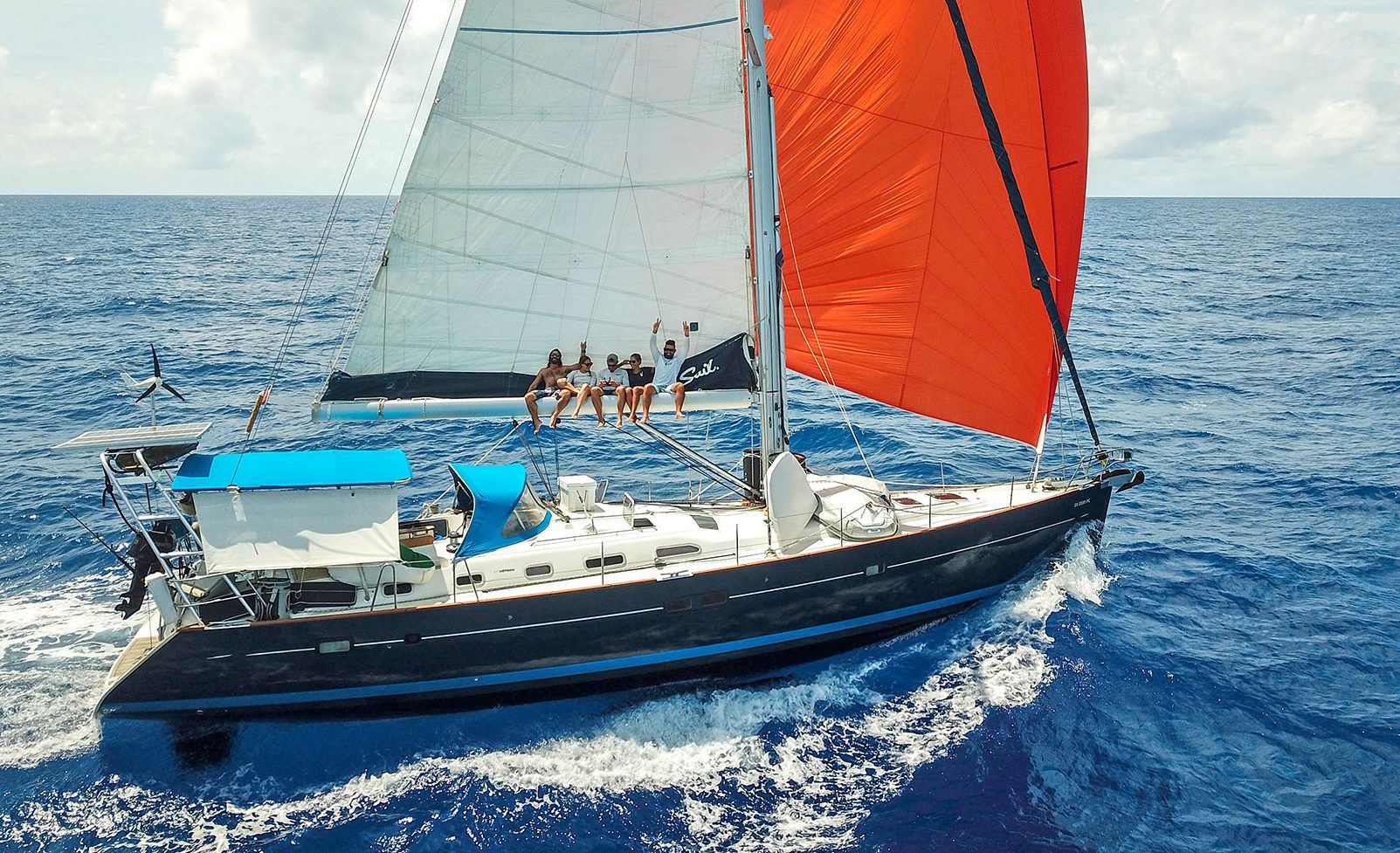 Safe passage: Haily Celestin takes social distancing to the extreme while sailing the Arctic Circle
---
It was 3 a.m., and the sun was shining bright—as was the full moon—when Haily Celestin first spotted Iceland after a monthlong journey at sea. As if in greeting, a flock of black and white puffins flew close to the bow of the 52-foot sailboat, where the rest of Celestin's five-member crew slept below deck.
"I was by myself for an hour taking in the sights and really relishing what we had just accomplished," Celestin recalls. "After that, I woke everyone up so we could all celebrate."
Within minutes, the group spotted a pod of feeding whales and quietly glided closer. "There were about 20 whales circling us, and we couldn't hold in the excitement of seeing these animals so close," she says. "This was what we had sailed all the way to the Arctic for!"
That magical moment was only one of many awe-inspiring experiences that Celestin, a Baton Rouge native who graduated from St. Joseph's Academy in 2008 and from Our Lady of the Lake College in 2013, has soaked in since setting sail from her current home base on the Caribbean island of St. Maarten in late May. Celestin moved to St. Maarten two years ago to start a sailing charter operation with her now-fiancé Max Loubser, and the pair soon began plotting an even bigger adventure—a trip across the Atlantic and up to the Arctic Circle.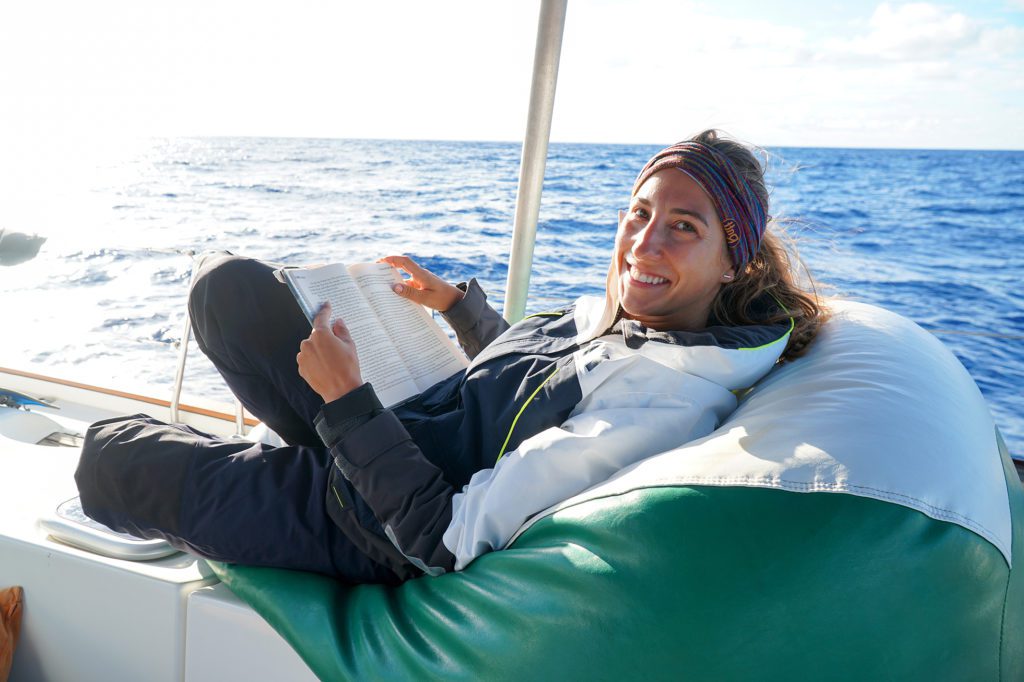 "He grew up sailing with his family, and they had crossed from South Africa to the Caribbean when he was only 2, so being at sea is second nature to him," Celestin says of Loubser. "And this alternative lifestyle of living and traveling on the ocean has always fascinated me."
Together with three other seafaring friends, the pair embarked on their Arctic voyage just after their island's government lifted a mandatory two-week lockdown to stop the spread of the coronavirus. They used the downtime to wrap up last-minute preparations for the trip. "We were lucky that we had stocked everything on the boat already, since we weren't able to leave our boat without getting a fine," Celestin says. "If we had been only a month behind schedule, it probably would have stopped the trip from happening."
The 15-day first leg of the journey took the crew 2,200 nautical miles to the Azores, tiny Portuguese islands in the Atlantic. From there, it took 12 days to make the 1,600 nautical miles to Iceland—and it wasn't all smooth sailing.
"The last passage to Iceland was a challenge due to the stormy, cold weather in that region of the globe," she says. "No wonder no one really sails that way!"
Along the way, the crewmembers have taken turns handling the many tasks that come along with sailing a massive craft through frigid waters. When sailing through the night, each person takes a three-hour shift watching out for other boats, wind changes and obstacles at sea. Watching the weather and creating passage plans is another big job that involves the whole crew mapping out their course together. An avid cook, Celestin cheerfully takes on most of the meal prep tasks onboard, but she says she also embraces the chance to be out on deck learning and practicing new things. Up in the Arctic, that often means remaining on the bow when the fiberglass boat moves through iceberg patches, and using ice poles to push any stray chunks away.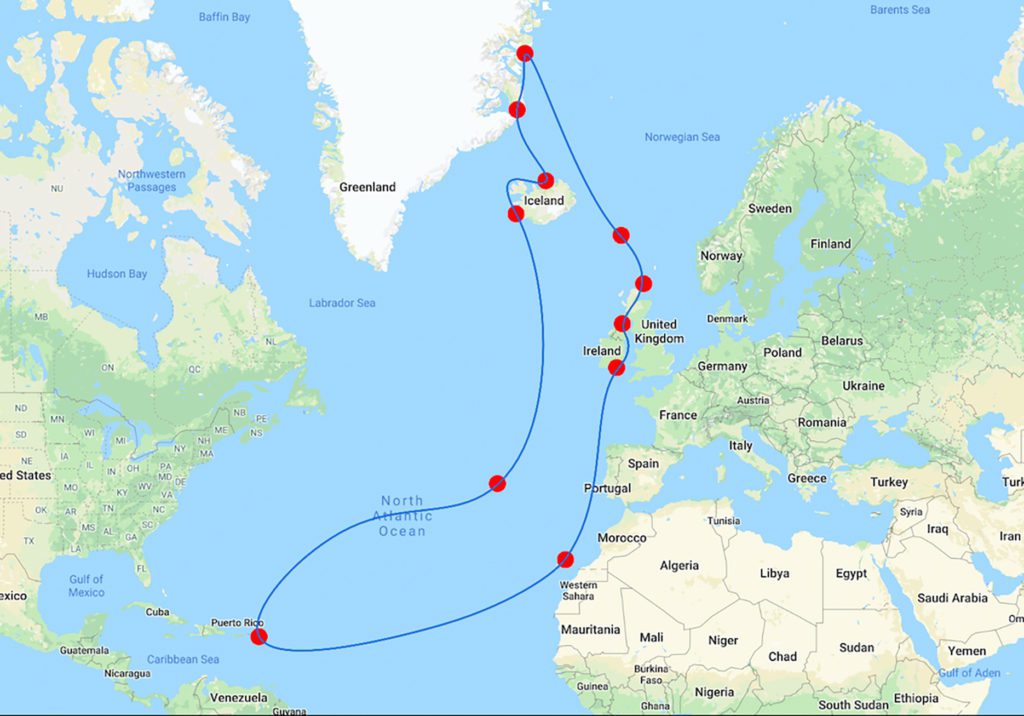 After several days cruising around Iceland and taking in the "beautiful wonderland of volcanoes, glaciers, waterfalls and geysers," the group will head next to Greenland, their northernmost destination. Celestin is excited to see what she calls Greenland's "wild Arctic landscape"—complete with polar bears, narwhals and beluga whales—before leaving again for the Faroe Islands, Scotland, Ireland and the Canary Islands, and at last returning to their Caribbean home base in October. Shifting to the U.S. Virgin Islands, they will launch a new crewed charter boat company called Ocean Yacht Club. "We want to offer the thrill and adventure of sailing to everyone, especially during COVID," she says.
But before Celestin and Loubser get back to business, all of those long stretches at sea on the return trip south will give Celestin even more time to reflect on what has already been an epic adventure.
"While we were at sea for a month, I was able to see nature in a completely different light than most people," she says. "I enjoyed the serenity of seclusion but also was tested when Mother Nature wasn't so nice to us with big seas and strong winds. It had such delicate beauty that was broken with moments of harsh reality. It showed me the beautiful balance of nature and our place in it."
Follow Celestin's journey at facebook.com/readysetsailnow. And to book a sailing charter with them in the Caribbean, visit iyachtclub.com or email [email protected].
---