Giving Back: Grandparents Raising Grandchildren
Imagine this: You have reached an age at which everything feels settled. You are approaching the most fruitful stages of a productive career, or else already enjoying retirement. You have reared children, educated them, and ushered them safely into adulthood. You are ready to relax. But life has other plans. Before you know it, you find yourself once more the primary caregiver to an infant, a toddler or a young child. 
For the grandparents and other family members facing this challenge in Baton Rouge, Danna Spayde and the late Dorothy "Dot" Thibodeaux began Grandparents Raising Grandchildren Information Center of Louisiana in 1972. Their aim was to create a resource for people embarking on an unexpected second round of parenthood, especially with government-supported social and economic safeguards few and far between. 
"Grandparents don't just wake up one morning and decide they'd like to raise a few more kids, go back to school, and do the laundry and cooking all over again," says CEO Kathy Coleman, who has raised grandchildren of her own. "But you step up. A whole world—not just a village—steps up to help raise these children, because it has to."
As part of that world, GRG provides a number of programs for caregivers, including expert advice on custody laws, legal guardianship and adoption; monthly support group meetings for gaining advice and building community; quarterly legal workshops; and a 24/7 hotline, as well as seasonal events like holiday toy drives and food distribution.
"Since then, we've grown into a statewide organization, and we're so proud of what we do all over Louisiana," says Spayde.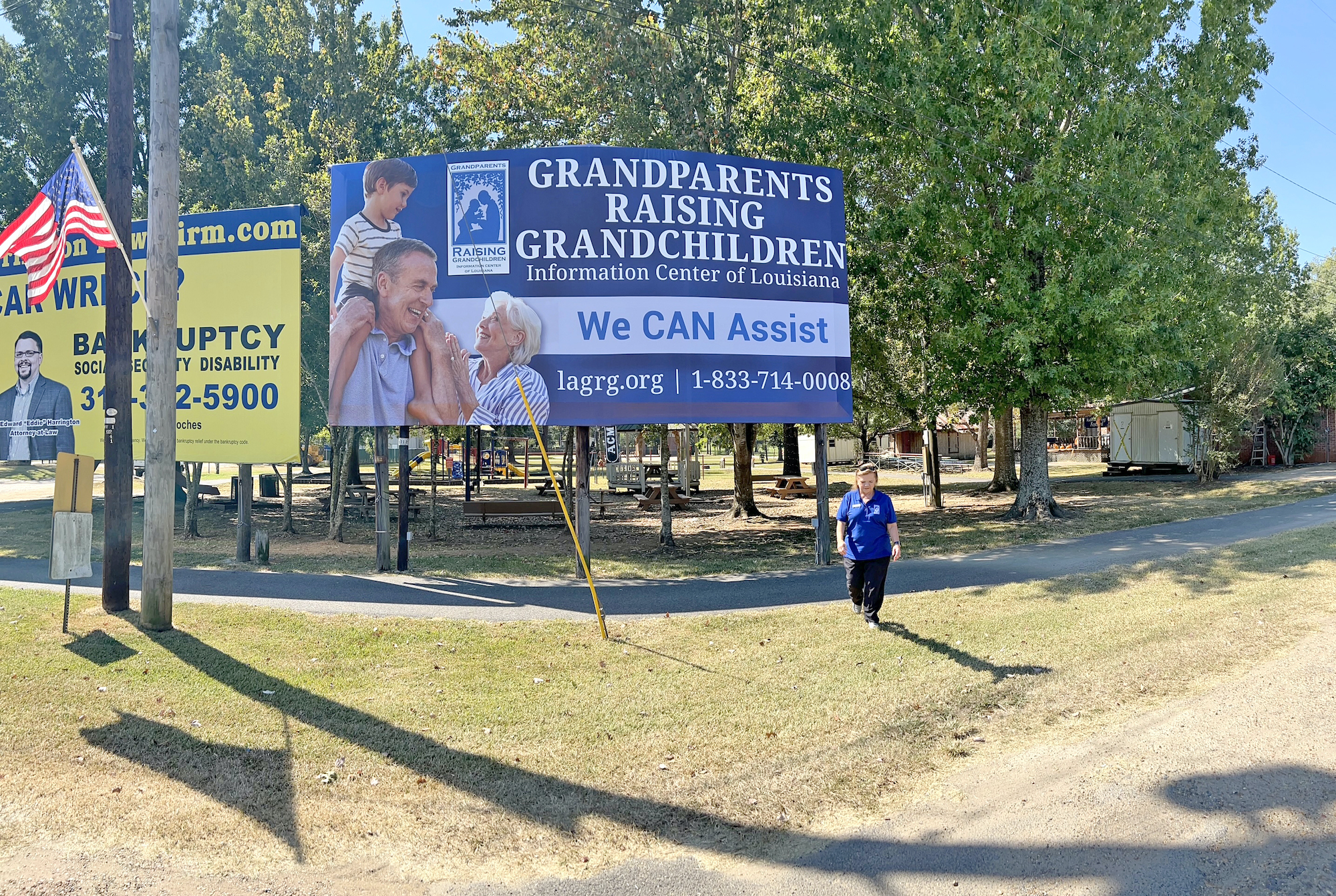 Before COVID-19, there was also a permanent office space and a Grandparents' House—affordable housing in north Baton Rouge specifically delegated to family members raising children not their own. Now, GRG is once again working with the Urban Restoration Enhancement Corporation (where it has temporary office space), the mayor's office, and the Council on Aging to offer similar housing once more. At the time of its inception, says Spayde, Grandparents' House was only the second housing project of its type in the nation. 
Their rarity underlines a gaping hole in our country's support for families. Grandparents or other relatives who make the decision to raise more children, says Coleman, are often incidentally punished by the government, which doles out stipends and pays for legal fees or social worker costs when children end up in the foster care system, for example, instead of in the custody of relatives. Not that she or anyone involved in GRG is looking for handouts, or believes that the state owes them for taking care of their family members. In fact, GRG maintains strong relationships with the Department of Children and Family Services and its Kinship Navigator Program, which serves as a resource for kinship caregivers in need of referrals or networks to lend them the information they need.
But the lack of understanding of what goes into raising these children often comes with a blow to the ego from outsiders who don't understand the complexities that lead to a grandparent taking on the child of her child. Not to mention the emotional and financial blows that come from the chaos of custody battles. 
"These grandparents and caregivers find themselves having to go into court and sit across from their own child, and it's not because they're against them," says Coleman. "It's just something you have to do to get the legal status you need to take care of the children properly. If the law would do the same thing for grandparents or caregivers raising children as it does for foster families, then these biological families could be better equipped to keep their families intact."
On April 28, GRG will host its free yearly conference at the Holiday Inn South, with a lineup including workshops and informational sessions from volunteers as well as members of related organizations like CASA and DCFS. 
"Nearly one in eleven children in Louisiana lives in a household with grandparents as their primary caregivers," says Martha Forbes, grant writer for GRG. "This is not a problem or a need for one class or group of people in the state. It transcends every division, every road, every street in Louisiana. Many of the people coming to us for direct support are struggling so much, and we need the generosity of the whole community to recognize that no one is immune to this issue. It could affect any of us." lagrg.org