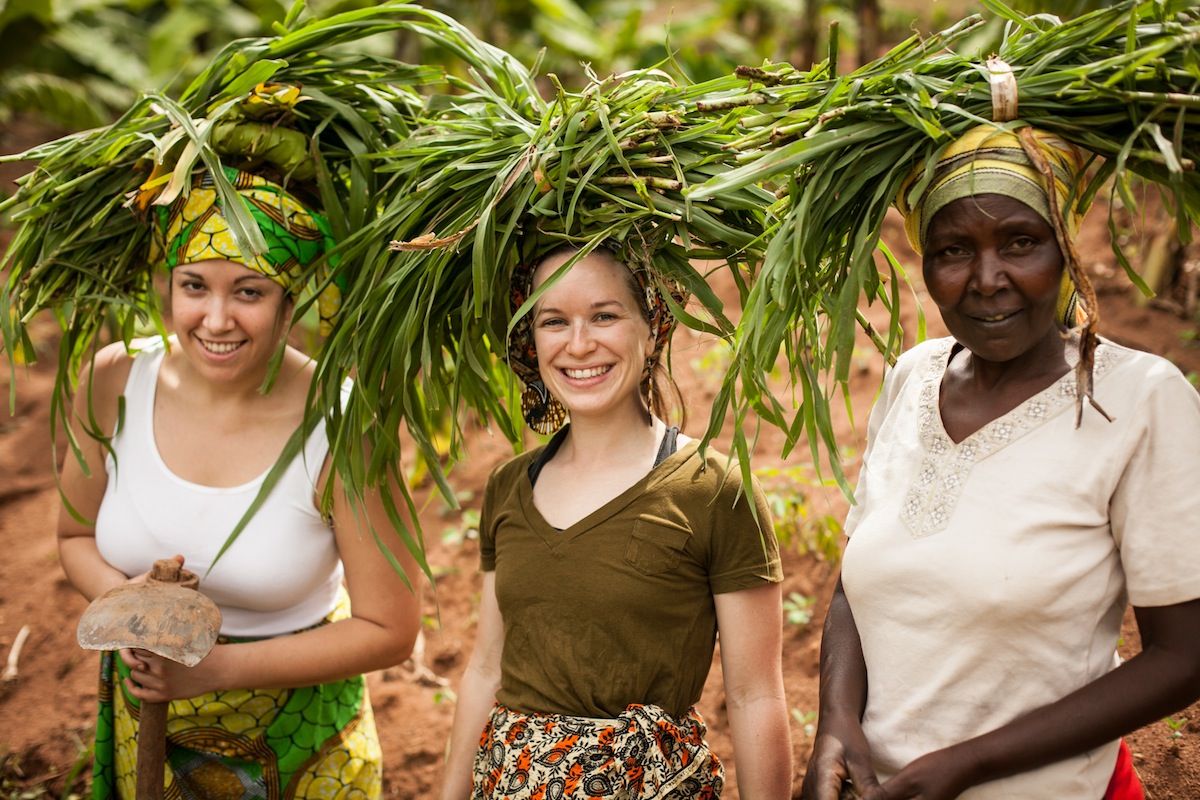 Humanitarian photographer Claire Hutchinson captures unspeakable joy in the direst of circumstances
Claire Hutchinson stood in the hot Haitian sunshine with her camera ready. A few feet away, a little girl named Naika was about to find her feet. For Claire, it was a moment worth freezing time for.
Naika, who was likely born with cerebral palsy, had lived all of her young life without medical care and without ever walking a single step. Shortly before Claire's visit, the child had been rescued from her former residence in a cemetery and taken in by a Port-au-Prince children's home. Claire, who had traveled to the earthquake-ravaged country in 2013 with a team associated with the Christian organization that operates the home, now looked through her lens as Naika was helped into a mobility aid called a gait trainer. The camera caught every motion, every emotion, as she walked for the very first time.
"She smiled the biggest smile, which is something I hadn't seen her do before that moment," Claire recalls. "The joy she experienced—there aren't really words that can express that. But a photo can, and I'm glad I was able to be there to capture that."
It was in that instant that Claire, a Baton Rouge-based photographer who divides her time between shooting weddings and taking charitable trips like this one, made a major decision about the way she would share the stories of the people she met around the world. Seeing Naika's expression of happiness made Claire conclude that she didn't want to focus on images that emphasize suffering and pain. "It didn't seem fair to only tell half the story," she says. "It made more sense to show their smiles."
That revelation has guided Claire's work ever since. Whether in Haiti or Rwanda or right here in Baton Rouge, she uses her calling to humanitarian photography to show the dignity and the hope that shines in even the most deplorable circumstances.
"Suffering doesn't have to be the end," she explains. "There is joy in making it through."
Looking back, Claire can trace her unique passion back to early childhood. "My dad always took way too many pictures on our family vacations," she says. "So for me, photography has always gone hand in hand with traveling. I grew up with an understanding of the importance of documenting the big moments in our lives."
It took two trips abroad to help clarify Claire's life goals in a way that would combine her interests in photography and helping others. As an LSU undergraduate, she was part of mission trips to Mexico and Peru; around the same time, she first stepped foot into a darkroom on campus. "The minute the photo was on the paper, I just knew photography was exactly what I was meant to do," she says. "It's not that it was a great picture, but suddenly I had this epiphany that photography could be used for good—to help people process things they had been through, to help tell their stories."
After returning from Mexico, where she assisted at a makeshift medical clinic, she started to view her time behind the lens in a new way. "I knew I wanted to use photography to somehow encourage, uplift and move other people who don't get to go and have those experiences to support organizations that are helping people around the world," she says.
With a vision for using her craft to help people continents away, Claire also sought a way to share her skills at home. During her senior year at LSU, she launched her wedding photography business, known as Claire Elyse.
"I wanted to challenge myself, and I truly believe that weddings are among the most challenging things that a photographer can do," says Claire. "Weddings have reminded me that photographs give us the ability to stop time, and that's pretty amazing."
Over time, she added family and portrait photography to her offerings, never losing sight of her humanitarian ideals. When the Gardere Community Christian School launched in 2011, she began regularly taking photos to document the students' day-to-day successes. "I think it's important to serve where you are," she says. "I feel like it has prepared me to serve in other countries."
The first major opportunity to use her talent on an international level happened during the summer of 2013, when she packed up her Canon 5D Mark II and boarded a plane bound for Haiti. She had been invited to document the work of an organization called Grangou ("hungry" in the country's native Creole), which operates a home for orphaned children and helps the nation's residents in a host of other ways.
"I saw things and experienced things that were really eye-opening," Claire says. "It wasn't until Haiti that I truly realized that we live in a broken, fallen world, and it just made me want so much more to help in some way with my camera."
That was the trip during which she was able to document Naika's first steps. On another day, she met a teenage boy named Jean Pauline, who had been trapped under the rubble during the earthquake that had killed all of his family members. After wandering for weeks, he was welcomed into the Grangou-run home, where he "suddenly had family again."
"He wasn't crying anymore," Claire says. "He was alive and able to tell his story, and you could see the joy of what God had given him. I think that will speak way louder than anything else I could photograph."
Inspiring individuals like Jean Pauline—along with their equally inspiring smiles—were also abundant in the Rwandan city of Kigali, where Claire traveled earlier this year in support of a longtime friend. Betsie Everritt, another LSU grad seeking to combine her talent with a desire to help those in need, had moved to the African nation to use her apparel design skills in service to a co-op of women working to support themselves and their children after their lives had been shattered by violence and unrest. Again, it was an unlikely place to find joy, but Claire managed to capture just that.
"These 12 women had been greatly impacted by the genocide 20 years earlier," Claire says. "They had no way to provide for their families or to get an education—until this co-op was formed to teach them to sew and make their own living."
Claire and her friend and cohort Kate Wilkerson were immediately struck by the spirit of a woman named Mary Sunshine and her 4-year-old daughter Phoebe, who had fled Burundi to escape brutal tribal dissension and had found in the co-op a new hope.
"Not too long ago, they struggled to find food," says Claire. "Now, Mary sews every day, making these beautiful bags. That's what's allowing her to thrive today."
Back at home, Claire remains dedicated to her wedding and portrait clients—and notes that a portion of her fees are used to support her international efforts—but she isn't letting her passport collect dust for long. Later this summer, she will travel to Bulgaria with Mission to the World to follow missionaries as they help victims of human trafficking; several other trips are in the early planning stages. "I've been given some really exciting opportunities," she says. "It's hard to imagine where all God can take this and I'm excited that I don't really know."
Meanwhile, her summer plans also include helping Betsie put on several shows in Baton Rouge and other Southern cities to raise funds to continue the Umucyo co-op's work in Rwanda. "It's about connecting people's stories around the world, and creating encouragement and movement and a desire to help," she says. "There's such a need for that."
She also shares a more personal desire: to one day return to the remote places where she has captured images and to hand her subjects the pictures she took of them, even as those same images are being used stateside to gain support for philanthropic efforts. "I want to share with them that suffering is not the end of the story—that there is hope and there is light," she says. "I want them to know that their stories mean something to people on the other side of the world."
To learn more about fundraising initiatives to support the Rwanda efforts, see rally.org/returntorwanda. You can also shop for goods made by the women Claire photographed at noondaycollection.com and azizilife.com. For more on Claire's work, see claireelysephotography.com.