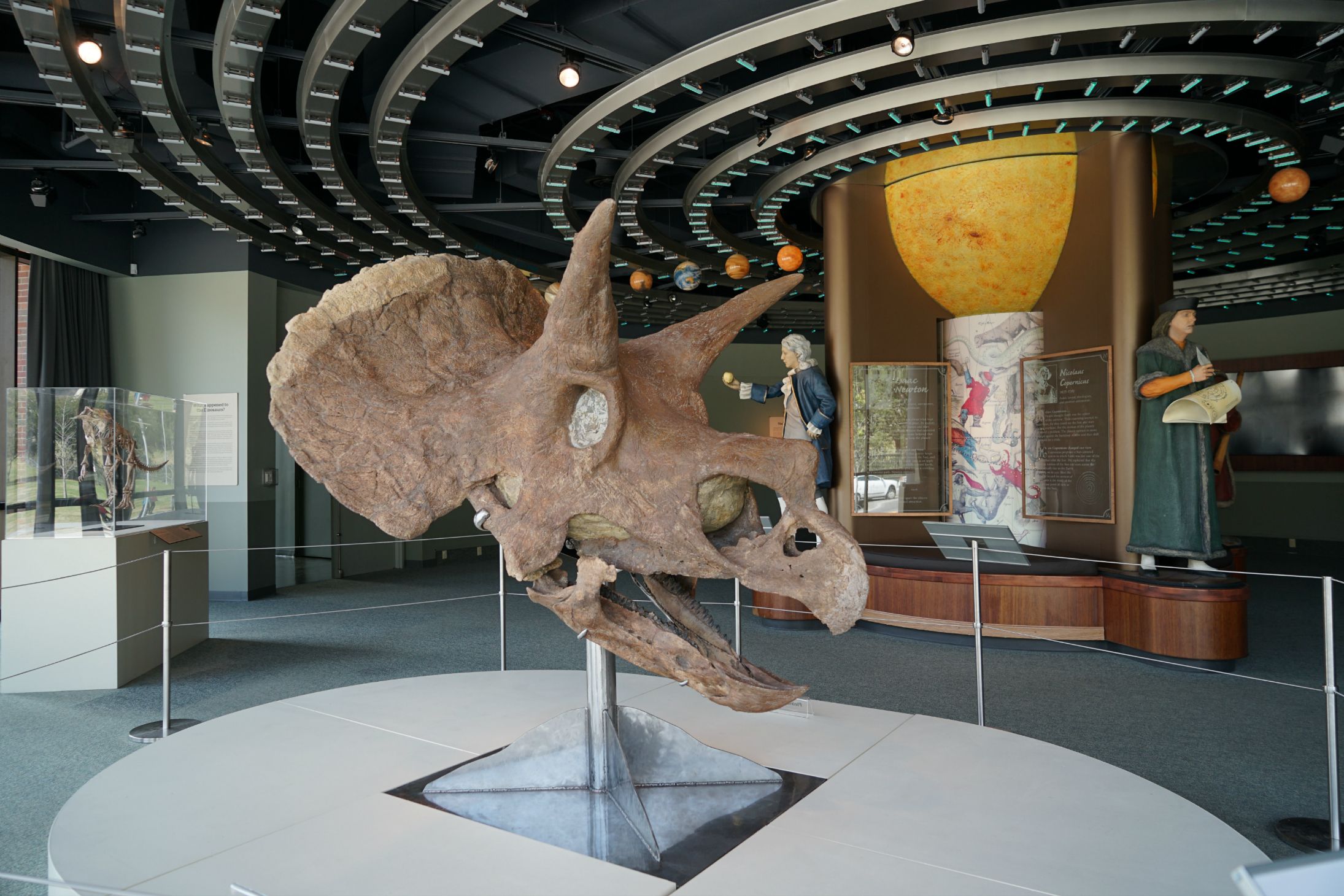 Giving a Dinosaur His 'Space'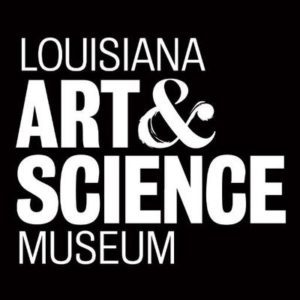 Content provided by our sponsor: Louisiana Art & Science Museum.
The oldest object in the Louisiana Art & Science Museum's collection is no longer a 2,300-year-old mummy from ancient Egypt; the title now belongs to a 65 million-year-old Triceratops that is on display in the Baton Rouge museum's Solar System Gallery.
Discovered on a private ranch in Montana, a hotbed for dinosaur fossils, the skull and its custom base weigh in at over a ton. The well-preserved piece — dubbed "Jason" — now has a prominent place in the Solar System Gallery thanks to a long-term loan from its owner, Raising Cane's Chicken Fingers founder and CEO Todd Graves.
"The Museum does an excellent job creating an appreciation for science in our community, so we are excited to partner with them and share Jason with our hometown," Graves said.
The fossil of a massive plant-eating dinosaur from the late Cretaceous period may seem like an unusual addition to a wing of the Museum traditionally focused on the wonders of outer space, but the Museum staff have embraced the fossil as a doorway into the exploration of our own planet's history. Elizabeth Weinstein, director of interpretation for art and museum curator, says dinosaur-hunting paleontologists embody the same spirit of scientific exploration as astronomers who look up at the stars.
"The Triceratops has spurred a rethinking about how this gallery can really expand our knowledge base, not only into our solar system but our own planet," Weinstein says. "One of the ways we learn more about the Earth is through fossils."
A window into our planet's past
The unexpected but welcomed addition of the Triceratops fossil prompted the Museum to reshape its Solar System Gallery — one of a number of art and science exhibits throughout the downtown facility — by incorporating creatures and artifacts of Earth's distant past.
They turned to the renowned Houston Museum Of Natural Science, which has loaned a museum-quality replica of a Psittacosaurus — "parrot lizard" in Latin — a small bipedal dinosaur that stood up to 4 feet tall, as well as other fossils and artifacts.
A particularly notable addition is a fossil of a Xiphactinus, sometimes called "the bulldog fish," a sharp-toothed behemoth that patrolled Earth's waters millions of years ago, grew up to 19 feet long and was believed to be able to catch a 6-foot fish and swallow it whole. The fish fossil has become a favorite of visitors, particularly children.
"This fish is a huge success," says tour guide Linda Johnson, who takes thousands of students through the exhibits each year.
But the real star is "Jason," the three-horned giant who roamed North America millions of years ago and continues to evoke awe and wonder. On quieter days Johnson sets up a drawing station in front of the Triceratops fossil to let patrons try their hand at sketching the 86-inch-long skull.
"They love it," she said. "They love Jason. They love the dinosaurs."
Space hasn't been left behind
The museum has also taken steps to expand and update the space-focused aspects of the gallery. In addition to longtime favorites like an interactive panoramic display of the Milky Way and a one of a kind scale that indicates what visitors' weights would be on other planets, the gallery now features an interactive display that lets users digitally "fly" over other planets.
The Solar System Gallery also offers opportunities to learn about some of history's most famous astronomers, take in a giant model of the solar system and view the historic and towering Zeiss star projector that was once used in the museum's previous planetarium — as well as in the classic James Dean film Rebel Without a Cause.
Visitors can also see and touch pieces of petrified wood and meteorites. The end result offers visitors a unique experience that blends fascinating aspects of the Earth's history with insights into the natural world beyond the boundaries of our planet.
"We're trying now to do more things that are open-ended so visitors, child or adult, are more self-directed and they can spend more time and follow their own imagination or curiosity and see where that leads," Weinstein said.
Stop by the Louisiana Art & Science Museum today to check out Jason, tour fine art exhibitions, play in hands-on galleries, and take in a planetarium show.