Giving Back: The Shepherd's Market at St. John's

Theresa Sandifer inside the Shepherd's Market Food Pantry. Photos by Lindsey Saucier.
"Excuse me," Theresa Sandifer says as she holds up a finger and glances at the caller ID on her cell phone. She's standing in a small, windowless room divided by shelves stocked with canned goods and surplus bakery items at St. John's United Methodist Church. "This might be someone calling to see if we're open."
When she says "we," she's referring to the Shepherd's Market Food Pantry. The client choice pantry resembles a grocery store, complete with aisles and shopping carts. The pantry carries fresh produce when available, a variety of canned goods, refrigerated items and toiletries such as paper towels—which can't be purchased with food stamps.
Sandifer, the founder of the pantry, swipes to answer the phone. "Hello?" She asks. "Yes, we're open tonight from 4 to 7 p.m."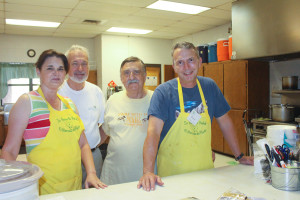 Sandifer says this is her passion. So much so she's willing to give her personal cell phone number to anyone who might need it and to anyone who might have a question or a need. The wife and mother of four grown children also serves on the board of Opening Doors, the nonprofit that operates the pantry as one of its ministries.
Sandifer takes no money as the organization's ringleader, and neither does anyone else. The pantry is 100% volunteer run. In addition to her volunteer duties, Sandifer also works full time as an attorney. Essentially, she's working two full-time jobs—which would seem tiring to most—but for her, it's energizing.
"I just had a calling that I truly believed in," Sandifer says. "Things just fell into place. This is where my joy comes from."
A longtime member of the church, Sandifer says she had a vision for the pantry when the daycare the church operated closed. She knew the vacant space could be put to good use again.
"She thinks about this place from the time she gets up to the time she goes to bed," Betty Sandifer, her mother-in-law, says. "When she's not at her full-time job she's thinking about this place, shopping for this place, or doing something for this place."
In its first year of operation, the pantry served 120 families a month. Now, after having just celebrated its third anniversary, the Shepherd's Market serves 400 families a month. Hope Ministries, which serves north Baton Rouge, is the only other client choice pantry in the parish.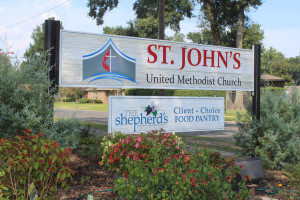 "A lot of working poor come here," Sandifer says. "We're not meant to be their sole source of food. We're just trying to help so they don't have to make the tough choice of eating or paying the utility bill."
The Shepherd's Market is the only client choice pantry with an evening shift. Sandifer says most of their clients work and, as such, need to come later in the afternoon. The pantry is directly across from the gymnasium, which serves as a dinning room when dinner is served on Mondays and breakfast is served on Tuesdays and Thursdays. The pantry also maintains a garden where the food grown is harvested specifically for the clients.
In addition to providing food and meals, the Shepherd's Market also provides clients with computer access for job searches and offers help with filling out job applications.
---
How you can help:
Individuals and groups are needed to help with a variety of tasks from greeting clients to stocking shelves. Volunteers of all ages are welcome on pantry days and Baton Rouge Food Bank delivery days. Monetary donations as well as food donations, including perishables, are also welcomed and needed on a daily basis. Find out more here.