Giving back: Kids' Orchestra

On a side table inside the Kids' Orchestra office in downtown Baton Rouge, a tiny violin lies in a red velvet case no longer than a loaf of bread. A comical instrument to be seen in such small scale, but exciting nonetheless—a tiny violin requires a tiny player, after all, and those can be hard to come by. Or at least, they used to be.
Founded by Nanette Noland six years ago on the talent of about 50 students from Capitol Elementary and Melrose Elementary, the Baton Rouge Kids' Orchestra stands now as the largest elementary-age, after-school music program in the country, with 800 new students from several different schools admitted in 2016 alone. And that doesn't include those on the waiting list.
Meeting at 11 different sites via the orchestra's own bus service, students ranging from kindergarteners to fifth-graders gather weekly to finish a bit of homework with their mentors, eat a healthy snack, and then practice with their peers in ensembles of violin, viola, cello, bass, trumpet, clarinet, flute and percussion—all of which the orchestra pays for ahead of time.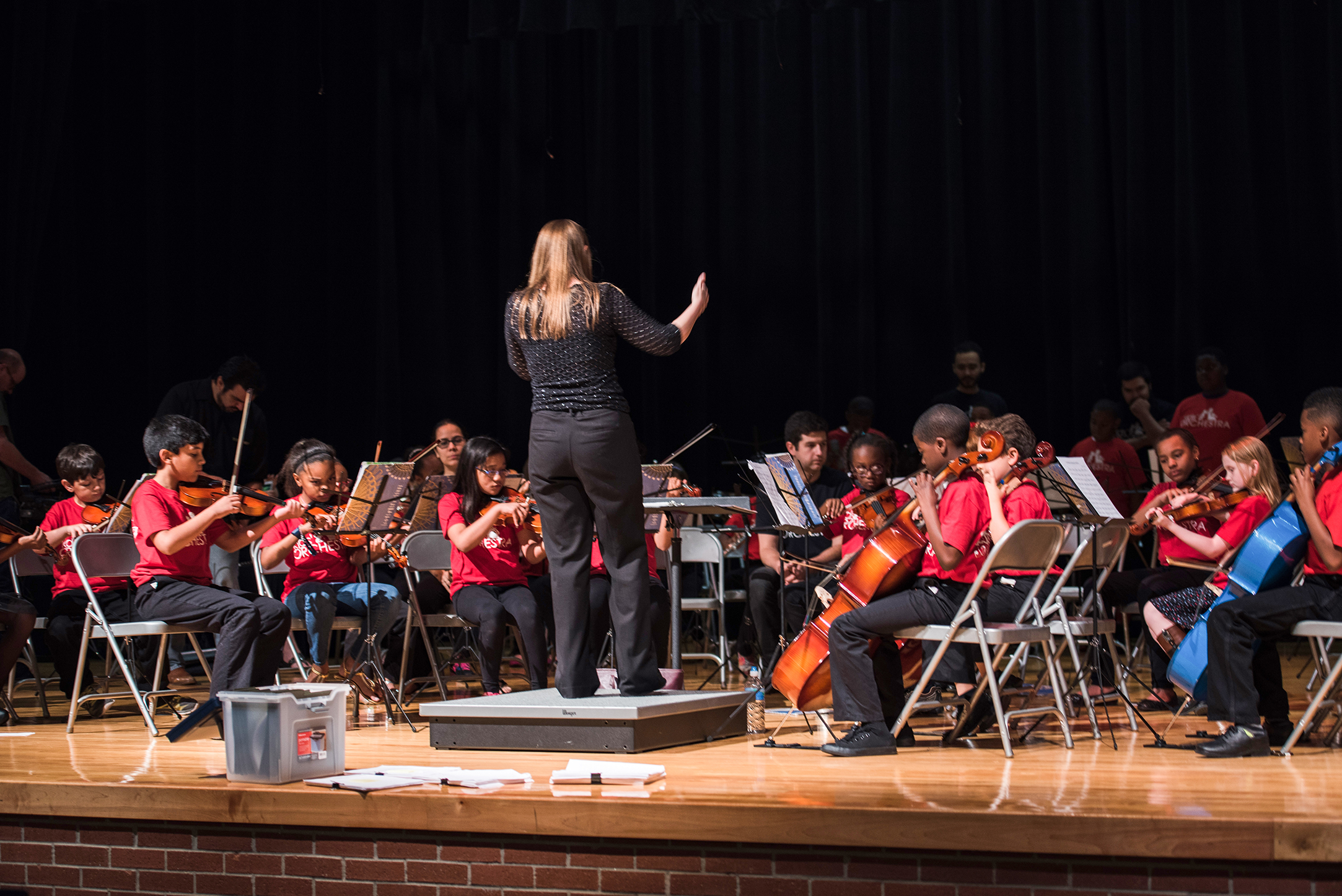 "The original idea was to bring children together and cross boundaries using music as a vehicle," says Jody Hanet, the orchestra's executive director since 2013, the year she attracted 500 new students to the burgeoning program. Now, Kids' Orchestra employs about 80 "teaching artists"—mostly graduate students and professors from LSU, Southern University and Southeastern Louisiana University—who lead practices and mentor the students. The orchestra recently landed Melissa Brunkan, an assistant professor of music education at the LSU School of Music, to conduct the orchestra's new choir component, which Hanet hopes will grow throughout the year.
"I remember being scared to death of my piano teacher," says Hanet, who earned her bachelor's degree in music education from LSU. "But in our environment, we try to break those barriers down. We're trying to connect with these kids, to create a healthy social atmosphere for them to make friends they otherwise may not have met. We help with homework, we have caring adults around—some days a certain kid may just need to calm down and play a game of chess with one of us, and we can do that for them."
The orchestra also includes a separate division for its especially dedicated students, nominated by their instructors for their talent and drive. Nicknamed the "red orchestra" for the signature color of their
T-shirts, this group of 250 musicians engages in extra practices and will perform a special winter showcase this January 29 at McKinley Middle School.
"One of the biggest benefits of Kids' Orchestra," says Hanet, "is its lesson in teamwork. These kids understand that what they contribute makes a difference, and that success requires responsibility. And those are qualities that will follow them through their whole lives."
---
How you can help:
Kids' Orchestra depends on the generosity of community donations. To help make a difference or sponsor a student, visit kidsorchestra.org.