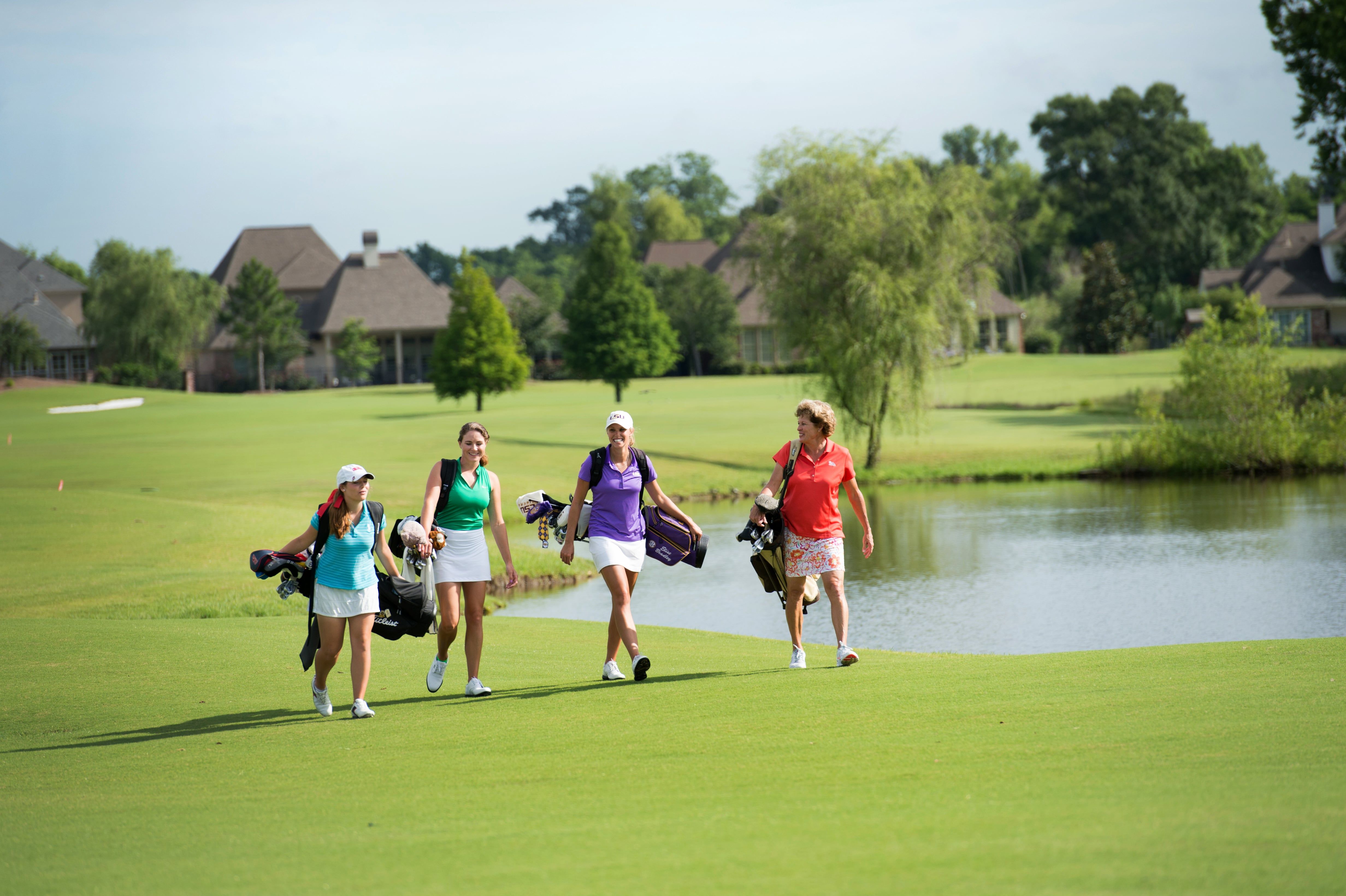 Girls' Club: Life on the links suits four top female golfers to a tee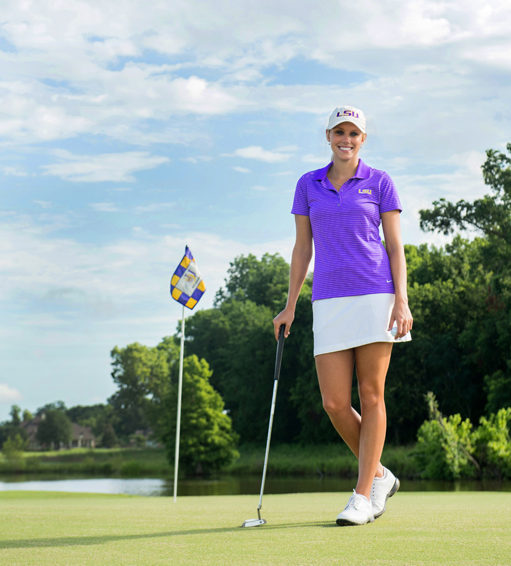 The game of golf is highly scrutinized from swing to swing. Look over a golf glossary and you'll find dozens of terms that describe tiny differences in putting styles, player mistakes and course conditions. Choking, chunking and casting are all words that describe swing mistakes, and that's just the C's.
A good round involves a balanced equation of very small adjustments, and the balance equally hinges upon the player's belief that he or she can pull off all of those adjustments at once. For those who stick with it, the game can provide an ultimate sense of competition and precision.
Golf's swarm of variables is nothing new for local golfers Julia Johnson, Elise Bradley, Tessa Teachman and Julie Harrison. Though some of these women have been playing golf since their single digits—and it can take that long to be great at it—the pain of losing a tournament isn't far behind any of them. These golfers, though, have also experienced the high that comes with winning big. As they prove, success has nothing to do with gender and everything to do with perseverance.
Keeping score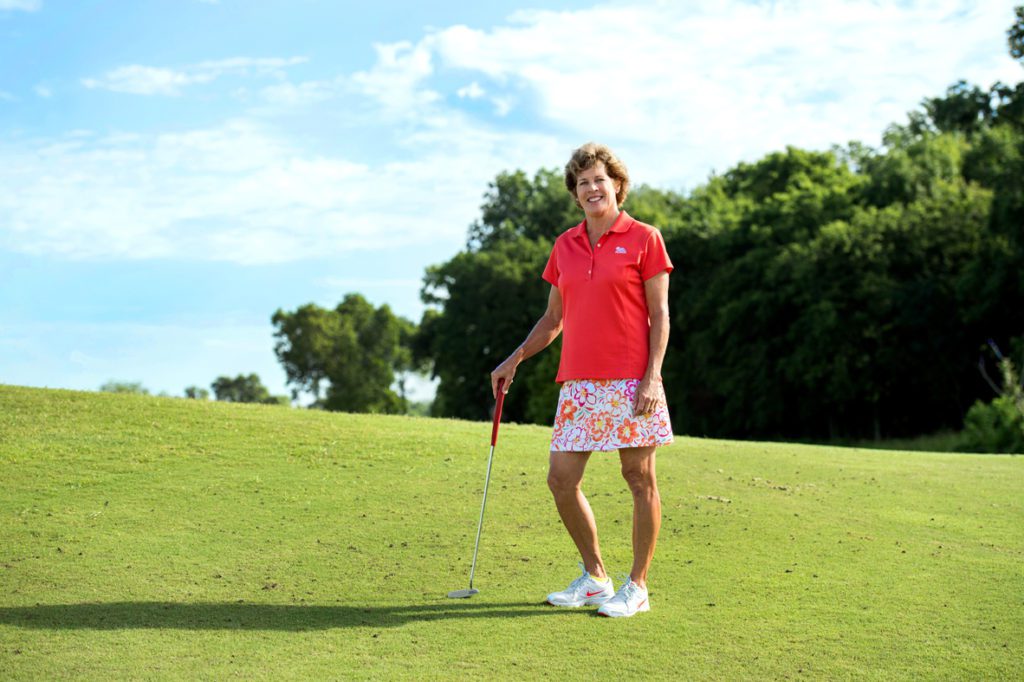 While golf isn't only a man's game, most famous golf-related sayings are credited to men and often refer to "gentlemen" or the distinguishing qualities of "a man who plays golf." It's a game often comically pinned to businessmen trying to get ahead in networking and to men calling in sick from work to fit in a few secret rounds. These utterances can paint golf as a man's game in the minds of many who don't play it. However, women have famously played golf since 1552, when Mary Queen of Scots commissioned her own course at St. Andrews. She coined the term "caddie" herself, as shorthand for "cadets."
That said, there are many more female players now than there were when longtime local golfer Julie Harrison first picked up a club. Harrison, now 56, has been playing the game since 1986, when she was a high school physical education teacher in Houston.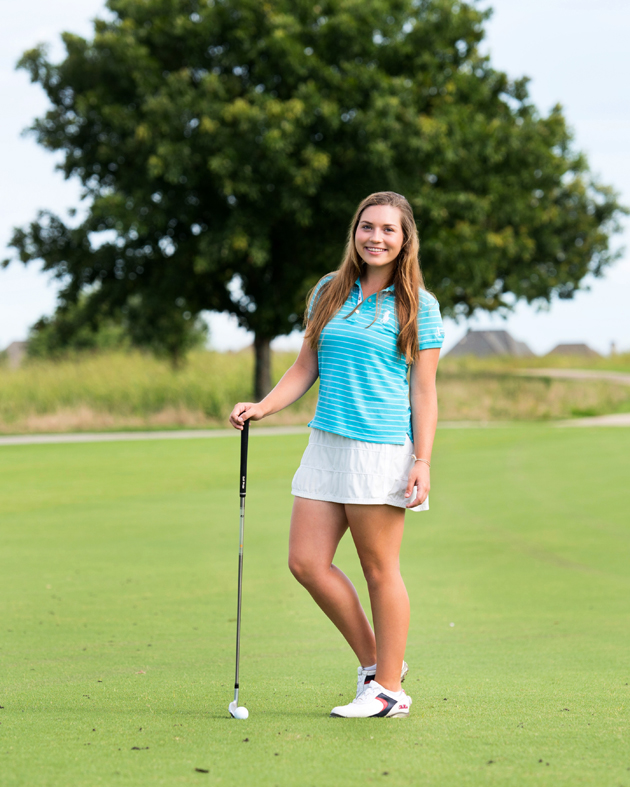 Julia Johnson, who recently committed to play college golf at Ole Miss, has been swinging since she was only three years old, and now at age 17 she takes her high-school classes online to allow her more time to practice. Johnson got a chance to square off against the boys as an eighth-grader, a rarity in a sport where men and women often play separately in tournaments. Johnson beat them all.
"That win in the Boys' Division is something I still think about daily," she says. "I went out there just wanting to get experience playing competitively with longer yardages, and I had no idea I would do what I did there. That walk off of 18 is something I cherish."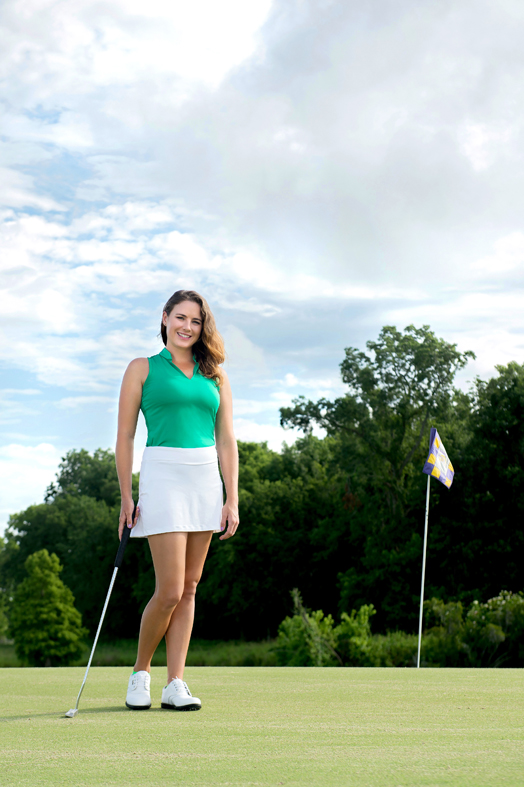 There are also far more junior golfers, in general, learning how to swing these days. LSU golfer Elise Bradley, who began her competitive career at Mandeville High School, played in the NCAA Championship in Oregon in May, just over a week after graduating from the university. The 22-year-old says a love of competition kept her going as a junior player—not a camaraderie with other golfers her age, because there weren't many. "Growing up, it does get to be a little lonely," she says. other golfers her age, because there weren't many. "Growing up, it does get to be a little lonely," she says.
Despite the boys' club stereotype, women who want to take up golf won't encounter any obstacles that prevent them from participating. Women can be custom-fit for clubs and apparel, and there are courses set up for women and juniors at shorter distances. Women can and have become PGA professionals, and can participate in LPGA and NCAA tournaments on the Golf Channel.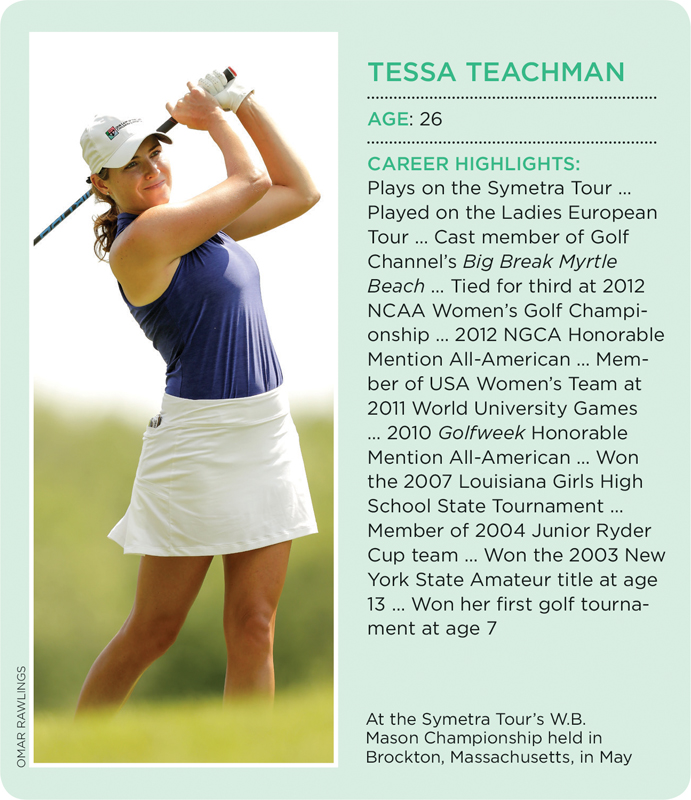 Even so, 26-year-old professional golfer Tessa Teachman has encountered a discrepancy when it comes to tournament payouts at the professional level. "Comparatively, if you look at the PGA tour and the LPGA tour, the pay difference is outrageous," says Teachman, who was a standout on the LSU women's golf team from 2008 to 2012 and now plays on the Symetra Tour.
She notes that women who win the U.S. Open golf tournament receive about half the monetary winnings that their male counterparts receive.
"Women and men have similar statistics, work equally hard and have a huge pay gap to overcome," she says.
The sand traps of life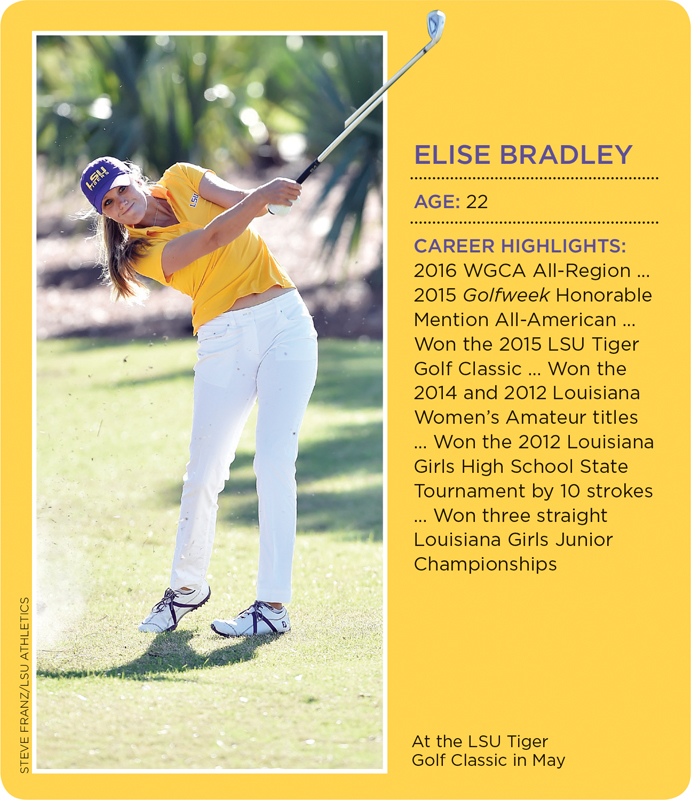 Despite its reputation as a low-effort activity, playing golf at a competitive level is a serious physical endeavor—with the physical trauma to show for it. Teachman tore tendons in her wrist during her freshman year with the Lady Tigers and continued to play, unaware of the severity of her injury.
"I would tape up my right wrist everyday and continue with my normal routines," she says. "There would be hard days and rounds, but I learned how to ignore the pain and just keep playing."
The pain got even worse during the spring of her senior year after a particularly strenuous shot from a bunker lip, but she pressed on—with surprising results. "Knowing I needed to play post-season, I toughened up and kept going for the rest of my senior year," she says, "actually [leading to] some of the best finishes of my career at LSU."
After graduation, Teachman went pro and focused on qualifying school, or "Q School," but her untreated torn tendons held her back. "Long, intense practices on torn tendons lead to poor golf," she says, "and … I questioned if I should keep playing."
Teachman returned home and finally got a correct diagnosis, which led to surgical repair. She says she's a stronger player—and person—because she had to play despite the injury for so many years. "I hope to never play through pain like that again, although I think it only made me tougher," she says.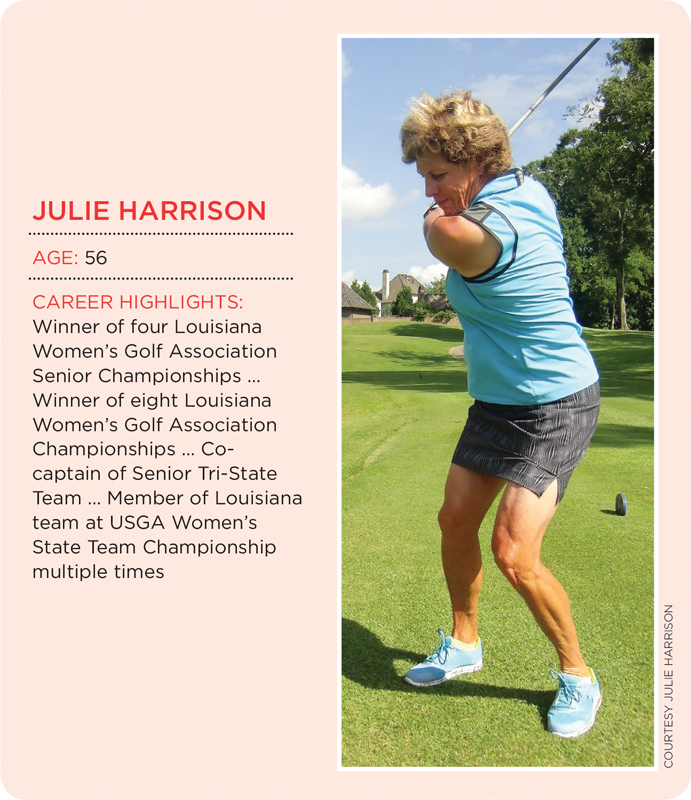 Julie Harrison, a natural athlete, improved her own game partly through mimicking the motions of other players and partly with help from her husband, former LSU golf coach Britt Harrison, who has been her golf mentor and partner for 25 years. She didn't start competing in tournaments until the late 1990s, but she still recalls how difficult it was to get a handle on the sport.
"As a new golfer, my biggest challenge was acquiring the skill sets to play, such as ball striking, chipping, putting, bunker play and so on," Harrison says. She didn't have access to modern video-based training programs, so she did it the old-fashioned way, by hitting ball after ball after ball. "I love all the new technology, but you still need a coach or teacher who knows how to correct your mistakes."
In addition to her husband, Harrison has studied the finer points of the game under former LSU golfer and Golf Digest "Top 50" instructor Mike LaBauve and his wife, Sandy, who operate an Arizona-based training program that focuses on enhancing a player's natural abilities. She also went to many LSU golf practices just to watch the process. "I was always taught to see what the golf ball was doing and adjust from there," she says. "I was fortunate to be able to … watch so many great men and women play golf."
Shooting straight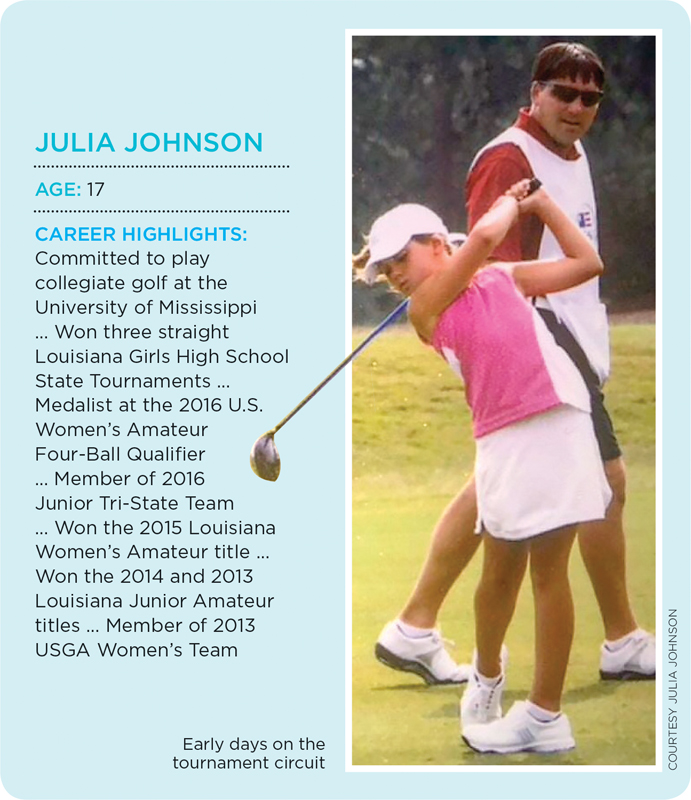 Avid golfers assert that much can be learned about life out on the green. Unlike in many other sports, here you play against the course, not against each other. This kind of inward focus can lead to a solitary experience, one that lends itself to self-reflection and personal development.
"My husband told me long ago, 'Golf is a journey, and you never get there,'" says Harrison. "I have learned that [this] is what I love about golf."
Harrison has won the State Amateur, State Mid-Amateur, and State 4-Ball tournaments, and she has competed in 14 USGA events. She currently holds the titles of Louisiana Senior Amateur champion and Club Champion at the Country Club of Louisiana, with eight holes-in-one.
"I think golf teaches valuable lessons," Elise Bradley muses. "You may hit a good shot and get a bad break, just like you get bad breaks in life. [It's] something that you have to learn how to deal with and accept. To get past the frustrations, I try to remember that golf is just a game and that I need to be grateful to be given the opportunity to be out there."
Bradley won the Tiger Golf Classic in her junior season at LSU, when she played one of the most improved seasons in college golf nationwide. She received Honorable Mention All-American from Golfweek that season as well. With her collegiate days behind her, she is spending the summer playing at Beau Chene in Mandeville and will attend Q-School in August.
"Golf is such a mental game, and it's so easy to lose a tournament just because you are having negative thoughts," explains Julia Johnson, whose hardest moment came at this year's Division II state championship. In 2015, she had won the tournament, but this time she came in second. "I played some really good golf down the stretch and I tried really, really hard to close the deficit," she says. "I never want to be remembered as a poor loser, and so on the final green, I gave [winner Abbey Daniel] a water bottle shower and tried to act strong. That was a hard day."
Johnson spends an estimated seven hours a day on the golf course, while also making time for early-morning gym workouts and sessions with her mental coach, who also works with elite athletes including Masters winner Jordan Spieth.
"Golf is much more of a mental game than it is physical," Johnson says. Even so, her swing coach Rob Noel has helped her make some subtle changes to her swing that are already paying dividends on the tournament circuit.
Teachman can also speak to the opportunities that golf can offer. Two years ago, she was chosen to compete on Golf Channel's Big Break Myrtle Beach, a reality TV show loaded with high-stakes golf challenges. She considers the experience to be one of the most memorable of her life. "I learned a lot about playing under pressure, trusting in myself and my golf game, and about adrenaline," she says.
Teachman is currently playing a full tournament schedule on the Symetra Tour, the official developmental golf tour of the LPGA Tour. If she finishes in the top 10, she will move on to her ultimate goal: the LPGA. Until then, she continues to encourage other young women to take their first swing.
"Golf is an amazing sport," says Teachman. "It teaches honesty, integrity, patience, independence and competitiveness. It can provide you an education. It may introduce you to your best friend. Golf can allow you to travel the country and even the world."
---
Hole lot of love
Our fab four of female golfers share their favorite holes to play at Louisiana golf courses: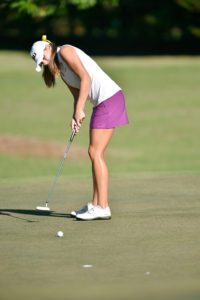 Julie Harrison
Santa Maria, Baton Rouge
Hole #5
Par 3, 157 yards
"With a large lake to the left of the green and Bayou Manchac close on the right, it looks like a bowling alley hole with no area to bail out. There is almost always a prevailing cross wind from left to right, just to make things interesting. Several years ago, while playing with some friends, I made the shot of a lifetime with a six iron for a hole-in-one. Don't think I've ever jumped so high! I'll never forget it."
Tessa Teachman
English Turn, New Orleans
Hole #15
Par 5, 444 yards from tee
"It's a great par 5 that has a good risk/reward for your second shot. The island green is a fun feature, too. I played collegiate tournaments there and always looked forward to playing that hole."
Elise Bradley
University Club, Baton Rouge
Hole #11
Par 5, 516 yards from tee
"That was the second playoff hole and is where I won our home tournament in 2015, my junior year. It was my first and only win in college. With it being close to home, I had my family and friends watching. Every time I play that hole, it reminds me of that moment."
Julia Johnson
English Turn, New Orleans
Hole #18
Par 4, 366 yards from tee
"It's a very difficult, challenging hole in a beautiful setting. I really love that course, and it's always cool to finish up a round on that hole."