Full house: Barney's Farm Sanctuary gives over 100 animals a place to call home
---
On their first date, Allison Lee kept checking the time. With a baby goat at home, she needed to make sure Dr. Shaun Accardo got her back to give the animal a bottle on his required schedule, regardless of romance.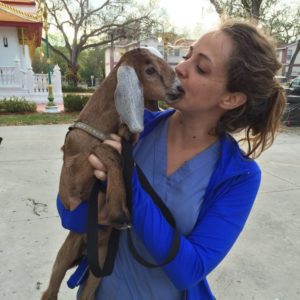 "Barney was my first bottle baby goat," says Lee, who now shares numerous goats with Accardo on their newly formed Barney's Farm Sanctuary in Franklinton. "He was a huge part of mine and Shaun's early relationship because we basically had to plan everything around him. He was our little 'kid.'"
As a child, Lee would ride her bike around her Florida neighborhood looking for stray animals to save or return to their homes. As an adult, she worked in a veterinary emergency room before deciding the vet life might not be for her.
"I think you can love animals too much to be in the field," she says. "I would get emotionally invested in every animal, and at the end of the day, being a vet is a business."
Now a dialysis nurse, Lee shares her love for caring for humans and animals alike with the man who was not scared away by the idea of a goat in the house. Accardo is a sarcoma specialist with Mary Bird Perkins – Our Lady of the Lake Cancer Center, and upon completion of his residency, he and Lee made the move back to his home state of Louisiana, 38 animals ranging from horses to cats in tow, and onto a 30-acre property in Washington Parish.
"Within three hours of being in Louisiana, I had already gotten another puppy," says Lee with a laugh. "My friends and family joke that the animals in Louisiana need me more than the ones in Florida."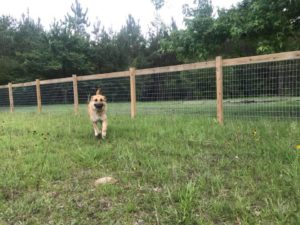 Aware of the lack of sanctuaries and shelters for all animals—but especially livestock animals—in Louisiana, as well as the disheartening issue of animal dumping, Lee and Accardo have dedicated every second of their limited free time to any and every animal in need. "It was a big goal to find a property with enough space for what we wanted to do," says Accardo.
And their goal was no ordinary farm. With air-conditioned spaces for the dogs and cats, plenty of area for everyone to roam free, and even a lakefront view, Lee and Accardo have worked tirelessly since the sanctuary's official start in August 2017 to make this the perfect place for the nearly 100 pigs, dogs, cats, horses and even geese to not just live, but thrive.
"I call my laundry room Allison's ICU," says Lee, who notes that despite the original rule of two in-house dogs, she and Accardo now share indoor space with three canines, Murphy, Addie and Tippy; a piglet named Panda; a chick named Kendra; and any animal that falls sick or becomes injured. "For us, it's about giving these animals a good life, whether it be with us or at a forever home. And, no matter how hard it is sometimes, I am so happy for the potential that we have to grow and help here."
---
To follow the animals of Barney's Farm Sanctuary, and to learn how you can help, visit barneysfarmsanctuary.org.