From the January issue: Calligraphy classes for brides-to-be
When Margaret Corley Nelson of Proper Prints set out on a mission to train herself in the art of pen and ink five years ago, she found no local resources available. Using online videos and diving into the literature, she quickly emerged as a self-taught calligraphist.
After experiencing the lack of calligraphy resources in Baton Rouge for herself, she decided she wanted to share her craft with others through classes at places like Blackbird Letterpress and The Keeping Room. "The classes are something that I didn't have, and I want people to be able to have access to it," Nelson says.
She believes that being able to incorporate calligraphy into things like wedding invitations adds an invaluable sense of intimacy and beauty to a celebration in details that are often overlooked. "When you get a hand-addressed envelope … it makes an impact," she says.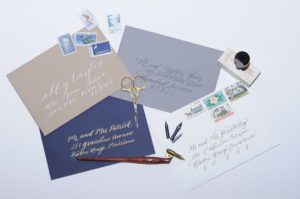 Nelson hopes that her classes can give others the ability to express themselves in that profound way through the art of pen and ink, through the handwritten word.
To read more about Nelson and her work in calligraphy, check out this story from inRegister's January issue, on newsstands now.