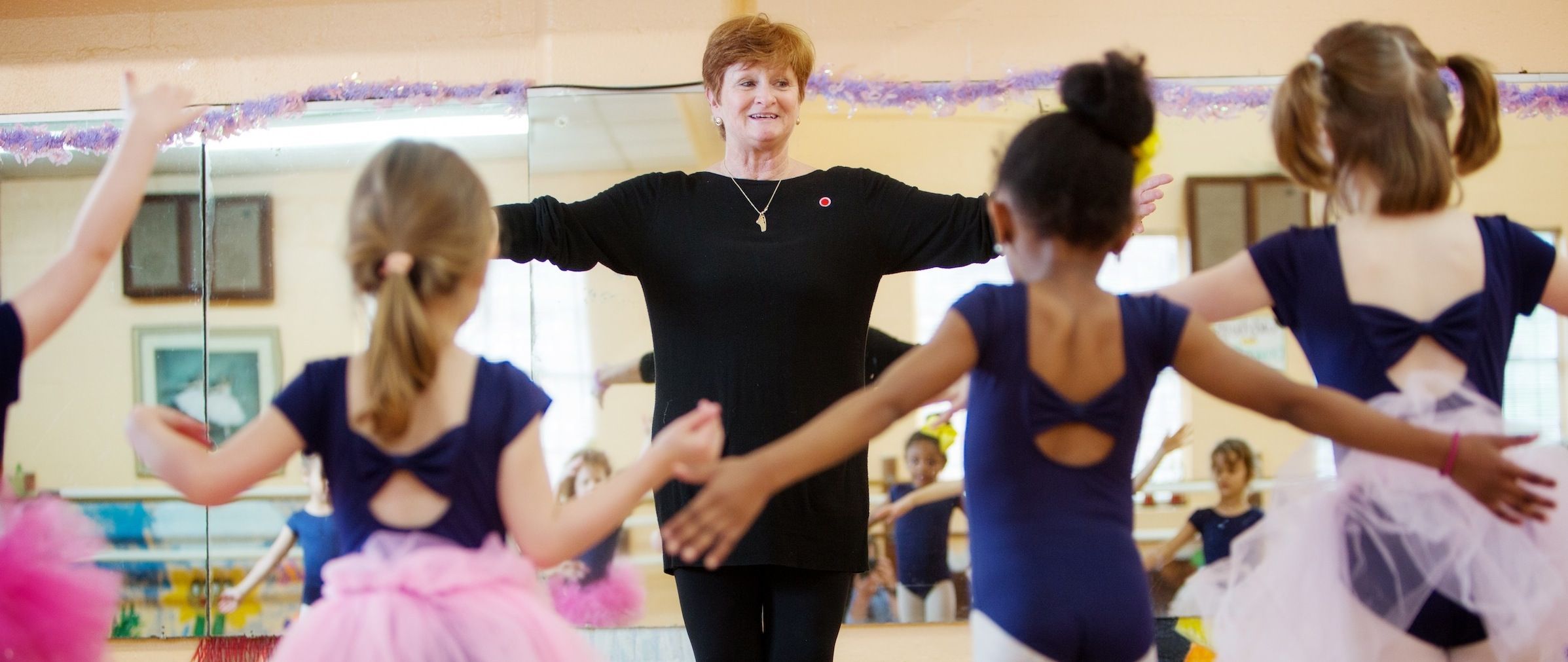 Longtime studio continues to teach dance and poise to new generations
Every August, rows of young ladies with moms in tow line up outside of Powell-Moise School of Dance on Perkins Road to register for the year. The line is long, the heat is intense, but the wait is worth it. A new troop of ballerinas will soon be donning the standard navy leotards and pink tights and will be learning dance steps similar to those that their mothers and perhaps grandmothers learned here as young children. For this year marks the company's 70th anniversary season.
"The students who enroll come to us by word of mouth," says Donna Blanchard, director of Powell-Moise for 15 years. She started as a student of the school in 1954. "It means a lot to us, as it did to Ms. Powell. We must be doing something right."
Margaret Powell and Ann Moise established the dance studio in 1943. In its early days, in addition to ballet, tap, and jazz, Powell and Moise taught ballroom dance extensively throughout the area, with heavy demand requiring them to teach both in Baton Rouge and in surrounding areas. For several decades, the studio also offered gymnastics instruction, but now again focuses exclusively on dance. Today more than 350 children are enrolled in its classes.
"I consider Powell-Moise a big family," says Blanchard. "I think it's a family that sticks together, and dances together, and grows together."
This big family today includes some of Baton Rouge's most talented dance teachers and gymnastics instructors. D-D Breaux, now head of the LSU Lady Tigers gymnastics team, commuted from Donaldsonville to the studio as a young girl to practice under Powell. She often stayed with Powell on the weekends to train.
"It was more than just a pas de bourrée," says Breaux, using an example of a ballet step. "It was always a bigger lesson than that."
In addition to dance steps, Breaux says that Powell taught her etiquette and poise. The tradition of teaching etiquette and respect has continued to be spotlighted at the school. As recent alumni will attest, Blanchard's famous "life lessons" are almost as much a part of a student's experience as ballet class.
Another local arts director who learned under the tutelage of Powell-Moise is Kris Cangelosi, owner of Cangelosi Dance Project. She credits the studio with giving her a confidence that helps her in her career today.
"Mrs. Powell gave me the courage, inspiration and wisdom to become a professional dancer," says Cangelosi.
Molly Buchmann, artistic director of Baton Rouge Ballet Theatre, grew up one street over from the original Powell-Moise studio on Main Street. At the age of 2, she would go to the studio to watch her older sisters practice. As soon as she was old enough, Buchmann joined the throngs of other young dancers under the care of Powell-Moise, including Blanchard. For Buchmann, it was like family.
"Powell inspired my love of dance," the choreographer says. "She also inspired my love for my husband."
Powell was known to be quite a matchmaker. Like a mother or an older sister might do, she arranged a blind date for Buchmann decades ago. That blind date led to Buchmann's marriage of 44 years.
At Powell-Moise today, things are still kept simple and personal. Old school. Dance anniversaries are the only awards given. For five years of dance, students receive a silver ballet slipper charm. For 10 years, students receive a gold ballet slipper charm. Blanchard says that many women and girls in Baton Rouge have ballet slipper charms.
This year, in celebration of its 70th anniversary, Blanchard is inviting any former dancer who once received a slipper charm to participate in a special appearance to open the year-end revue on Friday, May 23. For the young ballerinas who lined up outside to enroll in August, as well as for many more, it will be an inspirational event.
"Kids are the same, whether it's 1950 or it's 2015," Blanchard says. "When they walk in this dancing school for the first time, they're the same."
Thankfully, for the dancers and families, Powell-Moise is still the same. It's focused on the fundamentals of dance while keeping the dancers close like family.
For more information, call the studio at 939-2757.