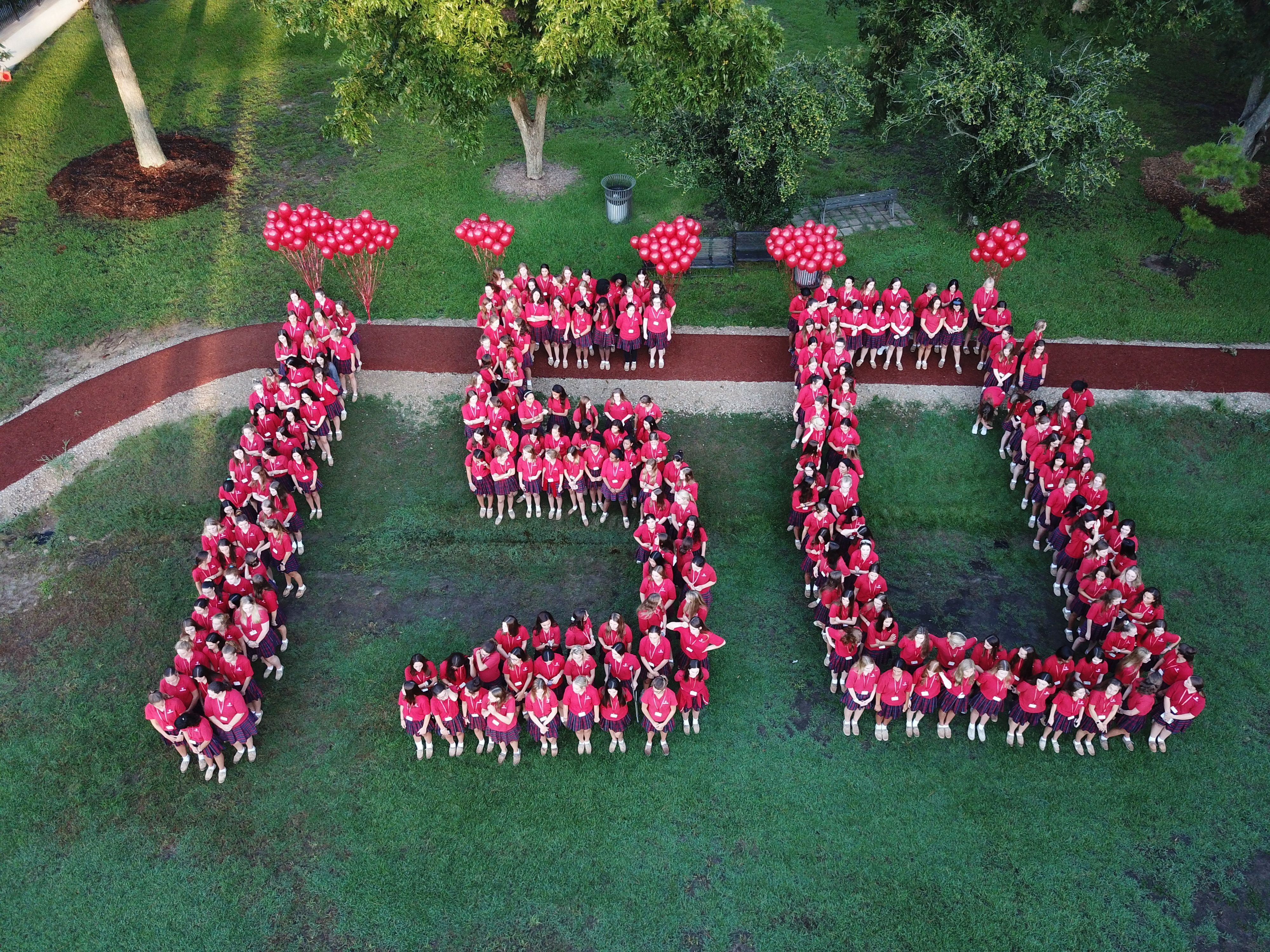 Forging a future: Women around the country credit St. Joseph's Academy for giving them a successful start
---
'The memories just come rushing back," gushes Julie O'Neill as she steps into the long corridor of the historic main building at St. Joseph's Academy. The scene transports this 1986 graduate to choir practices, study groups and the occasional pranks that took place on campus during her years at the school. "It's amazing how the smell stays the same after all these years."
The scent alone is not the only element with staying power here. Photographs of former students line the walls to connect those in attendance to the school's sacred web of sisterhood. But this sisterhood is much more than a simple respect for alumni. Rather, it is a connection rooted in a desire to see women succeed beyond the framework set out for them and to defy the odds and redefine the rhetoric altogether.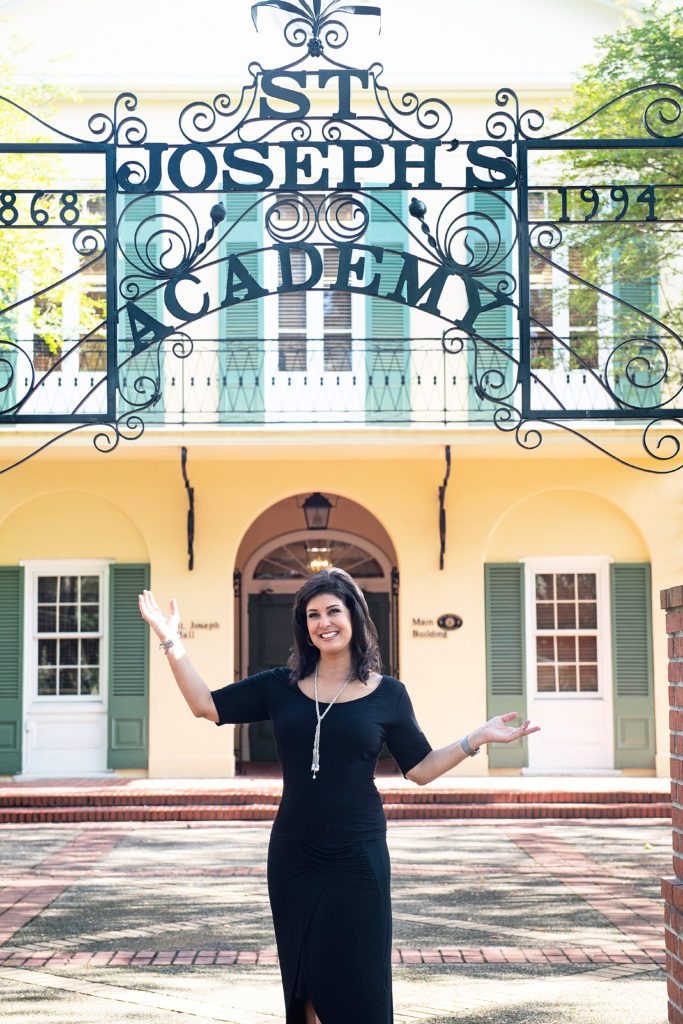 This year marks the 150th anniversary of St. Joseph's Academy, the oldest high school in Baton Rouge and one of the largest all-girls' high schools in the United States. It was founded by the Sisters of Saint Joseph in a small schoolhouse in 1868 after they recognized the need for an institution to educate and empower the young women in their care. And while the school has evolved–discontinuing its early operations including a convent and orphanage–the original goal of excellence in education remains the same.
Julie O'Neill, now a news anchor in Ohio, will return to her alma mater once again to emcee SJA's 150th-anniversary gala in the spring. Many other alumnae will participate in the yearlong celebration, which will include a speaker series, special masses, fundraisers and other get-togethers.
Read on to learn more about O'Neill and other SJA graduates who have moved beyond Baton Rouge but still retain a fondness for the school and its mission.
---
FIRMLY ANCHORED
"One of the lessons that was so engrained in the SJA experience for me was the attitude that you can do anything," says O'Neill, who followed her passion for performance from drama club productions like Fiddler on the Roof to the Miss Baton Rouge stage to anchoring TV news. And while this philosophy might seem arrogant, O'Neill maintains that it has helped her maintain humility.
"Years ago, I got pushed aside to the weekend news at my station," says O'Neill, who works for WCPO in Cincinnati. "I would get passed up for opportunity after opportunity, but it made me into a person that can and will do any job to help the show go on."
This open-minded tenacity also steered O'Neill during her early years when she trained in opera but decided that the stage was not the right fit in the long run. O'Neill realized she had been discounting another talent she had discovered in high school.
"I had been overlooking my writing," says O'Neill. "In my classes at SJA, tests were never multiple choice. They were always essays. And while that was definitely challenging, the process taught me to be more intentional with my thoughts, writing and grammar, whether it be on an assessment or just in a thank-you note."
Combining her passion for performance and her communication skills, O'Neill graduated with a degree in broadcast journalism from LSU and worked at WAFB before moving to the news desk in Cincinnati 20 years ago. Now with two teenagers of her own, she recalls the impact that SJA had on her teenage years.
"I don't know how you measure the impact things like morning prayer, the alma mater or the subtle respect that teachers showed by calling us 'young ladies' rather than 'girls,'" says O'Neill. "But I do know that even in the depths of things in my life now, I get up and I go to work. That's something you learn every day in high school, and it's a lesson that you will carry with you forever."
---
STAGE PRESENCE
Much like O'Neill, 1983 SJA graduate Catherine Dent also found herself on the stage during her high school years. This love of the spotlight, coupled with hard work and skill, propelled the actress through a decades-long career of countless roles, most notably as Officer Danny Sofer on the Emmy- and Golden Globe-winning show The Shield. But it all started at SJA, where Dent remembers fondly the days of belting out the song "Big Spender" from the breezeway and devising elaborate plans to embarrass the underclassmen.
"I saw St. Joseph's and my drama club group as more of a family," explains Dent. "My parents were going through a divorce at the time, and theater was my escape. I could stay out painting props or practicing lines. It was a safe place where I felt accepted, appreciated and validated—priceless things for a teenager."
Dent would go beyond the high school stage to pursue acting in New York City. She eventually earned a degree from the North Carolina School for the Arts before moving to Los Angeles. Paired with the confidence she procured during her days among encouraging and accepting peers and teachers, Dent not only found her voice as a performer, but she carved out a place for herself in the competitive and often disheartening world of acting.
"SJA really did leave an imprint on my life," she says. "When I was there, I was not as constrained by what other people thought, and I was totally free to be myself. Now, even 35 years later, it is so amazing that the girls I formed bonds with in high school will still be there for me."
And as more and more graduates join Dent across the country and world, this network of support continues to grow stronger. "I am so thankful to have grown up in Baton Rouge," says Dent. "But beyond that, I am so thankful to have been, and continue to be, surrounded by so many great women."
---
TEAM PLAYER
Lori Nero knows the power of being surrounded by great women. Although she wouldn't admit it, she is one herself. This 1998 graduate has a slew of stats, a Hall of Fame plaque and even an international fan club to her name. A basketball player with boundless talent and the ambition to match, Nero shone as a center on SJA's varsity team—scoring as many as 50 points a game—and later played at Auburn and the University of Louisville. The Houston Comets drafted her but cut her on the final days of tryouts.
"The coach in Houston suggested I go abroad to gain experience, and I sprung at the opportunity to see a whole different part of the world."
Starting in Greece, Nero played in countries from Israel to Slovakia to Bulgaria and finally retired from the sport in 2010 after a stint in Spain. "I think one thing that allowed me to adjust to my surroundings so well was the confidence I learned at SJA," she says. "I always stood out because of my height. But in high school I learned that I can fit in and I can contribute in a meaningful way, on or off the court."
Creating familial bonds with teammates worldwide, Nero was struck with the similarities among them all. The players were all chasing the same dream, and none of them could do it alone.
"A team is like a family," she explains, noting that many in the European leagues are transplants from the United States. "When I first moved to Europe, my team really embraced me and I realized that as long as I was doing what I enjoyed, it didn't matter where I was."
Now Nero is back in the Capital City, raising her teenage daughter and serving the community as a police officer—a job that gives her the same excitement she felt as a professional athlete.
"When I started at St. Joseph's, I was so concerned about finding my place," she says. "And one thing I learned is that I will always have a place when I am doing what makes me happy."
---
MAKING A DIFFERENCE
"I was always interested in the rest of the world," explains Allyson Quijano, a 1999 graduate who now works as director of international development for Bext360, a company that uses technology to improve and sustain supply chains worldwide. "My grandfather was an immigrant from Nicaragua, so I was aware that not everyone is born in America. Because of this, my family was able to have more nuanced conversations. And service was always a part of our lives together."
From a young age, Quijano and her twin sister Marissa accompanied their parents to serve food to the needy or to work in the concession stands at LSU games to raise money for the American Red Cross. Those experiences taught her that giving back was important, but engaging with the community was paramount.
"I think it's so powerful to grow up in an environment where women's leadership and women's engagement are both encouraged and expected," says Quijano, who served on the student council in high school. "SJA cultivates a 'go for it' attitude that creates a safe environment to take risks. I think it's easy to forget how much braver women in other parts of the world have to be to attempt the things that we just did at SJA."
Savoring this system of female encouragement and eager to proliferate it throughout the world, Quijano took to LSU, the the University of Paris, Georgetown University Law Center and Loyola Law School to fine tune her skills and prepare herself for a career helping people all over the world overcome complex and deeply rooted issues.
"One of the most important things is learning where you personally can make an impact," she says. "I don't need to be a doctor or an engineer to advance my projects. I am best at bringing people and resources together to create solutions."
And thanks to her time at SJA, Quijano has fully embraced the robust potential of women worldwide, making it her personal project to advance female participation in the political process both abroad and domestically.
"St. Joseph's taught me about the powerful role women can and should play," notes Quijano. "There are exceptional women all over the world, and I truly believe that the way to make a stable and successful community is through the engagement and participation of everyone."