A floral affair: We learned the art of arranging at a Bubbles & Blooms flower workshop
As a child, every year I wanted very badly to give my mom a bouquet for Mothers Day. I would wander around our yard gathering a collection of weeds, wildflowers and the prettiest roses (much to my mom's graciously concealed horror) from our flower garden. I'd squish them all together, stick them in a plastic cup, and proudly display my work on the kitchen table.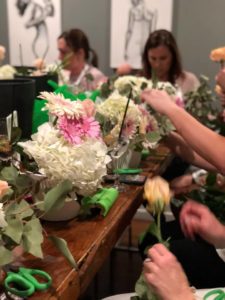 This year, thanks to the ladies of Bubbles & Blooms at Alice's Table, I was able to present my mom with something a little more refined. Sitting around a table at Kalurah Street Grill with 10 other women, enjoying a handcrafted sangria, I prepared to try my hand at the art of flower arrangement.
Alice's Table, launched by Alice Rossiter Lewis in 2015, is a national company devoted to the modern woman. Promoting community, creativity and entrepreneurship, Alice's Table provides women with tools and education towards launching their own business. Through their Event Exec program, local ladies like Molly McWhorter and Courtney duQuesnay of  Baton Rouge's Bubbles & Blooms are hosting flower-arranging workshops in their hometowns all over the country.
Avid flower enthusiasts, but without any professional arranging experience at all, the two friends decided to start Bubbles & Blooms out of curiosity for the craft and mutual entrepreneurial spirits. Their casual, girls-night-in approach to the workshop helped to ease the initial twinge of intimidation I felt sitting down, apron-clad, before my empty vase.
A few handy tips, courtesy of Alice herself, and a bushel of eucalyptus, got us started. Around our table were women, like myself, with little previous experience handling flowers, a few proud gardeners, and one woman who laughingly warned us of her "black thumb." At such close quarters, heady on the scent of fresh cut roses and hydrangea, the environment was prepped for and quickly saturated with female camaraderie. Before the hour was up, we were all nearly as invested in each others' bouquets as our own.
Passing each flower around with tips and instructions on how to best incorporate it into the masterpiece, our teachers continued to emphasize how personal the process actually is. Do what you think looks best; follow your instincts. The truth is, it is a difficult feat to make gorgeous fresh flowers look bad. In the end, I found it remarkable how with the same tools, flowers and guidance, each individual final bouquet came out so differently.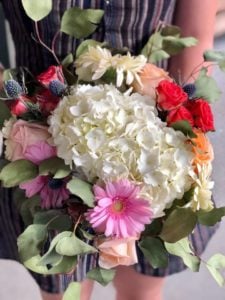 I managed to gather my flowers in tightly, but my tendency to create things just a tad askew presented itself  in the gangly greenery I couldn't bring myself to cut down. Others' bouquets burst from the vase like a cloud, full and luscious. Some spread outward while others were squeezed tightly together. Some were impossibly symmetrical, and some appeared to have sprouted naturally right out of the vase itself. To my sentimental eye, they were all simply masterful.
For the past 10 years or so, I have turned towards professional floral delivery services for my mom's Mother's Day or birthday flowers, arrangements much more elegant than my childhood weed bundles. But this year, gracing our Mother's Day table was once again a gift from my own hands, crafted with Mom in mind every step of the way.
To learn more about Bubbles & Blooms, or to sign up for their upcoming workshop on June 20, visit their Facebook page here.