Fire and ice: A taste of Louisiana at Sundance
Chefs Cody and Samantha Carroll bring a taste of Louisiana to the Sundance Film Festival
---
There was a moment amid the glittering pomp and golden swirl of mysteries at the masked ball when award-winning chef and mixologist Samantha Carroll finally got a breather. All the Bayou State dishes she dutifully prepared with husband Cody Carroll to share with the public had vanished, snatched like a string of beads sailing over the heads of parade watchers. And so she found herself floating through the crowd of guests who were busy boogying to the swift thump and funk of the Michael Foster Project, the horn-heavy sextet that had ignited the partygoers with a riotous second-line performance down Main Street and was still blowing them down.
"Louisiana parties are just so sexy," Carroll overheard one dancing queen say.
Taking in the sight of a dance floor flooded with movie fanatics and well-connected industry brass, Carroll had to agree.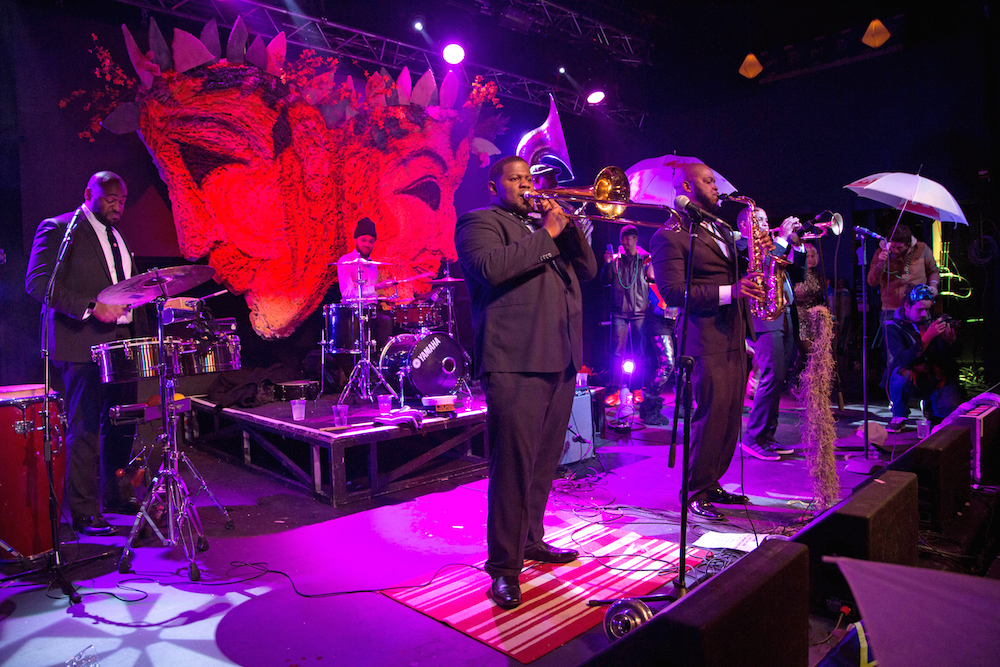 For the third straight year, the Carrolls, founders of Hot Tails in New Roads and Sac-a-Lait in New Orleans, were presiding over the Louisiana International Film Festival's annual celebration at the Sundance Film Festival in Park City, Utah, christened the "King and Queen of Louisiana Seafood." Their task each year is to make their beloved home a moveable feast by bringing fresh takes on Acadiana classics to the Hollywood elite who convene at Sundance every January for what amounts to the Super Bowl of cinema.
"This is all about sharing the good-time feeling you get when you visit Louisiana," Samantha explains.
In order to express some of those bon temps, the Carrolls and their mobile brigade connected with a Tabasco distributor in Utah to help ship seafood, cooking equipment and serving dishes to the site days in advance. Team Carroll prepped roughly 1,800 portions of crawfish piquant loaded with Louisiana corn and white sweet potato, a vegetarian gumbo similar to gumbo z'herbes, craft cocktails with local rums and vodkas, and, of course, fresh king cakes.
"Ninety percent of people there had never eaten a crawfish before," Cody says. "So our conversations with the guests were great. We're kind of able to tell the story of Louisiana through that one dish."
Chesley Heymsfield, executive director of the Louisiana International Film Festival, attends Sundance every year to promote not only her event but also the film and tourism industries of Louisiana as a whole. Acting as a street team for promotion, media opportunities and marketing, Heymsfield's "Louisiana Krewe" has no peer at Sundance, taking geography-specific cultural ambassadorship to new heights.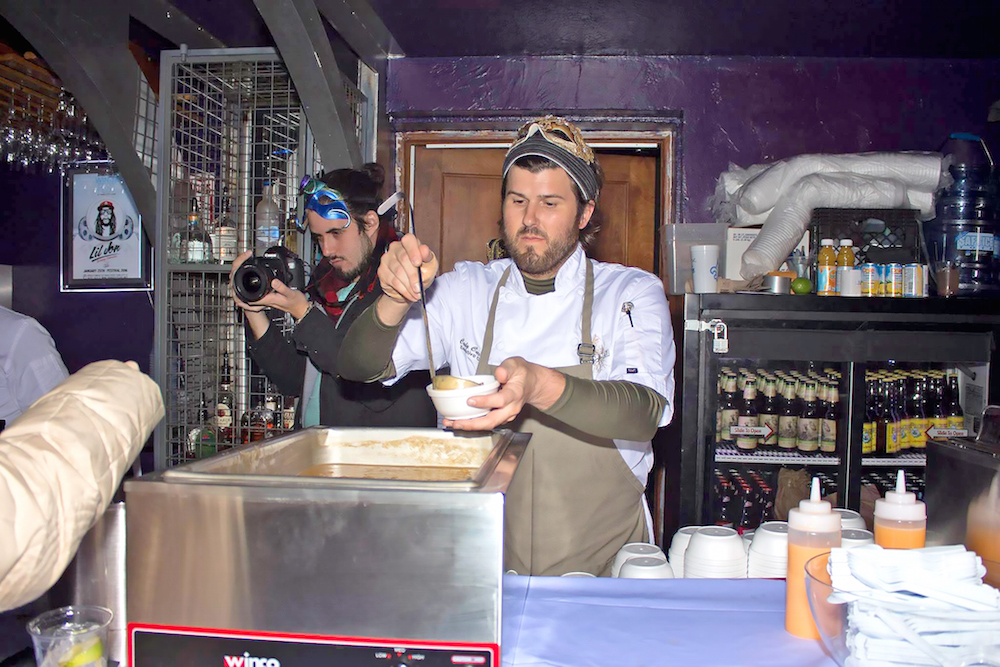 ---
The climax this year was the "Mardi Gras Masquerade," and inside Park City Live that party played host to cast members from Birth of a Nation and Sons of Anarchy. Pop artists TJ Black and Alex Harvie swabbed paint wildly on their canvases, and swamp bluesmen C.C. Adcock and Curley Taylor were rocking hard. And there at the center of it all moved lines of guests supping on seconds and thirds of the Carrolls' culinary bounty.
"[The Carrolls] perfectly embody the image of successful, humble and dedicated Louisiana chefs who have a good time while they are in the kitchen and when they share their craft with others," Heymsfield says. "Their food and cocktails are a large draw for our guests—especially when it is cold outside, and we offer a warm escape in every way."
The Carrolls rose to fame by preserving and modernizing the kinds of dishes their grandparents used to make—Samantha was the youngest female chef ever to be invited to cook at the revered James Beard House—and while this creativity was initially shared with the like minds and bellies of south Louisiana, the couple's first trip to Sundance three years ago made them truly fall in love with cooking for outsiders.
"Introducing others to Louisiana food is what really inspired our second restaurant [Sac-a-Lait]," says Cody. "We're in this to begin with because the joy of cooking is sharing it with other people, and with Sundance you give it your all for days and days, but it's completely worth it to give these people a great glimpse of Louisiana." 
---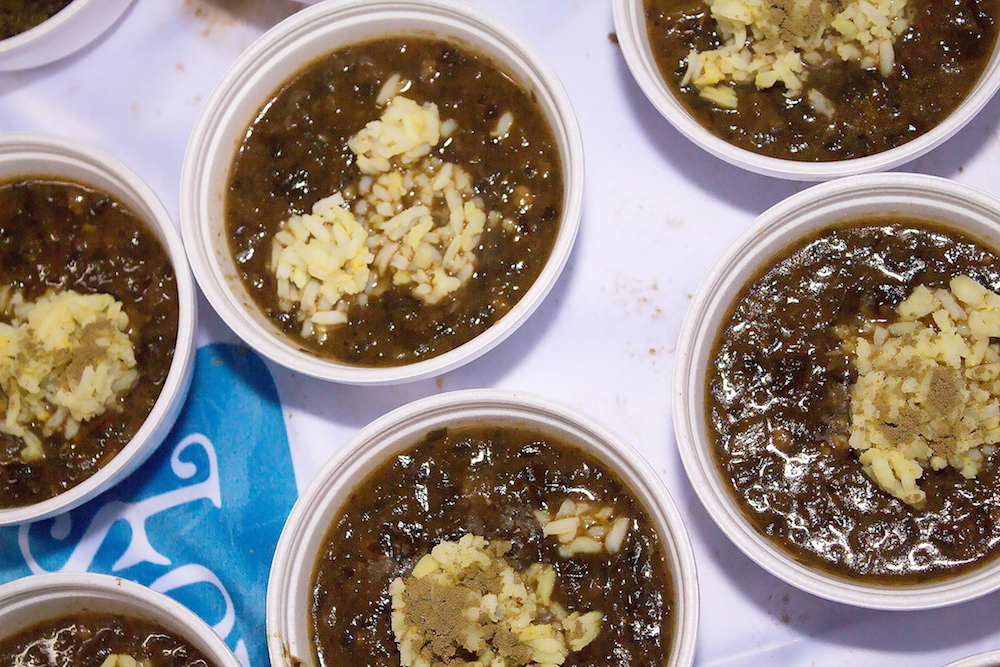 Vegan Gumbo
Recipe from Chefs Cody and Samantha Carroll
1⁄2 cup corn oil
1⁄3 cup flour
1 small onion, chopped (1 cup)
1 small green bell pepper, chopped (1 cup)
3 stalks celery, chopped (1 cup)
2 Tbsp. garlic
2 cups collard greens
2 cups spinach
2 cups mustard greens
2 Tbsp. filé
2 quarts vegetable stock
Salt and pepper to taste
Stir together oil and flour in a Dutch oven or heavy-bottomed pot until smooth. Cook over high heat for 10 minutes or until roux turns a dark caramel color, stirring constantly.
In a separate pot, sauté onion, bell pepper, celery and garlic, and cook for 5 minutes or until vegetables are softened. Stir in all remaining ingredients and cook greens until tender. Add roux 1 spoonful at a time to incorporate it into the greens. Add vegetable stock and season with salt and pepper. Reduce heat to medium-low, cover, and cook for 40 minutes. Serve over rice.
---
---
For more on Cody and Samantha Carroll, visit sac-a-laitrestaurant.com and hottailsrestaurant.com.
The Louisiana International Film Festival will be held April 14-17 at Cinemark Perkins Rowe in Baton Rouge. Tickets are available at lifilmfest.org.