A taste for talent: Local restaurants and cafes showcasing Baton Rouge artists
So close to the cultural hotspot of New Orleans, the creativity found in the Capital City can often be overlooked. Know where to look, though, and you can find evidence for our city's talent in just about every corner of Baton Rouge, sometimes by simply stepping into a restaurant for lunch or grabbing your morning coffee. Sitting down with local restaurant and cafe owners, inRegister sought to learn more about how these environments in particular serve to support local artists here in Baton Rouge.
Beauregard Gallery & Bistro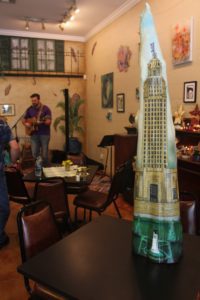 Third-generation owner of the charming, hidden-away gem in Baton Rouge's historic Beauregard Town, Janet Mansur Terrell remembers vividly the day that local art became integrated into her family's fish-market-turned-bistro. Around six years ago, a stranger who had just graduated from the LSU Art and Design program approached her for a favor. He was heading home to California on his motorcycle and wouldn't be able to carry his final art project with him, three 8 x 12 foot panels of contemporary paintings. He asked Janet if she would store them until he could return with a trailer to pick them up. "Just for laughs, he said that if I could sell them he'd take $12,000 for them," Terrell remembers. It turned out that at the time she was looking for something to fill the bare walls of the restaurant, and the huge artwork fit perfectly. She says, laughing, "They were actually these modern nudes, but I thought they looked like cool guitars!"
Within two weeks, a customer came in for lunch and offered her $10,000 cash for the paintings. Terrell excitedly called up the young California artist, who didn't believe her at first. "And the rest is history," she says. "The little bistro became an art gallery overnight. The big sum of money was wired to the artist, the walls were bare again, and I had no idea I could have received a commission for the sale."
Ever since then, Beauregard Gallery has hosted hundreds of local artists of every age and background. "It is so rewarding to be able to sell an original piece of art for an appreciative, talented artist," says Terrell. "We always honor them with a special get-together for their family and friends during their displays."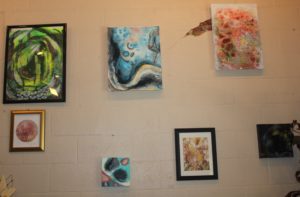 Visual art at Beauregard Gallery rotates monthly in addition to a permanent display and sale of the work of local artisans and crafters. Currently on display is Northeast Elementary School art teacher Olivia Toney's abstract paintings and drawings meant to represent and explore the unconscious.
Magpie Cafe
A regular patron at Magpie Cafe Overpass location, I have oft noticed the ever-changing arrangement of art on the walls of the charming, light filled cottage-esque cafe. Sitting down with manager Amanda Schuler, I ask her how the coffee shop came to incorporate art into its aesthetic. "The owners, James and Lina Jacobs, have always been into supporting local," she says. "Lina is very creative herself and is involved in various artist circles. That's kind of how this evolved."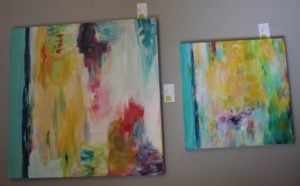 Schuler says that at the moment, the walls of Magpie are booked up until December. "We love supporting our local artists," she says. "The art varies so much, in price and in context. I love seeing the different aspects, different takes." She says that sometimes the art comes from a darker place and is more serious or contemplative, but others are more lighthearted and full of color, such as the currently displayed work of Sharon Furrate Bailey.
Schuler says that the exposure is great for local artists and that on the very first day that Bailey's work was displayed, they were able to sell two pieces of her work."We've got so many talented artists here in Baton Rouge," she says. "And we love supporting that talent here. "
The Velvet Cactus 
The eclectic, funky vibe of The Velvet Cactus is part intentional, part as a result of the diverse and a bit random assortment of art covering almost every inch of its walls. Included are ornate portraits, sugar skulls, Louisiana landscapes, rock n' roll pop art and even cartoon characters. Manager Joel Justice explains that when the Mexican restaurant opened here in Baton Rouge, it was only natural that it keep up the tradition of its New Orleans home base to feature local artists.
"Any kind of way to showcase local talent is really great for our business," says Justice. "It gives people another reason to come in. We have great food, great drinks, and we also have all this cool artwork on the walls. It just brings in a different clientele, a demographic we wouldn't necessarily have otherwise."
Without taking any commission, The Velvet Cactus allows artists to feature their work on the walls until it's sold or the artist asks that it be returned, filling wall spaces as they open up. "Sometimes these people come in, and there is no other way that you would have connected with them, and they just see the art on the walls and ask to share their work too," says Justice. "And they're brilliant!"
Of the dozens of pieces on display in the restaurant, Justice says the great majority of them come from Baton Rouge-based talent, with a few exceptions including the executive chef's father, who lives in New Orleans.
Brew Ha Ha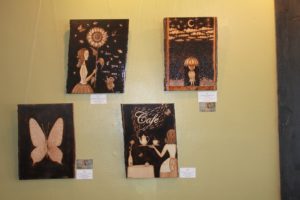 Gabby Loubiere describes her cafe's support of local art as "accidental." From the moment she opened, she says, there were 1,700 square feet of blank wall space and a community of Mid City artists ready to fill it. "That was it," she says. "It was the simplest thing, made the most sense. Out the gate, the most practical way to decorate the store."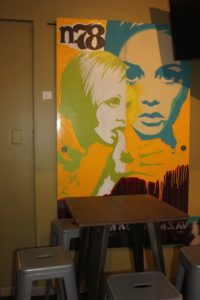 Over the past 13 years, Loubiere says there hasn't been a whole lot of rhyme or reason to the process of incorporating local art into her coffee shop. However, she does have one over-arching value that she lives by. "I try very hard to work with people who are really local," she says. "There are so many artists here in Baton Rouge who want to show their work, and they can be present. People who buy art like to be able to see the artist's face, shake their hand. I think that is so important."
The art at Brew Ha Ha rotates two to four times a year, but one artist has earned a permanent spot in the cafe's main room. After around six years of urging her friend to display his work there, Loubiere got some of TJ Black's work on the walls. "It was the perfect fit," she says. "We've sold more of his stuff than anybody."
In addition to Black, on display currently at Brew Ha Ha are pieces by artists Carolyn Loubiere and Heim Orsi and photographer Hunter Guidry."It's really kind of this ever-evolving thing," Loubiere says of the art gallery in Brew Ha Ha. "It's a win for the community: they get exposed to killer local art. It's a win for us: it keeps our walls fresh. And its a win for the artists, who are always looking for opportunities to share their work."