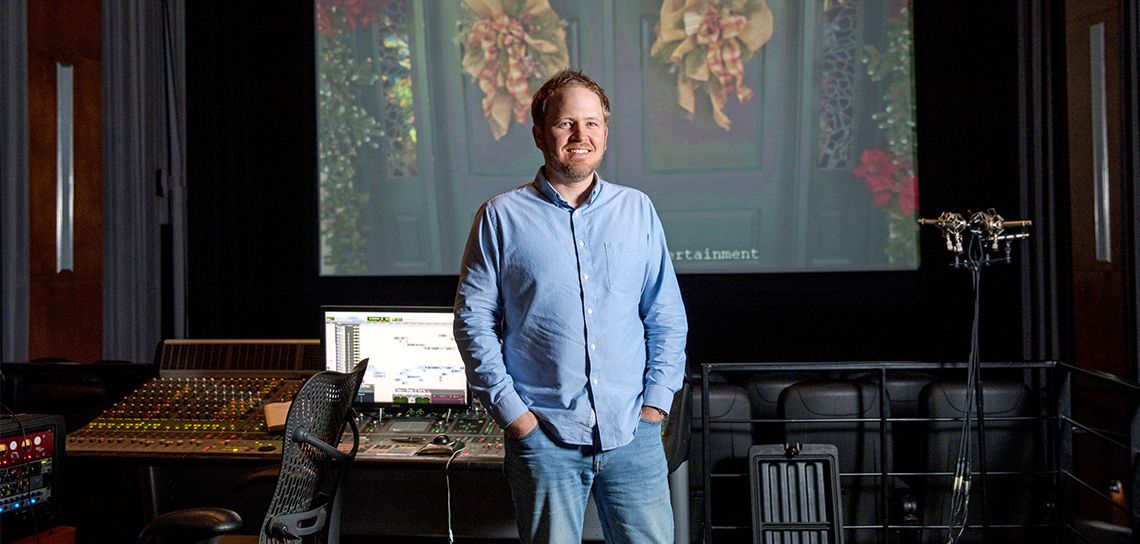 Festive filmmaking: Daniel Lewis' Southern-set TV Christmas movies
---
This story first ran in the December 2018 issue of inRegister.
---
Interior Warehouse—Gulfport—August. The building is 300,000 square feet, and the thermostats are bleeding. Nothing is cooling it down, and Daniel Lewis is running out of time.
A spate of actors and a full film crew are set to arrive tomorrow. A/C units are on order. Large disaster-relief-size generators, too. But as of now there's nowhere for that air to go.
Knowing this, Lewis rolls up his sleeves and works around the clock installing new ductwork that winds through the guts of the facility. "Even if I can cool it a little, it'll be worth it," he thinks.
When everyone arrives, they feel cold air blowing into the set, and they find Lewis, soaked in sweat and covered in soot and muck, smiling and ready to greet them.
He isn't the property owner or a maintenance tech or even an intrepid gaffer.
Lewis is the guy who signs the checks. He's the film's producer.
"Daniel will literally get his hands dirty to help," says Emily Moss Wilson, director of that 2017 project Christmas in Mississippi as well as another Lewis production, this year's Hometown Christmas. "He spent hours and hours crawling around a warehouse we were shooting in installing air-conditioning tubing so that the cast and crew would be comfortable."
Overcoming the swelters of Mississippi and Louisiana is one hazard of the job Lewis has of creating memorable, family-friendly TV Christmas movies. To make production deadlines, most are shot in the summer in 90-degree heat, requiring actors from California and New York to bring holiday cheer to a setting that's a lot warmer than they are used to.
"It's a bonding thing, because everyone is dealing with the heat together," Lewis says. "And I think that camaraderie comes across in the movies."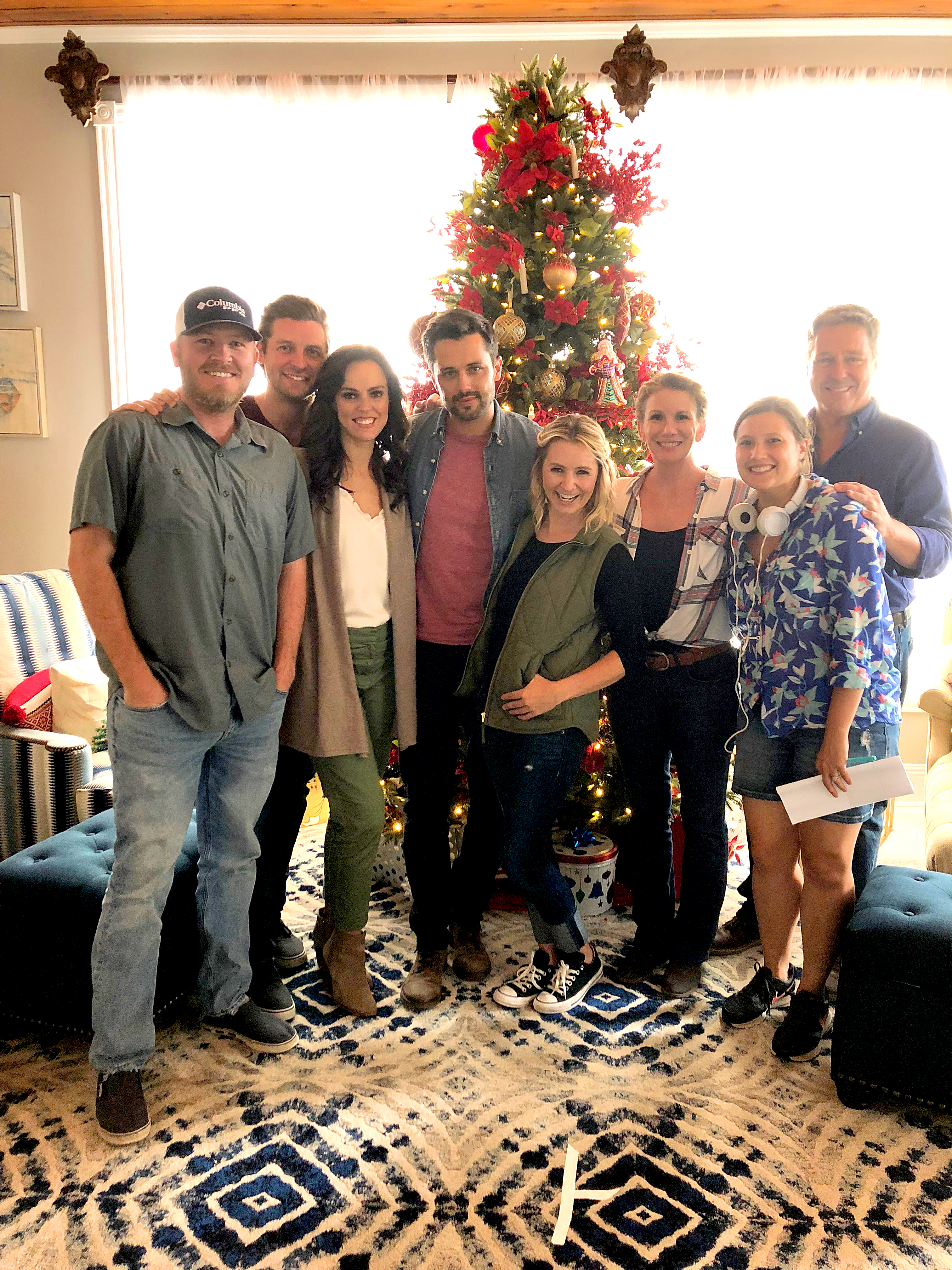 Another upside is a kind of climate counterprogramming that channels like Hallmark and Lifetime, which purchase and air dozens of holiday films every year, have come to appreciate from Lewis and the company he co-owns, Active Entertainment. Viewers who have overdosed on snowy mountains and reindeer on TV, and the chill threatening to knock down their front door, are drawn to the warmer palette of bayous and gators and families celebrating Christmas in T-shirts and Top-Siders.
So popular are these warm-weather Christmas stories that St. Martinville- and Lafayette-filmed Christmas on the Bayou, released in 2013, remains Lifetime's highest-rated holiday movie five years later. But those high ratings are not only because of high temperatures on screen. Christmas on the Bayou was Lewis' first venture into such festive fare after making dozens of horror movies and comedies for the Syfy channel, and that project caused the producer and Baton Rouge native to think creatively for locations and casting and to hit his stride as an anything-to-get-it-done leader of film productions.
"The minute we did Christmas on the Bayou, I knew it was the type of film and the direction I wanted to go," he says.
Lewis grew up loving Christmas movies. Whether with his family or even alone, he'd watch holiday classics and tune in for Hallmark Christmas broadcasts.
"They take you to a world where, yes, there are problems, but at the end you know everything and everyone is going to come together because of love and family and faith," Lewis says. "It's a good feeling thing."
With the film industry booming in Louisiana in 2005, Lewis left his post at Chase Bank to show film productions how to properly apply tax credits and to provide general financial consulting for the growing industry.
It wasn't long before Lewis was overseeing entire film budgets. When he began collaborating creatively with writers, directors, actors, crew and scheduling, he officially evolved from financial specialist to movie producer, and he joined Active Entertainment in 2008.
The LSU diehard and father of three likens producing to construction management. "I'm in charge of all the subcontractors," he explains.
Scenes from Hometown Christmas, which was filmed in Youngsville during the sweltering south Louisiana summer of 2018. Photo by James Billeaudeau.
---
Film editor and director Misty Talley has worked with Lewis for a decade and prizes the producer's ability to make adjustments and find solutions fast.
"Daniel is a realist, and he's good under pressure," says Talley, who worked with Lewis most recently on the horror-comedy Santa Jaws, which premiered on the Syfy channel. "There's real trust there. He treats me as a partner, and how accessible he is on projects is so valuable. He always answers the phone or texts back."
A self-described worrywart by nature, Lewis can't help but see potential problems before they arise.
"It takes evaluating your team, really knowing them as people and why they want to be involved in the film, then the scope of the whole project so you can see any challenges or changes before they exist," Lewis says of his unique profession. "Every day is a challenge, but a good producer is always a step ahead."
A TV movie is a highly structured piece of storytelling, and the production is largely producer-driven. Lewis has created more than 30 of them, including five Christmas movies in as many years. His most recent two projects, Hometown Christmas, which Lewis filmed and set in Youngsville, and The Christmas Contract, which has a Lafayette setting, were both snatched up by Lifetime.
The networks that buy movies made for television are Lewis' ultimate client, so he maintains strong relationships with them while shepherding a project from start to finish.
"The network is happy when they feel they are getting a good product at a discount," Lewis says, "so in other words, when we make a lower-budget TV movie that feels like a bigger-budget theatrical film because we have a large cast, great locations, well-decorated sets, and original music."
The Christmas Contract was written by a Lafayette native and filmed at familiar Lafayette venues including Acadian Village. Courtesy Daniel Lewis.
---
The network will review the day's scenes and provide notes on everything from dialogue and camera moves to an actor's performance.
"Daniel's reputation preceded him, because my good friend Hilarie Burton had worked with him and had nothing but great things to say," says actor Robert Buckley, known for CW's iZombie and a co-star of Burton's on One Tree Hill. "He and I started texting immediately about the project. And once I was in Louisiana, I realized he was a producer who is all in and not above doing anything to help the movie. That creates an environment where everyone wants to help out. It makes for a great mood on set because everyone is in it together working hard."
Emily Moss Wilson, who's directed three films for Lewis, including Hometown Christmas, recalls having plenty of fun with her producer, including a kickoff party for their first collaboration that ended in the producer and director backed by a live band and shouting songs at the top of their lungs.
"I can't tell you how many times we've jumped up and down about a piece of good news or a cool idea," Wilson says. "We've had a lot of laughs, a lot of long texts getting excited about ideas or trying to solve problems, and a lot of ups and downs in the thick of making these movies."
The overwhelming mood Lewis seems to create on his sets is familial, like an intense summer camp that happens to result in a movie a few months later.
"Daniel is very driven, but he's a natural at connecting with people," says Erin Cahill, costar of Hometown Christmas, who Lewis arranged to be flown to the premiere of another film of hers during his production via chartered helicopter. "He's really creating a Hollywood South, and it's inspiring to be a part of that. He's making it happen."
Lewis hopes to further extend that family atmosphere beyond his sets and into the communities where the movies are made. Seeing the promotional benefits for tourism, cities like Gulfport, St. Martinville and Lafayette have welcomed Lewis' productions and worked with his crews to integrate authentic stories, people and places into the narrative.
Though details are still under wraps, Lewis hopes to be filming a new Christmas tale in Natchitoches in 2019.
"Making two of these a year? That would be a dream for me," Lewis says. "These are stories about coming home and second chances, and those things suit Louisiana well."