Fatin Clark: Fighting for fitness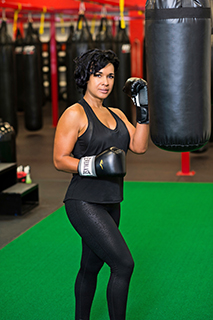 Kickboxing. Tennis. Running.
Fatin Clark, 39, has taken on all of these activities to motivate herself to lose weight and be healthy.
And she already has a new challenge planned for 2016.
To celebrate turning 40, this mother of four and full-time entrepreneur wants to become a fitness model.
"It's something to motivate me, to keep pushing me to stay fit," says Clark, who dropped from a size 20 to a size 6 over eight years by teaching herself about nutrition and fitness.
Although she was active and always lost the weight she gained after having children, life seemed to get in the way of maintaining a healthy lifestyle.
"I didn't make healthy eating choices," says Clark, who is a caterer and private chef and also decorates for events. "I started getting into the routine of everyday life with children, being a wife, working."
Clark says she tucked and squeezed herself into her clothes but didn't understand she was living an unhealthy lifestyle. One day she looked up and realized she was 241 pounds.
When her mother died of leukemia in 2007, she knew enough was enough. She needed to take her life back.
"I never thought being healthy would save me," says Clark, whose grandmothers both died from cancer as well. "I thought it would make me stronger to fight if I needed to."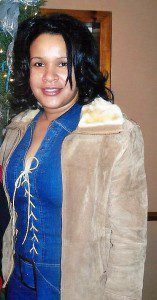 At first, she tried the quick fixes. She starved herself and worked out constantly. She would give up quickly, though, and finally she began to educate herself about her body, fitness and nutrition. She read books and fitness websites and determined which foods to eat and which workouts fit her lifestyle.
"I just don't take one answer," she says. "I take several and put them together."
Clark has always loved to cook and, as a professionally trained chef, is around food constantly.
"I love to make good food and make good food taste great but still be healthy," she says.
Advanced meal planning is also an important component of maintaining a healthy diet, she adds.
When her weight loss plateaued, Clark tried new activities to jumpstart the process. She entered 5K races, then took to the court for tennis and the ring for kickboxing. She pushed herself to do more pushups and gained arm strength, which readied her for rock climbing.
For inspiration, Clark would hang a pair of jeans or a dress in a smaller size on her closet door. "It gave me motivation to get into that piece of clothing," she says.
But it wasn't an easy journey. It was often difficult to make time for herself to exercise, she says.
"The hardest part of that was picking me," says Clark, who often put herself last after the welfare of her husband and children.
Today, Clark takes classes at the Pilates Plus studio three days a week. Although she felt intimidated at first, the instructors modified each exercise to suit her skill level, she says.
The core-toning workouts have increased her flexibility and strength, and Clark says her knees no longer hurt when she works out, an improvement she credits to the classes.
In addition to Pilates, Clark spends three other days each week in the gym doing strength training for at least 30 minutes and cardio for a minimum of 45 minutes. If she can't make it to the gym, she works out at home. She is also taking classes through the American Council on Exercise to become a certified personal trainer.
She tells her friends and other women seeking to lose weight to take the process slowly by making one routine change at a time. If you try to change everything at once, you increase the likelihood that you will become overwhelmed and quit, she says.
And don't look at the scale.
"I don't determine my weight by the scale number," Clark says. "I hate the scale. I do it by my clothing."
---
Fatin's training tips:
• Know what you are going to eat daily. Try prepping meals in advance, and be open to trying new foods.
• Set small, attainable goals to eventually reach your big goal.
• Don't be afraid of weight training.
• Stay hydrated.
• Make your weight-loss goal a lifestyle change. Once you reach your goal, be empowered to continue with your new healthy way of living.
---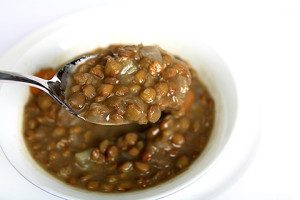 Fatin's favorite healthy recipe:
Delicious Lentils
1 (1-lb.) bag lentils
8 cups cool water, plus additional for rinsing
3 chicken bouillon cubes
4 stalks celery, diced
1 medium onion, diced
3 garlic cloves, pressed or minced
1⁄4 tsp. red pepper flakes
1⁄2 tsp. salt
Rinse lentils with water. Place lentils in pot with 8 cups cool water over medium heat. Bring to a slow boil. Add bouillon cubes, celery, onion and garlic. Reduce heat to low, add red pepper flakes, and cook for 30 minutes. Remove from heat and stir in salt. Allow to rest for 15 minutes before serving. Eat as a soup or serve over brown rice or quinoa. Top with hot sauce, pico de gallo or avocado.