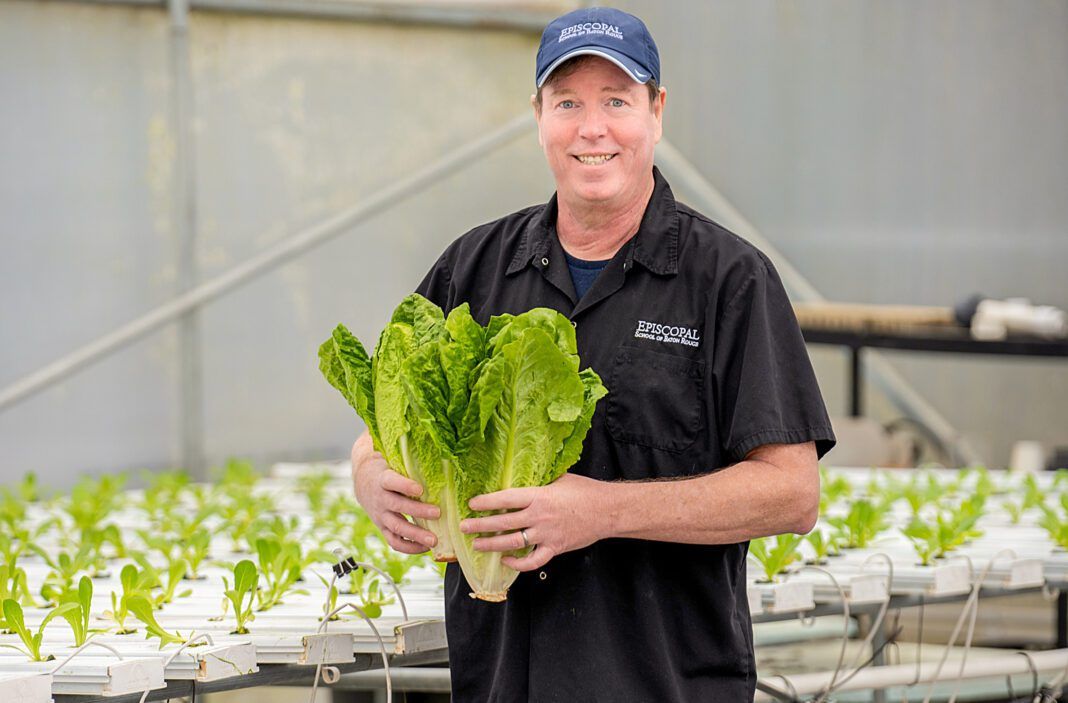 Lunch and Learn: Episcopal's "Chef Pat" is planting seeds aimed at making the school menu something to savor
---
The average K-12 student in Louisiana probably doesn't expect to find Asian cucumber salad on the menu at her school cafeteria. Or beef udon noodle soup. Or wiener schnitzel with a side of sauteed red cabbage and apples. She certainly wouldn't expect to request them from a professional chef as he strolls out from the industrial kitchen, checking in with mathletes and athletes to ask what he might be missing, or what they want to see next. But at Episcopal School of Baton Rouge, this happens every week, where students sit down to culturally inspired flavors like Caribbean chicken, coconut rice, fried plantains and black beans, or perhaps a simpler meal of fried eggplant sticks and fresh romaine salad—which they likely grew themselves in the hydroponic greenhouse just beyond the tennis courts.
That's the farm-to-school approach designed by Patrick Mahon—or "Chef Pat" to students—when he joined the Episcopal refectory team as director of food and nutrition in 2010. A father of two who understands the nature of picky eaters, he would soon transform the lunch program by prioritizing from-scratch recipes, regionally sourced ingredients, on-campus gardening education, and endless amounts of creative freedom.
"I saw a hiring notice on the bulletin board at the Louisiana Culinary Institute, where I was an instructor, saying that Episcopal was looking for a chef," says Mahon, who has also clocked previous experience at Sullivan's Steakhouse and as chef and owner of the former Chicago's Mid-City Restaurant. "It would have been much easier to hire a big company, but I knew that I could provide a lot more for a lot less."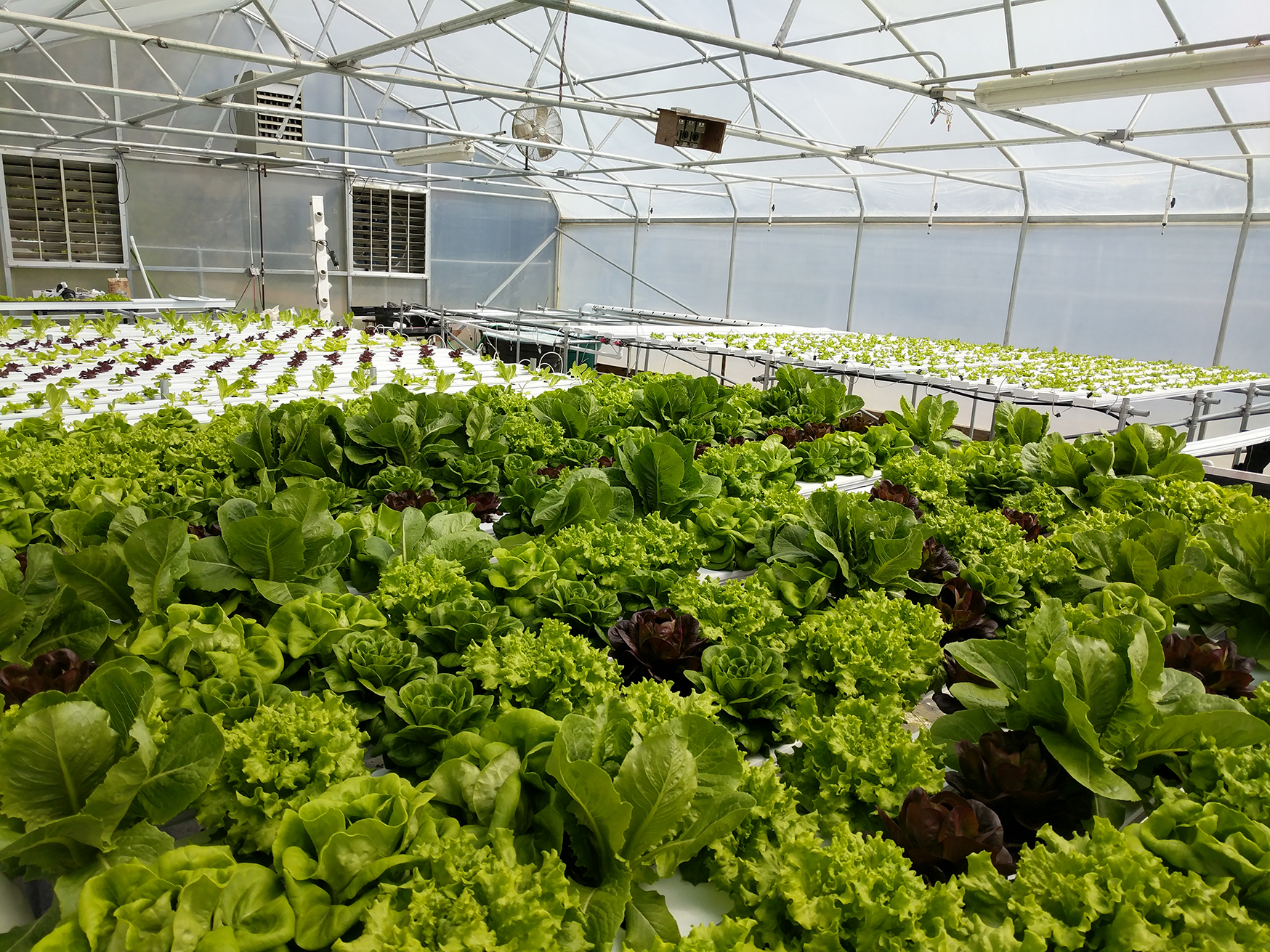 Mahon's commitment toward sustainable, healthy, efficiently produced meals can be linked to his early roots in the nonprofit sector, when he worked as communications director for the Louisiana Environmental Action Network.
"I joined the nonprofit realm with the intention to save the world," says Mahon. "But even when I left the nonprofit to go back to culinary school and learn more about business, I asked myself, 'How do I really make change? How can I get involved?' And that was a major part of my transition here."   
So when Episcopal's Parents' Guild wanted to donate $25,000 to a special project for the school around 2016, Mahon jumped on that opportunity, securing the construction of a hydroponic greenhouse that now grows lettuce and germinates other crops like eggplants and peppers, and, in the future, vining plants like tomatoes and cucumbers. The process requires no soil, relying on an automated system of nutrient-filled water filters and pH monitors to grow plants year round.
"We've grown about 60,000 heads of lettuce alone over the past several years, which generates food for the cafeteria, revenue for the program, and educational opportunities for the kids," says Mahon, who also introduced the greenhouse to LSU Athletics executive chef Michael Johnson as LSU hopes to experiment with a greenhouse of its own. "It's a donation that keeps on giving."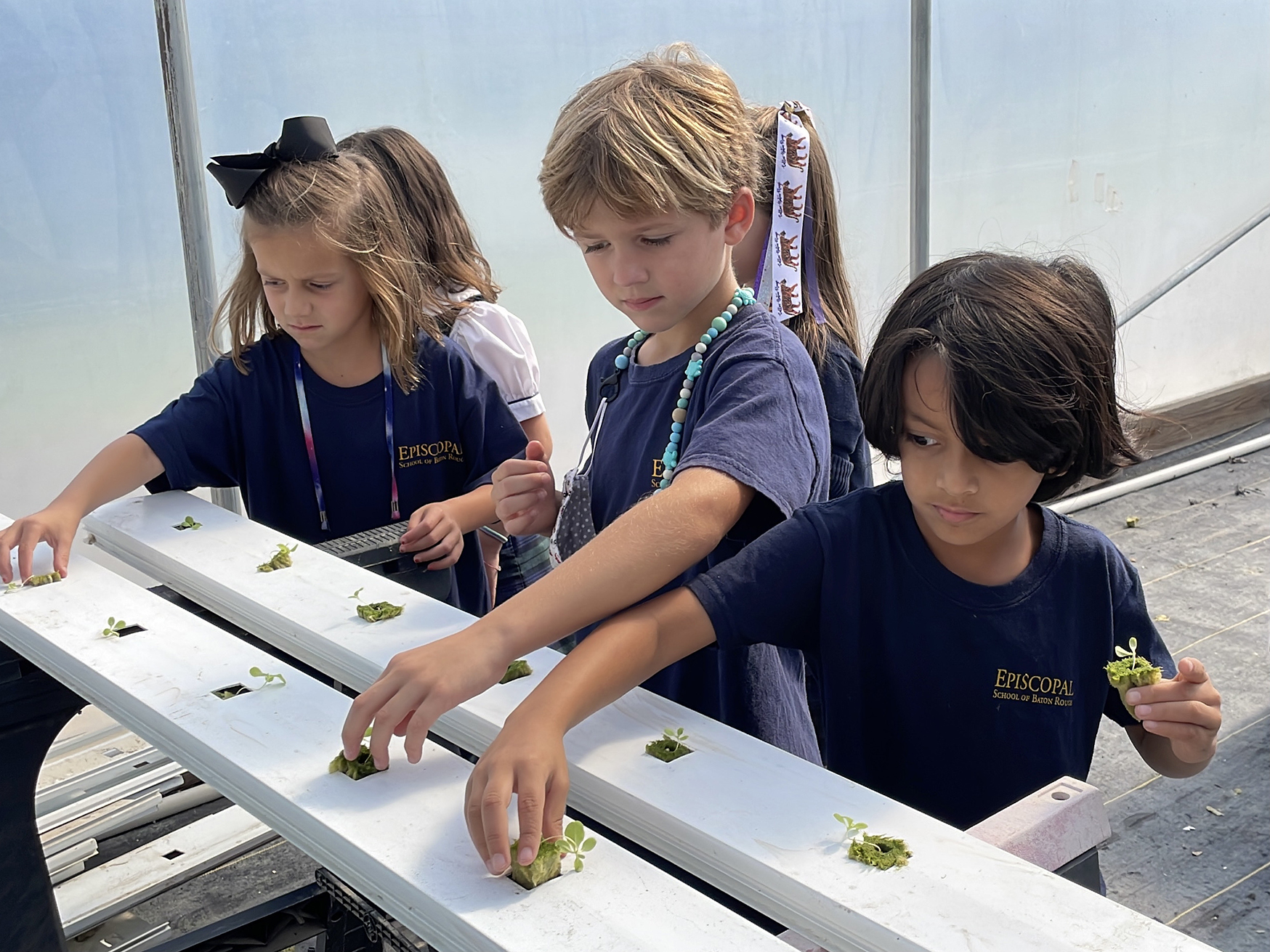 Helping to lead those educational opportunities is Mahon's sous chef, Joel Valentine, who trained at the Chef John Folse Culinary Institute and at the "Grower's School" hosted by CropKing, the maker of Episcopal's hydroponic system. When not in the kitchen, Valentine directs special classroom lessons in horticulture and cooking techniques, whether teaching kindergarteners how to make ice cream or guiding middle-schoolers through the traditional process behind pan pobre.
"We'll soon begin a farm-to-school Harvest of the Month program to introduce new foods," Valentine says, referencing classroom materials provided in partnership with the LSU AgCenter's Farm to School Program. "When you get kids interested in how their food grows and where it comes from, they're more likely to eat that food in the first place."
Mahon's influence doesn't fade once students leave school, either. Shortly after his graduation from LSU in 2018, Episcopal alumnus Hayden Pizzolato—president of wholesale operations for Southside Produce—reached out to Mahon to begin coordinating deliveries of fresh, seasonal, Louisiana-grown produce to the school's salad bar and snack time. Now in the fifth year of the partnership, Southside Produce delivers melons, nectarines, pears, oranges, strawberries, mushrooms and more.
"I take it as a huge compliment to be able to work with Episcopal from the other side, and to know that Chef Pat took a chance on us," says Pizzolato. "He uses the freshest ingredients of any school lunch I've ever seen, and it really is like a family over there. Some of the lunch ladies there now are the same ones I've known since kindergarten."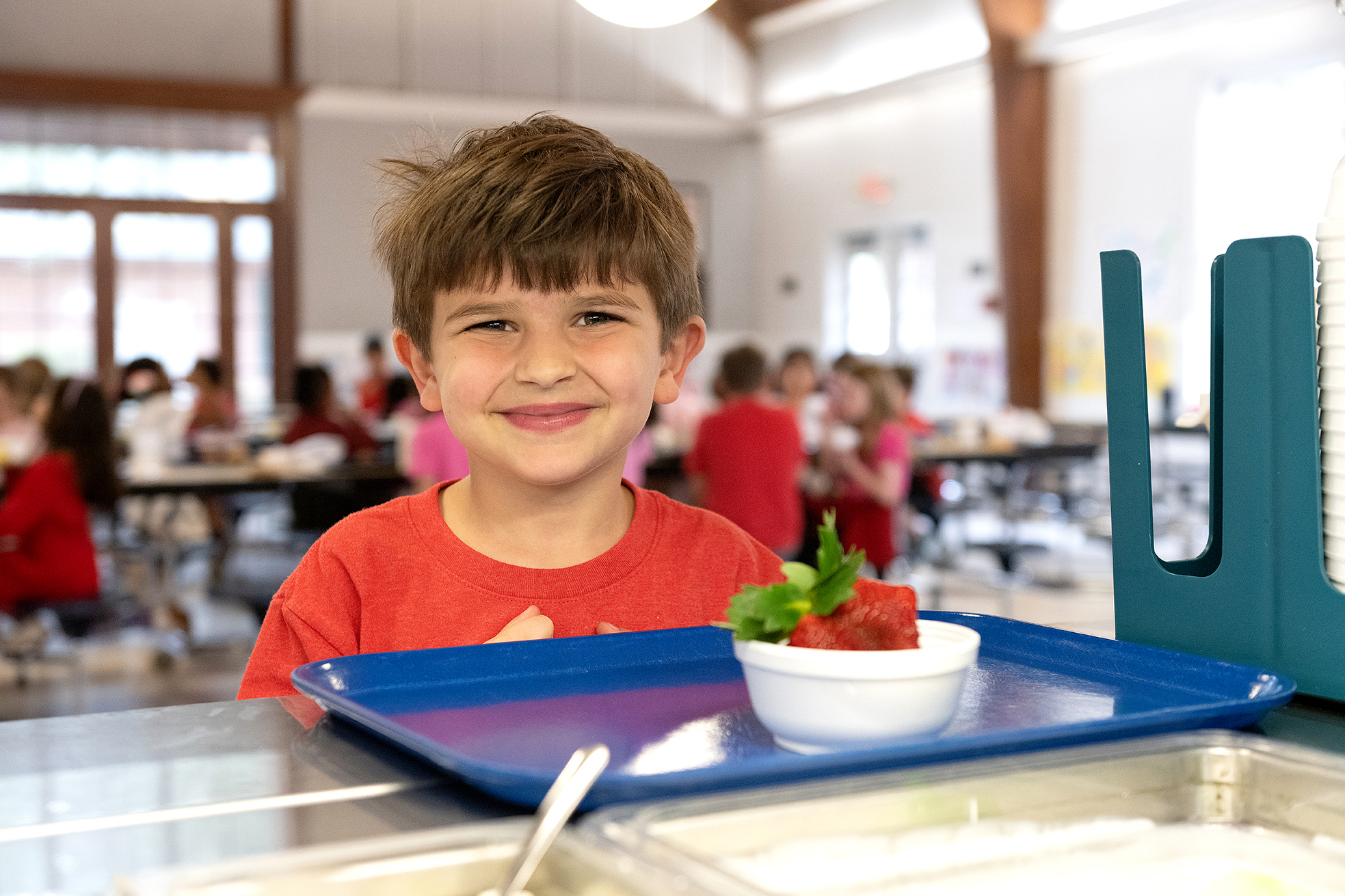 That team of cooks, dish washers and other refectory staff likewise sits at the top of Mahon's praise for the lunch program he's felt fortunate to create.
"They work just as hard as any teacher, any administrator," he says. "It all just comes down to bringing high-quality ingredients to my team and using their skills to make a great product."
At the end of the day, Mahon can't believe his luck in what this nontraditional route has brought to his career in the culinary arts, a position he says has been good for the soul.
"I am truly privileged and blessed to be here and to have the support of this community," he adds. "If you're a chef who wants the best job in town, I recommend you start knocking on the doors of some schools and make a change."