Crochet artist Emily Hallum talks modernizing the craft and the value of a handmade gift
Receiving a handmade gift that demonstrates thought, care and love is unlike anything else. Whether it's a hand-beaded bracelet, a knitted sweater or a crocheted blanket, a handmade gift often stands out because it's unique and personal.
Emily Hallum, the creative mind behind Emily Makes Crochet, knows this better than anyone, as she crochets blankets and figures while modernizing heirloom crochet.
Hallum says she started crocheting in the sixth grade after learning from her mother, and it has been a part of her life ever since.
"I remember going with her to a ladies' crochet group at church and being like a sponge," Hallum says. "I picked it up quickly, and realized how satisfying it was to make something out of a simple piece of yarn."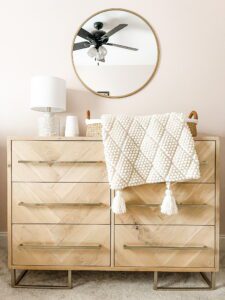 What started as a hobby for Hallum turned into a business shortly after becoming a stay-at-home mom. Able to crochet more frequently, she launched her social media page as a place to share her work. It quickly blossomed into something much bigger.
"I was posting things I had made in years past and sharing updates on things I was currently making. I had people reaching out and messaging me asking if I was selling what I make," Hallum says. "I was so excited to know that people were interested in what I was doing. I realized I could do this."
By the end of the year, Hallum hopes to open an Etsy shop or create her own website. Until then, she is accepting orders through Instagram messaging.
Through her work, Hallum hopes to show people a new side of crochet, while maintaining that same love and care that is so central to the craft.
"I love being able to show that crochet isn't just the old-fashioned doily or afghan we're all used to seeing," she says. "I enjoy making things for the home and for sweet kiddos–from a throw pillow to a lovey."