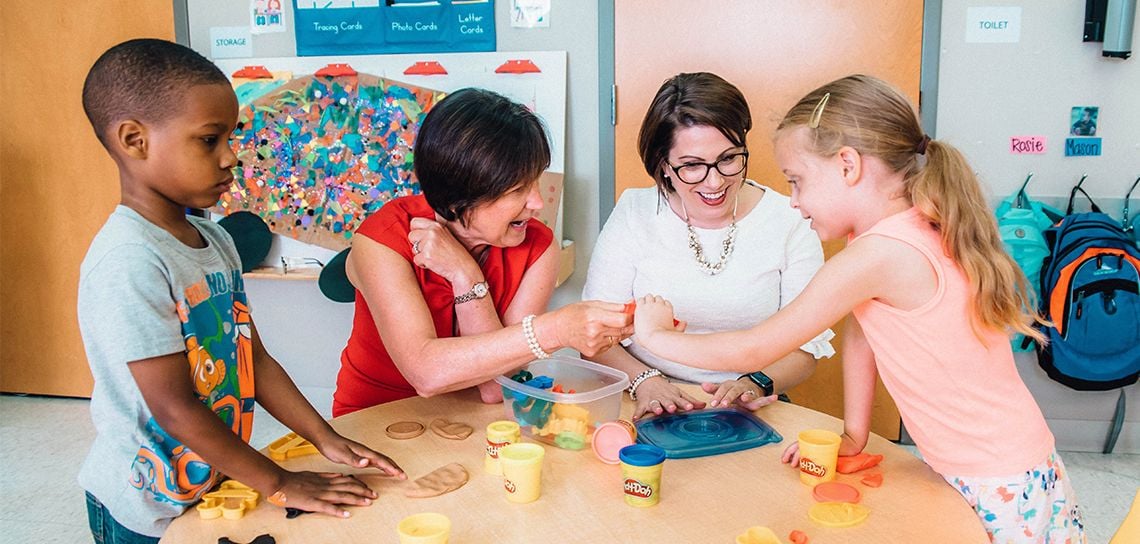 Emerge School for Autism welcomes inaugural group of kindergarteners this month
---
At first glance, they look a lot like many other kindergarten classrooms: Tiny tables surrounded by tiny chairs. Colorful rugs and big beanbags. Cubbies and hooks to hold all the little things that little ones need. But these two learning spaces are also loaded with features tailored to the children they serve, making the new Emerge School for Autism that opens this month a one-of-a-kind haven in the heart of Baton Rouge.
"This is the first charter school for children with autism in Louisiana, and there are not a lot in the nation," says Emerge Center CEO Melissa Juneau of the school, which with its Type 1 Charter status through East Baton Rouge Parish Schools will provide a free education to 20 kindergarteners who live within the school system's boundaries during this academic year.
The launch of the charter school comes after the Emerge Center spent the last few years testing its educational model through tuition-based kindergarten classes. Moving into the academic realm was a natural fit for the center, which was founded in 1960 as the Baton Rouge Speech and Hearing Foundation and evolved into a vital community resource for autism therapies.
The new school combines traditional instruction with customized interventions that help students enjoy learning and thrive in the classroom. Teachers have backgrounds in speech therapy and Applied Behavioral Analysis therapies and will be constantly attuned to the goals for each child. "They'll work on academic skills, but we're doing it in an environment that's sensitive to these students' needs," says Bozard, adding that a typical day might include sensory and fine-motor-skill activities and even yoga and mindfulness exercises to help kids calm down. "It's really about getting to know the students we're serving."
But it's not only about the kids—teachers and administrators will also focus on supporting the families of students. "When kids have autism, family stress can be very high," says Juneau. "What we aim to do is to really get to know these families. It's really a partnership—we will support them in stressful times and celebrate the successes they have."
The 20 slots in this year's kindergarten classes were filled via a lottery from about 80 applicants, Bozard says. Administrators plan to grow the school by one additional grade each school year until it ultimately serves students in kindergarten through fifth grade. "The need is certainly there," she says. "I get calls from families interested in the school two or three times a week, even now that the classes are full. Families are really looking for educational opportunities for their kids that tailor-meet their needs."
As students advance both in the classroom and in their therapy sessions, continual assessments will help determine when they are ready to assimilate into a more traditional school environment. "That's the ultimate goal," Juneau says. "We want to give these children all the tools they need to be successful in a general education setting."
Juneau stresses that the Emerge School will be "very data-oriented," with the curriculum able to be adapted as the interdisciplinary team looks at trends among the students and their learning progress.
"We really see a great benefit when the team works together to make a path forward," Juneau says. "This is just the beginning for this school, and we certainly believe we'll be setting the bar and the standard."