Don't be a closet case

Closets have the potential to be areas of stress, disorganization and overcrowding. Having a plan to optimize even the tightest of closet spaces can make your clothing more accessible and your daily routine easier that much easier. Organizational expert Darla Jackson and the team at Inspired Closets, formerly Ultimate Closet Systems, know it is possible to improve daily life just by starting with this space–no matter how small or large.
Jackson says a lot of people feel like they don't have time to sit and create a plan to rearrange their storage space. It's easy to push it to the back, along with the crumpled-up clothes. "In the end, when you think about how much time is wasted going to retrieve things crowded in a corner or buying things you already have that you can't find, it is really worth it to create that organization," she says. "When you have a place to put things, it makes the habit of putting them there easier, and saves so much time and stress."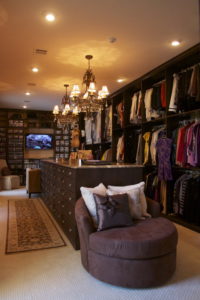 Creating an organized space in a closet is an extremely customized process and is unique for every individual. "When we meet with a client," Jackson says, "we take inventory of what they have and what their needs are. We get to know their daily routines and how they use their things. We look at how they get dressed in the morning and how they make those decisions to choose an outfit."
Jackson says that her best advice on maximizing closet space is to focus on prime real estate. "It's important to really figure out what you use the most and what you need to get to the most, and give those things priority in the space," she says. An example? Shoes. "You wear shoes every day. And people tend to have a lot of them." If you're a shoe person, Jackson says it is important to allot significant space for shoe storage, both to avoid disorganization and to maintain organization. She also suggests that shoe people keep their shoes near a door, since they are typically the last things you put on when getting dressed.
When it comes to making the most of the confined quarters of a closet, Jackson says nothing should be overlooked. Dead spaces like walls behind doors are great opportunities for hanging jewelry, ties or anything that doesn't require a protruding shelf.
If you're limited on square footage, Jackson suggests an innovative way to create more storage: dividing the closet in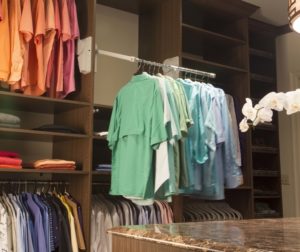 to sections measured to fit exactly around specific items of clothing. A shorter nook with a hanging rod can be used for shirts, while a long, slim cubby is perfect for long dresses and ball gowns. "A man's closet doesn't require much length, so you only need spaces large enough to hold a suit," says Jackson. It is clear where each item goes, and it looks good, too.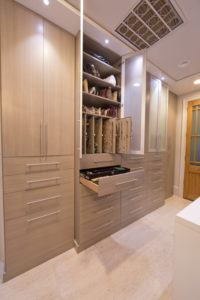 Jackson says the biggest trend in closets right now is the use of drawers inside the closet. This trend makes the space inside the closet look neat and welcoming while also opening up bedroom space for other things, like a seating area. Optimizing your closet can have an impact on the rest of the house!
"It's amazing," says Jackson, "to hear about clients loving to spend time in a space that they used to avoid."