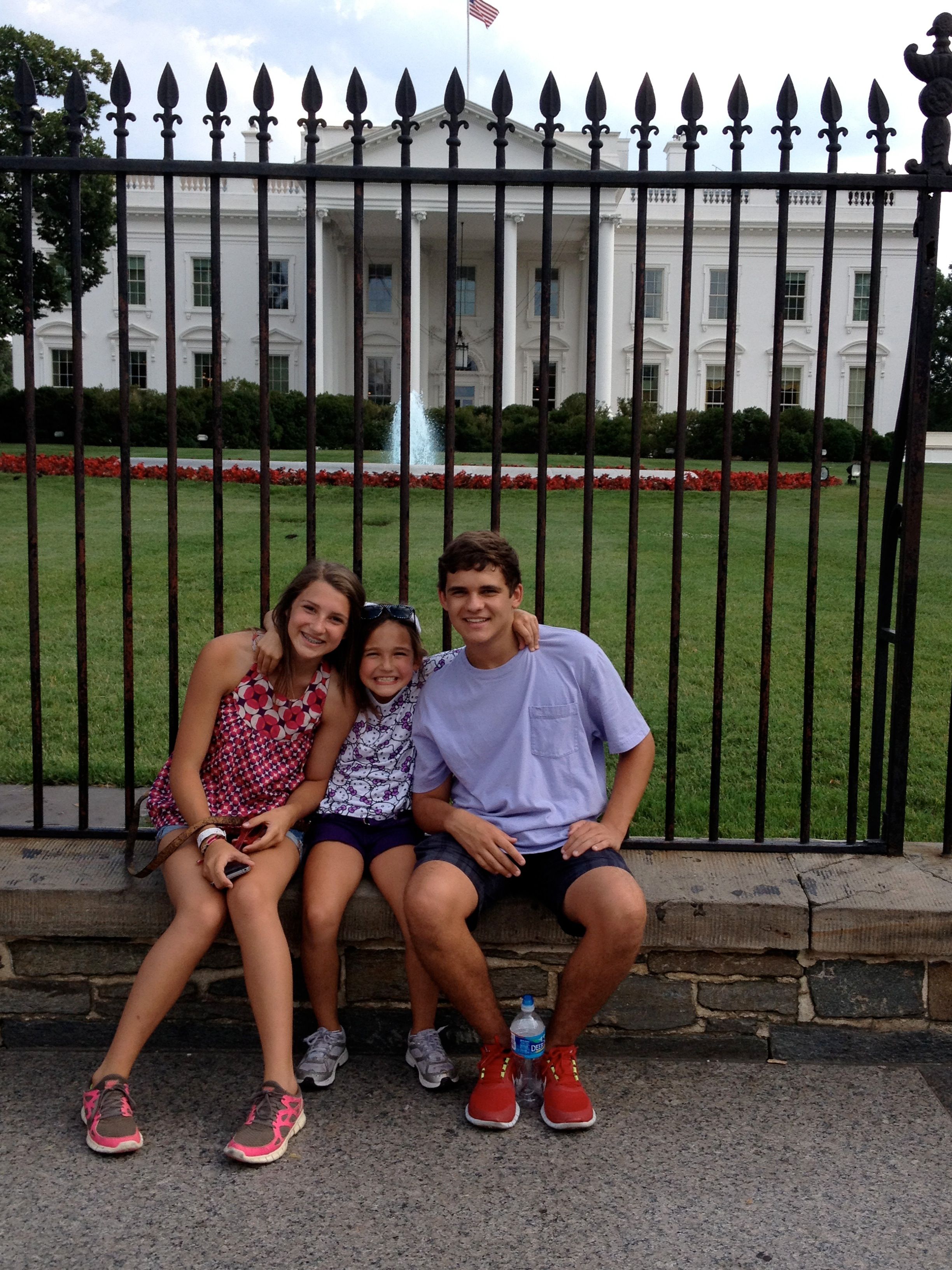 Travel Journal: Washington, D.C. & Annapolis
Seen through the eyes of the Pellegrin family: Bryan  Jamie, and their children Emma Jane, Braeden and Lucy
Who went: The Pellegrin Family: Bryan & Jamie, and their children Emma Jane, Braeden and Lucy 
We went because: We wanted to take a family trip to our nation's capital and build our stay around a tour of museums, monuments and reunions with friends to celebrate our nation's birthday. Our trip culminated with an emotional ceremony for Bryan's retirement from the Navy Reserve at the United States Naval Academy in Annapolis.
Hotel recommendations: We made the Hyatt in Rosslyn, Va. our temporary base: a beautiful family-friendly pick across the street from the Metro stop and right across the bridge from Georgetown. In Annapolis, we always stay at the Loews, a beautiful nautical-themed hotel in the downtown area.
Where to eat: Dining in downtown D.C. was OK, but Georgetown had an amazing array of restaurants and cuisine from all over the world. Having said that, our most memorable meal in D.C. was a cupcake … Georgetown Cupcake, to be exact. The fabled bakeshop from TLC is, like all celebrities, smaller than it looks on television. But as for the cupcake quality: Believe the hype.
Item of clothing you shouldn't leave home without: Even with its efficient Metro and high availability of taxicabs, Washington, D.C., is a walking town. Walking shoes are a necessity; carry your cute shoes in a bag for pictures if you must.
Favorite Historic Landmark: It would be impossible to pick a favorite D.C. landmark. The Smithsonian complex on the National Mall is incredible: The Air and Space Museum and the American History Museums are must-sees. Not so far off the beaten path are opportunities to sit in an oversized Albert Einstein's lap at his memorial and to play in the interactive and educational Spy Museum in the Gallery Place section of town.  A visit to Arlington Cemetery and the Tomb of the Unknown Soldier is an attitude check every child in the United States should experience. The Lincoln Memorial is not to be missed, and even a record-breaking heat wave could not diminish our awe in climbing up those many white marble steps.
Local attraction worth the effort:  At the insistence of my husband, the patriot, we went to the National Archives on the Fourth of July to see our nation's founding documents. It was hot. The line was long. Tempers were short. It was totally worth it! This was the landmark that tied our entire tour together. To see the Declaration of Independence, America's Birth Certificate, on its birthday—priceless. Wherever your visit to Washington D.C. starts, this is definitely where it should end
A great experience worth a drive by: Annapolis, Md.— a 40-minute drive from D.C. Annapolis is an adorable harbor town with great shops and restaurants, a lovely breeze off the Chesapeake Bay and loads of history. We took the younger kids on a pirate cruise and hunted for missing treasure in the Chesapeake Bay. Don't miss a lump crabmeat crab cake sandwich from Middleton Tavern or an 8 pound chocolate shake from Chick and Ruth's Deli.
A great experience of the beaten path: In Annapolis, a tour of the Naval Academy is not to be missed. Founded in 1845, the campus (which they call The Yard) is framed by buildings named for Naval Heroes, and it was in Mahan Hall on July 6 that Bryan retired, 30 years to the day he arrived at the Academy.
Best part of our trip: Bryan's retirement ceremony. Bryan was the Captain of the Crew team at USNA and several of his classmates presented him with a signed oar taken directly from the Boathouse at the Academy. We were fortunate to have many of Bryan's classmates and our families join us in Annapolis. On the morning he retired, Bryan and his friends went running and made certain to stop by Willie McCool's memorial at USNA and pay their respects to a great American Hero.  Willie was a company mate of Bryans who lost his life on the Space Shuttle Columbia.   The Ceremony was unlike anything I have ever witnessed.  It was filled with the same patriotism my husband brings to our lives every day, appreciation for his service and for ours as a Navy Family. We were all "piped ashore" with happy tears and a readiness to party.
Insider's tips: 1) Several months in advance of your visit, contact Congressman Bill Cassidy (202) 225-3901 for the White House tour, Engraving and Printing tour, passes to the National Archives (which are never available on July 4), visits to the Capitol Building itself. 2) Bypass the gummy bears in the Smithsonian gift shop and try the freeze-dried Astronaut Ice Cream instead.