Designer Sue Sartor is keeping true to her vision amidst growing popularity
Designer Sue Sartor began with just a handful of dresses in the dining room of her Monroe home. Now, the Louisiana clothing designer is celebrating the first anniversary of her New Orleans showroom opening on Magazine Street and her third season with Anthropologie. But even amidst her growing popularity, her top priority is keeping the brand authentic and true to her vision.
The Massachusetts native has always had a passion for fashion and art—even working for Calvin Klein in the '90s after graduating from Tulane. She planned to pause her career to raise her three children. But when her youngest child was a sophomore in high school, she asked if her family would be OK with her pursuing her own line. With her youngest now starting his sophomore year at LSU, Sartor has already taken her brand to the next level.
The distinguishable flounce dress that jumpstarted her career (and is now trademarked by the brand) is what she's become known for, and it's easy to see why. It's a dress that can be worn by anyone, and for just about anything. But it's the patterns that are truly eye-catching.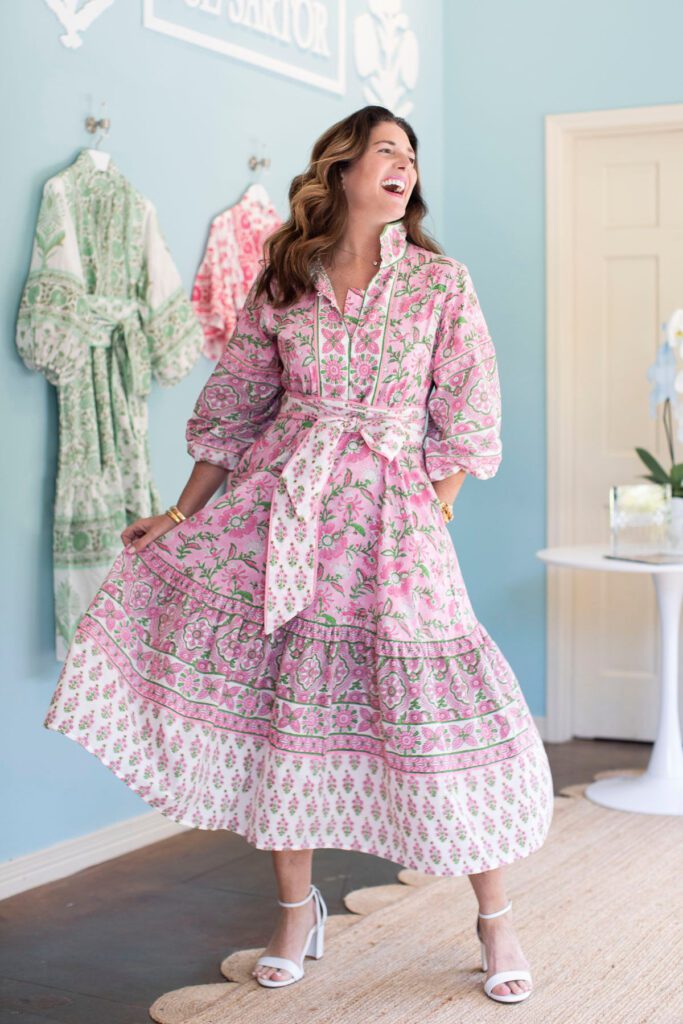 Block printed by hand in Jaipur, India, the patterns are a combination of stamps created by Sartor herself, as well as antique stamps. That technique allows the fabrics to seamlessly combine old and new. 
Her distinctive prints and styles aren't the only things that make the brand unique.
"Whether it's custom dresses for weddings and events, or just tailoring a dress to fit their size," Sartor says,"we have never said no to a client. We will always ensure that our customers are satisfied."
That philosophy informs all aspects of the company. If you ask a question on her website's chatbox, you're likely get a reply from Sartor herself. 
"Every notification from the site is sent straight to my phone," she says. "It's so important that I'm seeing the questions and feedback from customers, and people are always shocked when they realize it's me who's responding."
Interacting with customers is Sartor's favorite part of the job. She's involved in collaborations and pop-ups across the country, including with Baton Rouge-based Fig & Dove. 
"I love doing in-person shows and getting to meet clients," she says. "It's amazing to hear how much they love the dresses." 
However, Sartor knows not everyone is a flouncy dress kind of girl. This month, she's releasing a new line of unisex cabana shirts. In August, she'll debut a cabana-inspired dress. 
"I love wearing my husband's button-down shirts and mixing masculine and feminine styles," Sartor says. 
While she continues expanding her line with things such as children's pieces in the future, the guiding principle of her brand—which has contributed to her success—is Sartor's conviction to authenticity. Whether she's answering customer messages herself or hand-designing patterns for a new collection, Sartor remains focused on sharing on her passion for design, pattern and wearability with clients throughout the country.