The Creatives: Debbie Buco draws attention to the environment and wildlife with etched pottery
---
Debbie Buco
Hometown: Baton Rouge
Age: 66
Artistry: Sgraffito pottery
Online: emptynestpottery.com
---
Johnny Cash often bellows over the kiln, the damp box and the rows of paint tubes and out through the flung-open doors of Debbie Buco's backyard studio. But this afternoon is quieter, resting in a stillness only early spring warmth can bring, and, besides, the crackle of lazy windchimes and the lyrics of distant blue jays are making do.
"See this outline, this Louisiana here, that's not accurate," Buco says, lifting a deep blue vase she created on the wheel and etched with fish and the hypnotic swirling lines of a hurricane barreling toward our state. "The coastline doesn't look like that anymore, and it concerns me."
In 2010, the Deepwater Horizon explosion pumped 210 million gallons of oil into the Gulf, drenching fish and pelicans and everything in thick black muck. It also inspired Buco to create her first pieces of pottery, molding mugs and vases then cutting detailed designs of pelicans into them using an ancient technique called sgraffito (Italian for "etched"). It's the same method that helped make Raphael famous in Rome, and can still be found on walls of Italian palaces and in African sculptures from centuries ago. 
"I used to think I could do this on my schedule and work weekdays like real people," the artist says with a laugh. "But it's all dependent on the clay. The clay's the master. You have to pay attention and get to know it well."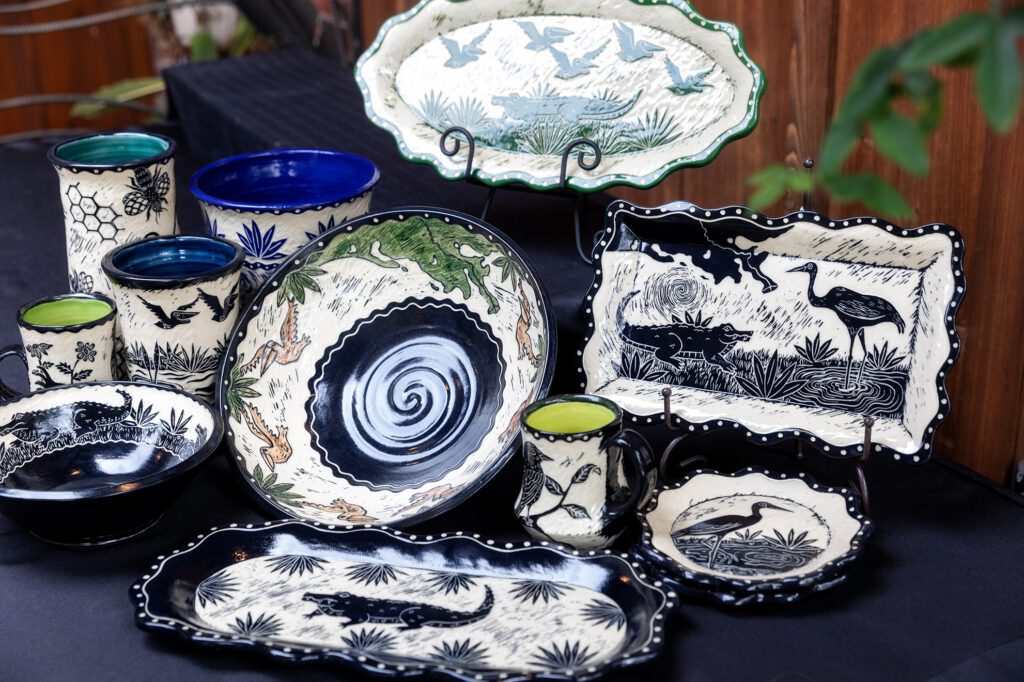 Wait too long and a handle applied to a mug could crack. Get anxious and the etching on a bowl could smear. 
Buco, who taught in the local public schools for a couple decades, considers pottery her second career, and with her four boys grown up and moved out, she called her work Empty Nest Pottery. She and her husband, Steve, keep bees and chickens and two friendly shop dogs who lay at Buco's feet while she works the clay.
Her colorful pieces are on display at Louisiana Crafts Guild partner galleries in Lafayette and New Orleans, and at LASM in Baton Rouge, but 2020 closed the door on the markets Buco had used to make a name for herself, pushing her to create her first online shop. Quarantined from friends and her grandchildren, Buco spent a lot of time taking online drawing and pottery classes. "This last year really forced me to grow, and I'm so glad it did," she says.
Turtles, pelicans and a variety of songbirds still populate her pieces as she remains committed to showing the beauty of nature and the importance of protecting it. That's the work that energizes her with purpose.
"Be true to yourself," Buco says. "Make work that makes you happy."
Cash couldn't have said it better himself.