The Creatives: Sweet Olive Heirloom
---
Hydie Wahlborg and Carley Fuller
Hometowns: Natchez, Baton Rouge
Ages: 48, 26
Artistry: Family storytelling and botanical art
Website: sweetoliveheirloom.com
---
It's easy to forget we used to spend our time turning pages instead of scrolling through them. But mother-daughter creative duo Hydie Wahlborg and Carley Fuller are keeping the written word alive and a once-forgotten family tradition thriving with Sweet Olive Heirloom, launched in 2016 to make home gifts rooted deeply in family history.
Inspired by the letters Wahlborg's grandfather penned during WWII and the ledgers he kept throughout the 1960s, Wahlborg and Fuller have designed the Heirloom Ledger, a 12 x 7.25-inch hardcover, linen-wrapped book for families to fill with stories, key dates, quotes and memories—the most valuable of heirlooms.
Bound and printed in the United States, the 200-page books are titled Our Ledger, come in either a deep green or misty grey, and are finished with a bookmark that lists writing prompts like "What memory makes you laugh?" and the family's name written by Fuller in custom calligraphy on a classic bookplate.
"Instagram is great, but there's something about holding a book and seeing the handwriting of your grandparents," says Wahlborg, who serves as director for the nonprofit Girls on the Run. "Leafing through my grandfather's ledger feels like you're there with them on the screen porch, talking about the day's events."
Fuller grew up filling in the Wahlborg family ledger with whimsical stories and asides steeped in youthful Americana. Some in pen or pencil. Some in crayon. A joke here. A silly sibling dispute there. Birthdays. Vacations. Christmas together.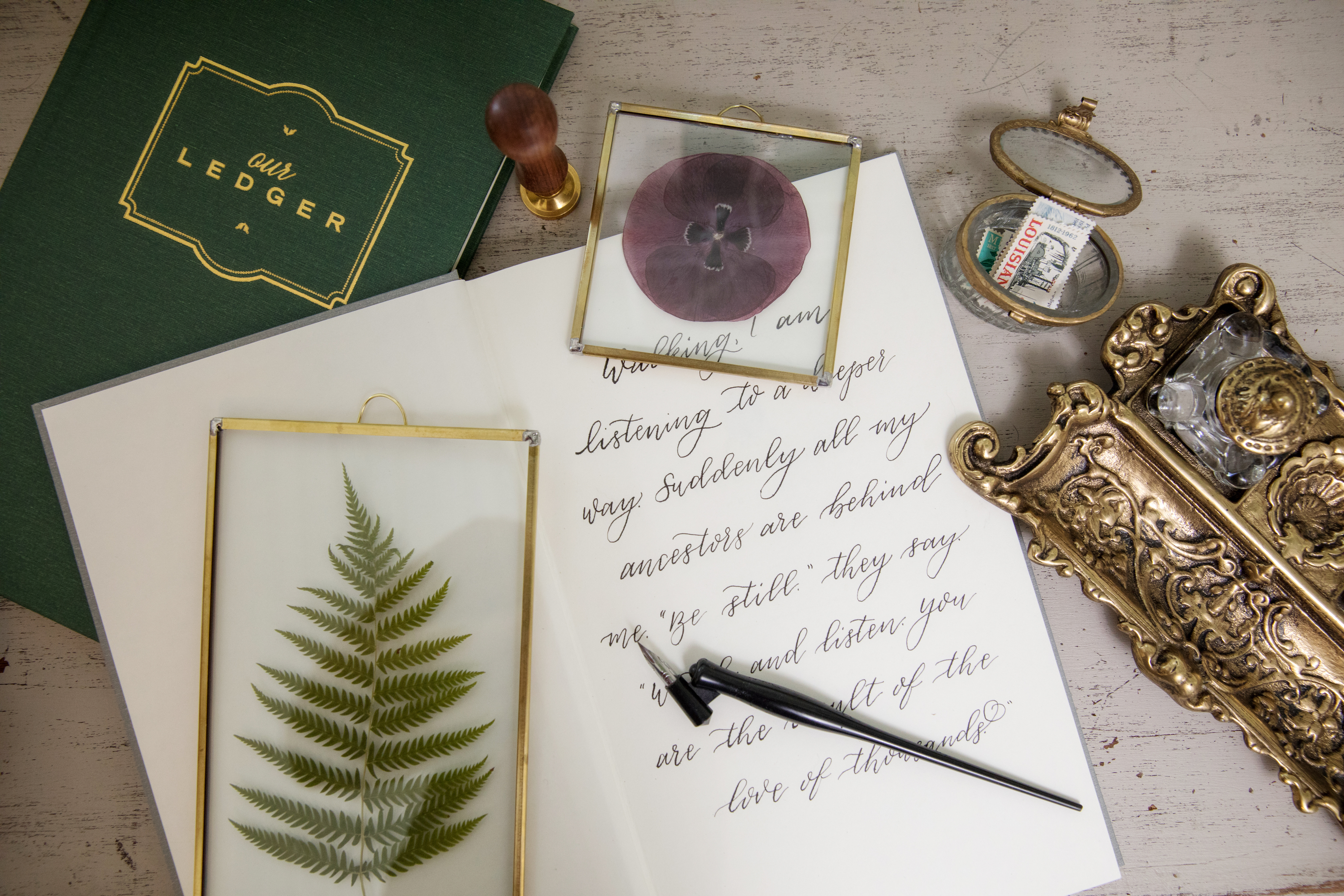 "Ours was messy, but that's what made it beautiful," Fuller recalls.
Sweet Olive offers framed botanicals, too, either single leaves or verdant collages that the duo pick, press and arrange between clear panes framed in brass using a technique derived from the art of stained glass.
They always draw on authentic experiences to create their goods and genuinely value those ideas as much as they honor their family story. Anyone looking to evolve a tradition into a creative project should do the same, they believe.
"Take your idea, and don't compare it to anything else," Wahlborg says. "You have to honor your creative side and let it take you somewhere. Don't deny it."
Part of that creative process was overcoming their fears of expression, especially when surrounded by a large family of artists and writers. But for those facing any doubts about writing, Wahlborg has good news.
"You don't have to be a writer to keep a ledger, to cherish your own stories," she says. "All you need is gratitude and a love for your family."
Fuller has worked with her mother as communications director for Girls on the Run for years, and she's just happy to be exploring another side of her creativity with family at the heart of her art.
"Why can't work be creative?" Fuller asks. "Making time to leave that to-do list and just to think and allow creativity to come is so important. Creating is good for the soul."