The Creatives: Pitch perfect

---
Quiana Lynell
Hometown: Tyler, Texas
Age: 35
Artistry: Singer/songwriter
Website: quianalynell.com
---
Her voice can envelop a room. Whether it is booming from a concert stage on a live-wire Friday night or vaulting sky high over a subdued sanctuary on a Sunday morning, her effortless, sugary tones wrap audiences up tight and never let go. Even still, Baton Rouge jazz singer and songwriter Quiana Lynell believes the loudest voice a creative can have is the one inside her own head. So we'd all better be careful what that voice is saying.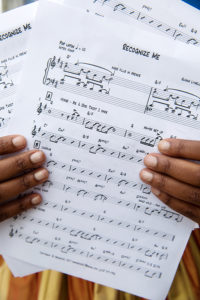 "We edit too much," says the Texas native, who relocated to Baton Rouge to major in music at LSU 15 years ago and never left. "Don't edit or question yourself like that. We are our own worst critics sometimes. But at the end of the day, you are the only you. And if someone criticizes you, just use that to grow."
Not letting perfect stand in the way of good is something of a mantra for the vocalist who was raised up in a household of singers where chores, meals and bedtimes were accompanied by a cappella choruses. Lynell sang praise music at church and later competed as all-state at the highest levels of high-school show choir across Texas.
But long before she sang live for anyone, Lynell was writing. It was a kind of self-therapy that got her through a turbulent childhood with complex family dynamics, divorce and several moves.
"Becoming okay with talking about myself and sharing was a real process, and it took time," Lynell says. "But I realized that if it can help even one person through the same crisis I went through, then it is so worth it to share."
Now she can't stop. Whether it is her love letter to the complicated place she has planted her family with last year's "Baton Rouge" or a new composition dedicated to her grandmother battling Alzheimer's, Lynell's feelings pour into her songs.
"I'm a mad writer," she says. "That intense emotion is what drives me."
And Lynell's creative path has pushed her life in more new directions lately. After a decade in sales and then education, she left her day job as an elementary-school music teacher last August to pursue recording and performing music full time. Since that decision, she says learning to say no to certain gigs and setting specific goals for her career have made all the difference. 
"It's cool but it's scary, because you think, 'I actually liked that work, why am I not doing it?' But I have to remind myself of my goals and keeping forward progress," Lynell says. "It's a growing pain. But it's what keeps you working with a purpose."