The Creatives: Painter and muralist Jonathan Brown
---
JONATHAN BROWN
Hometown: New Orleans
Age: 26
Artistry: Painting, murals
Website: skinnydope.com
---
A funny thought crosses Jonathan Brown's mind, growing into a shaded grin somewhere below the brim of his black baseball cap as he stares at the sea-green fan of feathers stretched outward as if reaching to tickle the clouds. This prominent peacock nesting on the side of the Parish Pilates and Yoga studio on Government Street was his very first mural for The Walls Project.
"I winged it," the artist recalls. "I didn't know how to do it—just did it."
Say the name Jonathan Brown, and most in the arts community won't flinch. Ask around about "Skinny," and heads will turn.
Raised in New Orleans, Skinny's first foray into arts entrepreneurship was adding street art-inspired designs to the backs of student IDs in high school. About a minute with a Sharpie, and he would earn a dollar for each. Students lined up for his modifications.
After graduation, he moved to Baton Rouge to study graphic design at Southern. He soon dropped out, though, to be a full-time tattoo artist.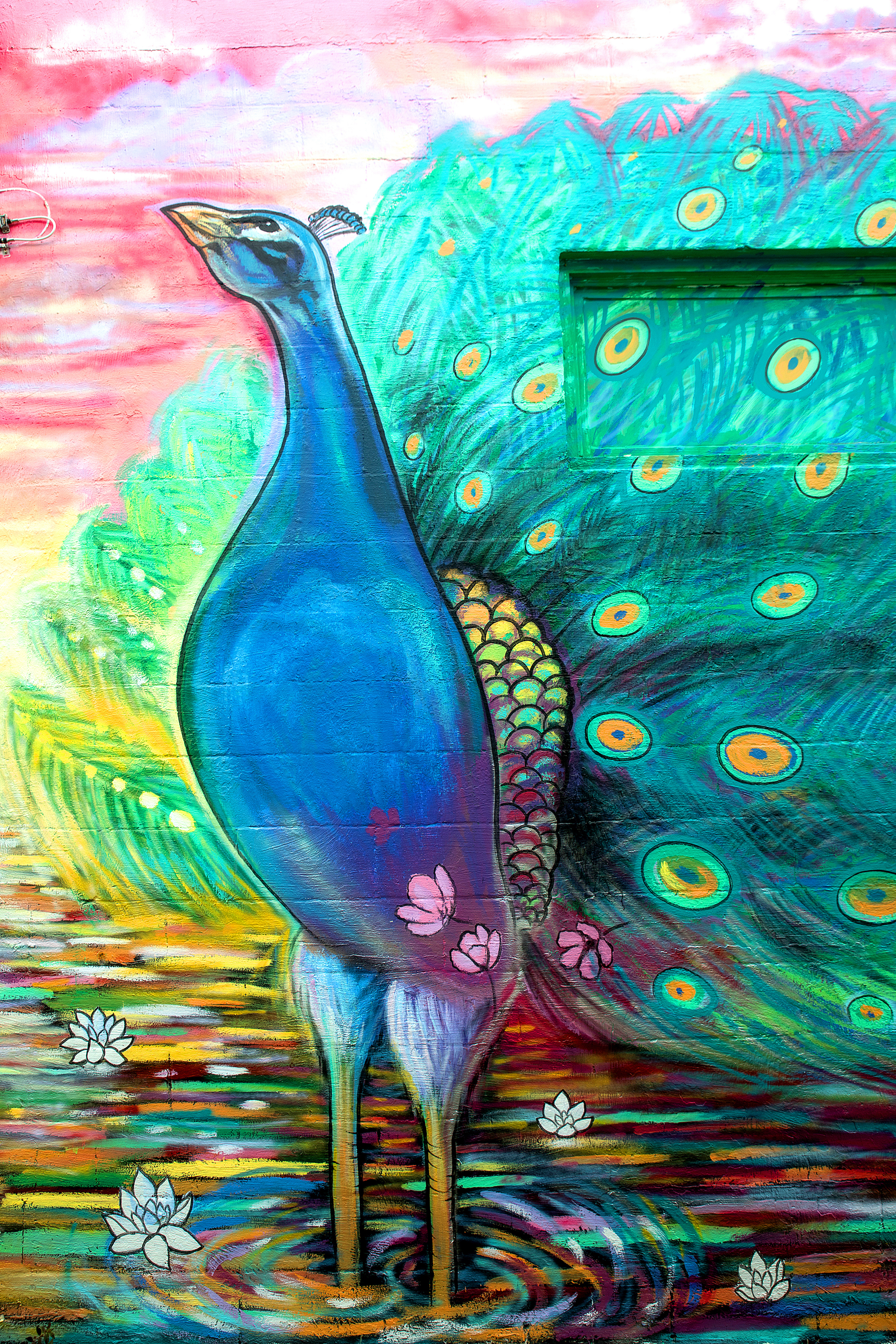 Now he has collaborated with The Walls Project on multiple murals and is a regular at local arts markets, but it was only after the flood of 2016 that he stopped tattooing and began painting as a career.
Everything in his home, including his tattoo equipment, was destroyed, except for his paintings. His fiancé had convinced him to stash those in the attic.
"Right after that flood, I had this prophecy of wanting to help people with my paintings," Skinny says. "I feel the most creative after I've learned a life lesson. When life teaches me a lesson, that's the best time for me to create."
Moved in equal measure by graffiti and National Geographic, Skinny calls the spirit of street art inspiring.
"There are no rules with color or lines in street art, and that's freeing," he says. Though not a rule follower, he does appreciate instruction. As a teenager, he connected with famed New Orleans painter Terrance Osborne, and still gets advice from the jazzy icon.
"Guidance is a big factor," Skinny says. "I don't know where I'd be without mentoring. Every artist should find a mentor and some kind of inspiration."
Before he met Osborne, the muralist looked up polymaths like Pharrell, artists who don't limit themselves to one genre or medium. "Otherwise you kind of hinder yourself," he says.
Now Skinny is working with some young entrepreneurs on a new mural in Old South Baton Rouge. Most likely a wildlife scene. Nature doesn't get the attention it deserves, he believes.
"Usually they let me to have free will with it," Skinny says. "Just give me the wall, the deadline and the paint."