The Creatives: Herbalist Andrea Leyerle
---
People think they are weeds, because they grow everywhere—across lawns, up fences and through low watery ditches. Most people pass them by or clear them out. But the sambucus plant bears fruit, as often as three times a year in Louisiana, with sharp-tasting blue-black berries. Known as elderberries, they are becoming even more well known for their medicinal properties, including bone, cardiovascular, respiratory and digestive health benefits.
Andi Lynn's Pure & Custom Formulary began in 2011 with these very berries, and owner Andrea Leyerle's quest for self-sufficiency. Tired of relying on the marketing campaigns of Big Pharma, the pristine sheen of chemical-laden produce, and striving hard after everything the status quo told her to do and then still not feeling 100%, Leyerle began researching the elderberry. She bought some fresh ingredients at Whole Foods and made her first batch of elderberry syrup while suffering flu-like symptoms.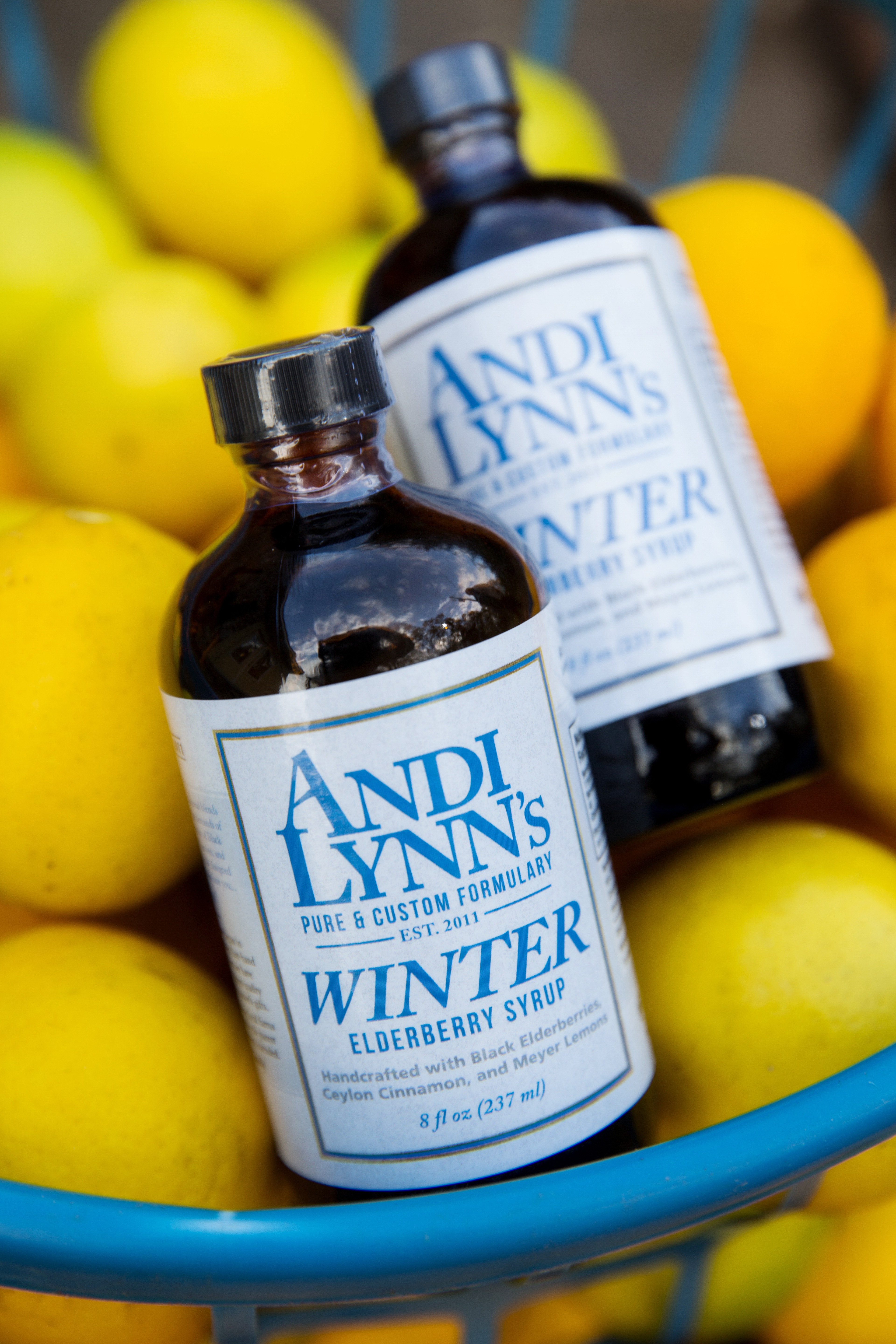 She quickly felt better, and after posting updates and details of her elderberry remedy on Facebook, she offered to prepare more for her friends.
"I told them I'd make it for them—just give me 10 bucks or something," Leyerle recalls. "I sold 40 bottles that first week, and that was the start of Andi Lynn's."
Since 2011, Leyerle has grown her family business to distribute a dozen products to more than 100 stores, mostly in the Gulf South. By following her instinct to care for herself, her family and friends, she's grown a profitable and creative health remedy enterprise she hopes is empowering for people, helping them realize their own body is in their hands, not some company's.
"If you have an idea, just do it," Leyerle says. "And people will tell you all kinds of things about what you should do or how, but they don't know you. Just learn by doing, because our expression isn't going to be like anyone else's. There's value to that because it's your thing, and the world is going to be better for it if you do it."
Leyerle's goal by the end of 2018 is to have stockists in all 50 states as she preps a new manufacturing facility and herbal learning center in Livingston Parish. After rebranding last summer, she rolled out a slate of new non-elderberry-based products, including a Fire Raw Apple Cider Tonic whose spice lives up to the name.
Available at several locations in and around Baton Rouge, including Red Stick Spice Company and Fresh Kitchen, Leyerle's creations include a Pillow Deep Sleep drop containing her own home-tested organic blend of chamomile, skullcap, poppy and passionflower herbs for rest and relaxation. Her Cough & Calm syrup is made of local honey and wild cherry bark, along with other ingredients harvested in Louisiana.
"I'm not a company, I'm a person," Leyerle says. "The joy comes in the craft—using my hands to do the work. I want people to know that I made this for them."