The Creatives: Audrey Kafkallides gets wired
---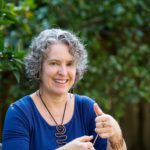 Audrey Kafkallides
Hometown: Escazu, Costa Rica
Age: 53
Artistry: Copper jewelry maker
Instagram: @audreykjewelry
---
No second act is a carbon copy, but for artisan Audrey Kafkallides, whose hands have never touched jewelry wax or a mold, her craft is wholly unique and deeply personal every time she lifts her hammer to the wire.
"I don't measure anything; it's all intuitive," she says of the copper wire jewelry she began making almost two years ago on a trip to Greece with her husband Chris, a Cypress native. "It's handmade with very simple tools, and that's what I love about it. There's are no modern processes. It's pure creativity."
Even as she combs through a wood box of her initial explorations, the hallmarks are there. A river-bend fluidity of curves and coils remains in her most recent work. Kafkallides' art conveys a unified aesthetic completely absent of eclecticism.
With her children grown, the Costa Rica native and LSU alumna became intent on pursuing a commercial outlet for her creativity, so she used a hammer, pliers and cutters to complete her first line of jewelry in 2016, then set up at Brew Ha-Ha coffee shop for White Light Night.
Selling pieces to strangers for the first time, the rush was intense. "After that night, I knew this was my new path," she recalls.
Kafkallides works as a yoga instructor and gets out into nature to feel peaceful and create her jewelry. A kayak lives atop her car when it isn't in the water, and she and her girlfriends often walk the LSU lakes.
When she's outdoors or traveling with her family, she always has her ring mandrel and materials nearby. Inspiration, she believes, can strike anytime. She likes being prepared.
For the past year, she's been inspired most by the energy and interactions at local markets and connecting with creatives through Instagram.
"To do this, you have to super-self-promote," she says. "There's an aspect of 'Look at me! Check this out!' all the time. And that's counterintuitive to lots of talented people. But you have to get out there, find the pop-up markets, and just do it."
Kafkallides will create custom pieces, but her muse is more often on doing exactly what she wants, like creating the Aphrodite bracelets and her "Middle Finger"—yes, that finger—ring collection.
"You have to love it to succeed in it, and no matter what someone's opinion of your product is, you can't let that sway you," she says. "Make what you love."