Pup stars: Capital City Obedience Club transforms dogs from couch potatoes to course masters
---
Some dogs enjoy burying sticks in the yard. Others, a good scratch behind the ears. And some dogs, whether Shetland or Shih Tzu, just want a timed physical contest featuring tall hurdles, slalom poles, tunnels and seesaws. And then maybe a belly rub.
While the owners of these animals may be the ones who reap any medals or ribbons from agility competitions, the dogs' rewards lie mostly in the fun of the sport itself, in a pastime that Baton Rouge's own Louisiana Capital City Obedience Club has facilitated for almost 60 years.
Established in 1963, LCCOB is the oldest ongoing American Kennel Club association in the city, with members participating in several aspects of training, including obedience, agility, herding, tracking, pet therapy and lure coursing, a system of lures and pulleys that mimic the movement of live prey—an activity especially geared toward sight hunters like whippets or greyhounds. The club's agility training program, Red Stick Agility, began in 1999 and has since become one of the club's most popular offerings.
"There's so much enthusiasm," says Andrew Groome, one of the club's members. "What these dogs can do, and what you see at these competitions, is really amazing to watch."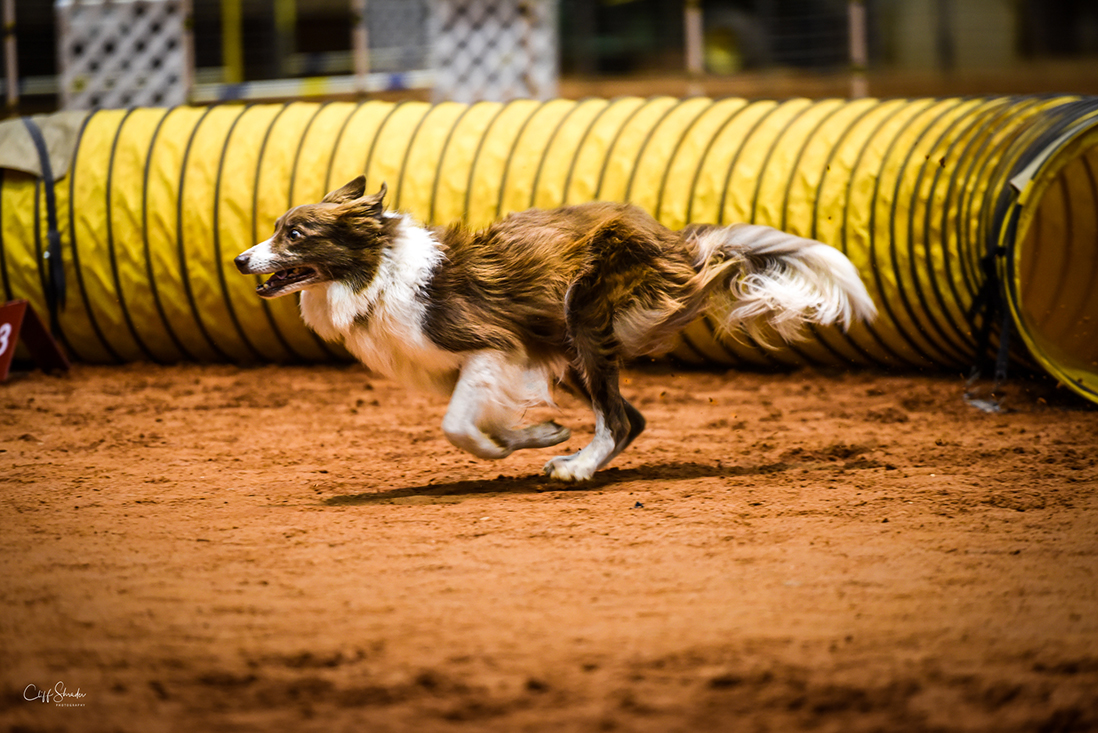 Groome, who originally hails from England, works with his wife to train their two young golden retrievers, Millie and Pippa. Still young at just two years and one year of age, respectively, the pups have a lot of work to do before they become masters at the agility course, but for the Groome family, the effort is often a reward in itself.
"I've had dogs before, but during the last two or three years that we've been doing training classes, I've gotten really, really into it," says Groome. "One of my friends mentioned agility to me once I got Millie, so I took her in for a couple of lessons and then just got hooked. After the first lesson, I was going in every week."
Training a dog to perform agility feats can take some time, he says. The sport requires a lot of patience and technique, but at the end of the day, it's all about having fun. In this way, agility practice can be different from standard obedience training, which requires more rigid discipline on behalf of both owner and pet.
"Regardless of the type of training, having a good pet is important, so the more time you spend with your dog and the more training they have, the better pet they're going to be," says Polly Odom, the LCCOC's agility director. "Training can always benefit both of you."
As for that old adage about old dogs learning new tricks?
"There's no age limitation," she says. "Of course, if you want to compete, you'll want to start earlier with the training because there's a lot to learn, and older dogs may not have the energy or the desire to do it. Still, we have dogs in our Intro to Agility class that are as young as about 6 months to as old as anyone wants."
Agility, after all, isn't about the pompadoured fur and perfect bone structure of a typical Kennel Club show dog. From jowly hounds to tail-wagging Yorkies, the name of the game is time and accuracy, not the trimmings of blue ribbon genes.
"Border collies are especially good," says Groome. "But there are little daschunds that compete, too. Border collies can clear the 20-inch jumps, but they even have small 4-inch ones for the little guys, so those are always fun to watch."
Agility competitions take place throughout the South, with different levels of difficulty for different types of courses. A "standard" course usually means a layout of tunnels, A-frame ramps, high-speed jumps, weave poles and see-saws. A "jumpers" course, in slight contrast, contains less standard obstacles to slow the animals down and usually results in the fastest times. The dogs' handlers direct them through each course with no leashes or treats, and infractions like knocking a bar down during a jump or failing to complete the run under the standard course time can result in deducted points or removal from competition.
"Some things cause more apprehension than others," says Groome. "One of my dogs was afraid of the seesaw at first, since it's the only obstacle that moves under her feet. So that's something that many dogs have to keep going back to in training, to get used to it."
Red Stick Agility's practice field behind Don's Seafood and Steak House on Airline Highway includes a fully fencd and lighted agility course that its members may use to train at any time. For those not quite ready to take the plunge into full-time membership, the club also hosts beginners-only classes on Wednesday evenings and Saturday mornings.
"It's turned into a great hobby that I hope more people get involved with," says Moore. "You get meet so many new people, and the dogs are definitely in their element, pulling on their leash, ready to go. You can just tell they're having a blast."
For more information, visit lccoc.org.