Cake walk: Party planning tips with Missy Robinson of Knock Knock Children's Museum
Any parent knows that throwing a birthday party for your child is not as easy as it sounds. For plenty of kids, birthdays are their favorite holiday and so the pressure is on to throw them a groundbreaking birthday bash. At Knock Knock Children's Museum, party planning is one of the team's many specialties. With the museum's first birthday just around the corner, Knock Knock has thrown nearly 265 parties and hosted nearly 10,000 birthday guests in just one short year. We sat down with Knock Knock party planner Missy Robinson to learn a thing or two about how to throw the party of the year.
---
Venue is key.
"Consider your child's favorite activity and start there," advises Robinson. The No. 1 birthday must-have is an awesome venue. Taking care of entertaining the kids is half the battle. Baton Rouge is overflowing with amazing places that offer wonderful party packages.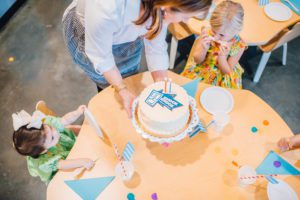 Delegate the details.
"Do your homework, moms!" says Robinson. Make sure to choose a place that can provide everything, whether it's disposables and candles or serving pieces and lighters. Finding a place where all you need to do is show up with your birthday child and their cake is possible. Look a little further and you'll even find places that can take care of the cake, too.
Be present.
An outstanding birthday party attribute is having a hostess with the "mostest." Allow yourself to enjoy the moment and celebrate another year of your child's life while the host or hostess handles the entire event. Make the party a memory and enjoy these moments! "Free yourself and enjoy the celebration," says Robinson. "It can be a little bit about you, too."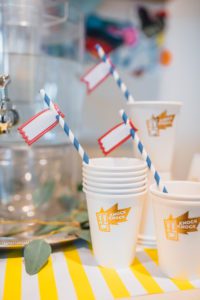 Favors, please.
Keep the favors simple. Focus on what your kid likes best and try not to go overboard, it isn't necessary. "It's not a competition," says Robinson. Party favors are a great way to showcase your kid's personality and to say thank you to all of your party guests.
Brush up on invites.
Your invitation will set the tone for your celebration. It generates excitement for your young guests and friends. Let your child help with the creation, and consider incorporating their art into the design for a unique twist! "Simple, sweet and tasteful always wins," adds Robinson.
---
To learn more about Knock Knock Children's Museum, visit knockknockmuseum.org.