Circa 1857's eclectic sensibilities hit downtown in the new North Boulevard shop Brass
---
The offering of a cup of tea is a universal sign of good will. Across all cultures, there's just something about the sharing of that particular beverage that acts as a signifier of friendship, whether the drinkers are new acquaintances or longtime friends. That's why, when Circa 1857 owners and newlyweds Garrett Kemp and Luke Lognion decided to bring their new concept, a gift and souvenir shop named Brass, to downtown Baton Rouge, a tea bar was non-negotiable.
Hoping to attract both residents and visitors alike, the idea is that the shop will not only provide a much-needed dose of retail to North Boulevard but also give everyone the chance to bond over the work of Louisiana artisans while enjoying a drink served up by Lognion himself.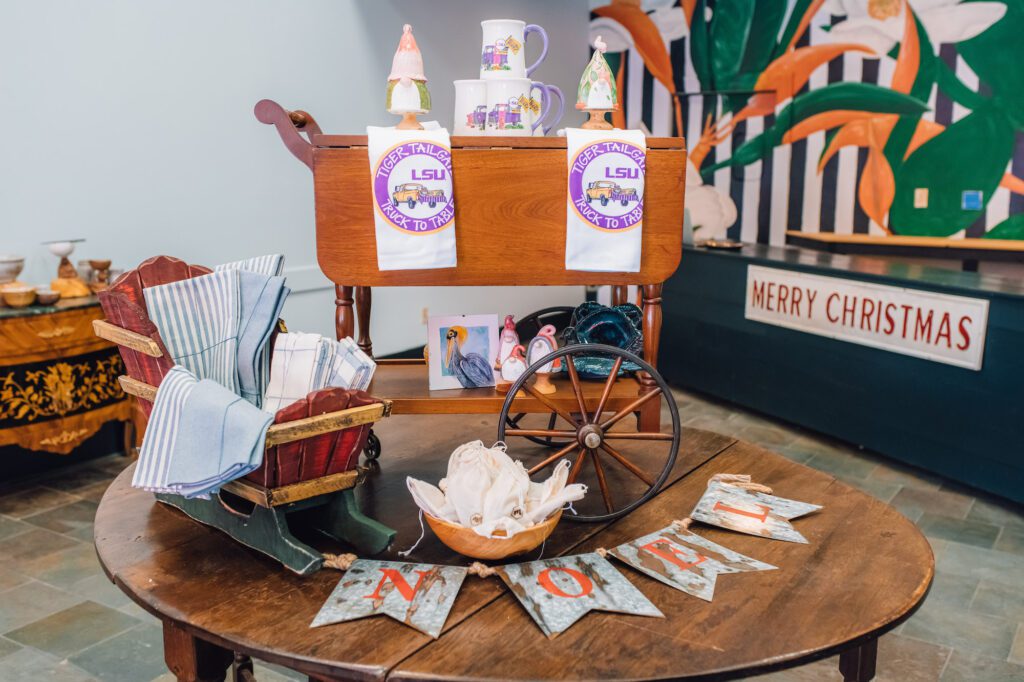 "There are so many cruise ships that come through here weekly, not to mention conventions and conferences at the River Center," says Kemp. "Those people are looking for something to do and a place to get something to remember their trip. We want to give them that opportunity, but also give them an experience."
Opening on December 1 just in time for the holidays, the shop takes cues from its sister store Circa 1857 with antiques acting as the display cases. And while Kemp and Lognion are leaning into some of the typical souvenirs that people know and love—think postcards and shot glasses—they're also planning to showcase the one-of-a-kind work of local artists and makers. The reason for this is twofold: to give tourists an authentic look at what Louisiana has to offer and to engage Baton Rougeans in the shop's offerings.
"We needed things to pull in the everyday people, not just tourists," Lognion says. "We're going to have items that are easy things for people to stop in and grab if they need a last-minute gift or just something for themselves."
But Kemp and Lognion's new venture goes far beyond the shop's inventory. By opening Brass on North Boulevard among a sea of restaurants, offices and museums, the couple is hoping to start a retail revival in the area.
"We recognized that there was no retail downtown. It's a completely open market," Kemp explains, noting the charming, shop-filled downtowns that are hallmarks of many other cities across the South. "We want to be the catalyst for more retail in this area. I think people just need to see that it can be successful."
Kemp and Lognion are celebrating the launch of the store, along with the official start to the holiday season, with an all-day grand opening party on December 4. Moving forward, the pair aim to have the store open extended hours to coincide with downtown's many events, from the Festival of Lights to Red Stick Revelry to Live After Five.
"There is so much potential here," Kemp says. "We're glad to be part of this new phase for downtown."