Giving back: Blue Star Mothers of Louisiana, Chapter 1

---
Just minutes before the dining room of Jones Creek Cafe & Oyster Bar fills for the monthly Blue Star Mothers meeting, president Sunny Senft pulls out a makeshift envelope composed of tissues and staples. Opening it, she reveals a collection of pennies, nickels, dimes and quarters—an amount one would likely throw in the tip jar when handed back as change.
"We think a veteran came by and left us this," she says, carefully returning the package to its original state. "All donations make a difference, and it's things like this that really show the heart of the mission."
That mission, Senft explains, revolves around sacrifice. The sacrifice these mothers' children and others make daily in the armed forces. A sacrifice that ensures the safety and privilege of the country. A sacrifice the organization's members are working to ensure is never forgotten.
"We are with these men and women from the day they enlist to the day they leave this earth," says Senft. "Our goal with all of our programs is to honor, remember and teach: Honor those who serve. Remember the fallen. And teach our children the value of freedom."
Founded as a branch of the national Blue Star Mothers organization, Louisiana Chapter 1 was officially established in March of 2005 by Janet Broussard.
"In 2004, my 22-year-old son was leaving for Iraq," Broussard explains. "I had all these crazy thoughts going through my head, and I was really emotional. I realized I needed support, and that's when I joined the national organization."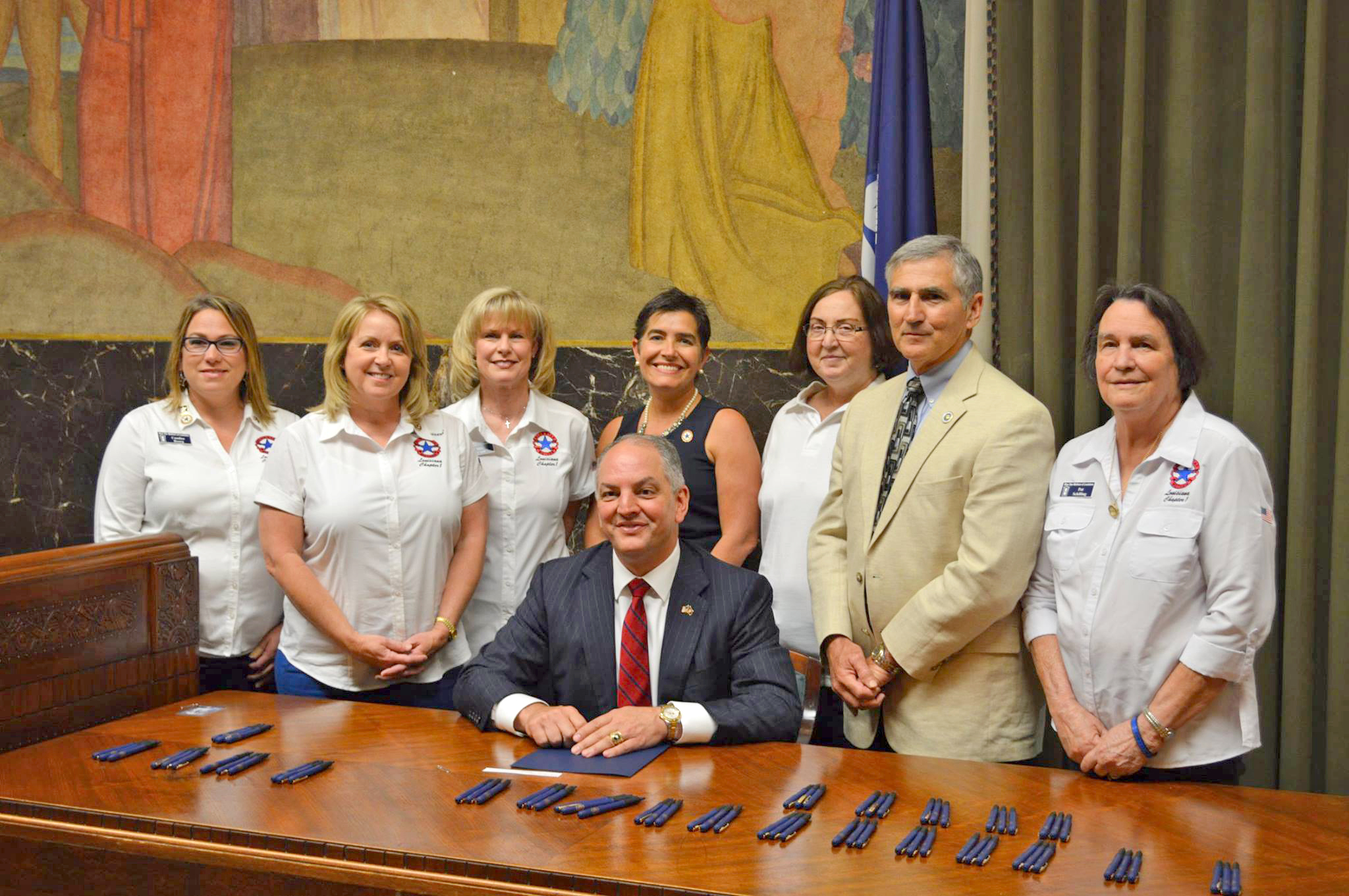 Over the following year, Broussard began working on various small programs and events like a Christmas gift drive and a prayer rally with a few other women. As the local group grew to around 15 members, she realized the next logical step was to incorporate as its own chapter.
"We were the first chapter in Louisiana," says Broussard, noting that the group grew to over 100 members in its first year. "This is truly a sisterhood. No one understands like another military mom, and we're here for each other—on good and bad days, holidays, birthdays, whatever. We're here and we understand."
But the group doesn't just exist for mutual support. Rather, they are wholly dedicated to serving those who have served or are currently serving the country. Whether it be planting flags at the Capitol on Memorial Day, attending as many Veteran's Day events as possible, visiting the Reserve Veterans War Home, mailing care packages, advocating for the armed forces, or attending graduations and "welcome home" ceremonies, Senft and Broussard say the most important thing is doing as much as they can.
"There are certain things that my sons have told me that I just really feel for," says Senft. "It's so hard to picture everyone on a base getting packages and mail and a few not getting anything. Or, at graduations, when you see families lined up with signs and T-shirts and there are a few with no one there. You can't know what is going on in their lives, but we can be there for them and make sure they know that people do care about them."
With the holidays in full swing, the group is heading into one of the toughest times in any military family's year.
"Christmases are hard," says Senft. "What people don't realize is that they don't have to be overseas to not have contact. My son stays with the recruits over the holidays and I am so proud of him for that, but we also miss him. It turns into doing things like leaving the tree up year round so we can celebrate when we do see him."
"There are so many things my son has missed: holidays, birthdays, even the birth of his child," adds Broussard. "I just want people to realize that we are still at war and there are lasting effects after our children return. We have to let them and their families know that we support them and we are proud."
To donate or get involved with the Blue Star Mothers of Louisiana Chapter 1, visit bluestarmoms.net.