Betty Toepfer's memories of living in the Old State Capitol will soon become a book
---
Louisiana's Old State Capitol is a popular stop for field trips and out-of-towners, but have you ever wondered what it would be like to actually live there? Betty Toepfer knows firsthand. The 95-year-old former teacher, artist and writer did just that, and she is now writing a book about her years spent on the other side of those famous stained-glass windows.
Toepfer's voice is strong and her mind is quick as she answers questions about the long-ago experience of living on the third floor of the unique building with her family:
Q: How did it come to be that you resided in the Old State Capitol?
A: It was 1941, and Sam Houston Jones was the governor. Politics, of course, is how I got to live in the Old State Capitol. Jones was the first reform governor to break the Long family line of succession. He won the election on the promise to serve as governor for one term only, and he set the stage for the Republican party to emerge. Sam Houston Jones was a judge from Lake Charles. He was the state commander of the American Legion. My dad was an American Legionnaire and was active in Jones' campaign. As a result, my dad was appointed superintendent and groundskeeper for the Old State Capitol when Governor Jones was elected. That meant we were given a place to live in the South Third Floor apartment. I was 19 years old when we moved in at Thanksgiving of that year. Shortly after, war was declared when Pearl Harbor was attacked on December 7, 1941.
Q: Did you meet the governor?
A: No, I never met him. But his son Bobby would come up to our apartment and my mother would entertain him. She was always good with children. I was at work during the day.
Q. How did the idea of a book get started?
A: This exciting community project got started with the Pollard Planters Garden Club through a most unusual coincidence. At one of the monthly meetings, a docent, Sue Potts, presented a slide show about the Old State Capitol museum. In the presentation, Potts talked about the only living person who had lived in the Old State Capitol. She showed a picture of me speaking about needing a typist to type the book. One member, Jan Oivanki, recognized my picture and said, "That was my eighth-grade Louisiana history teacher. I'll volunteer to type her manuscript as a project for our club." The club unanimously agreed to do this as a project. And thus the saga began.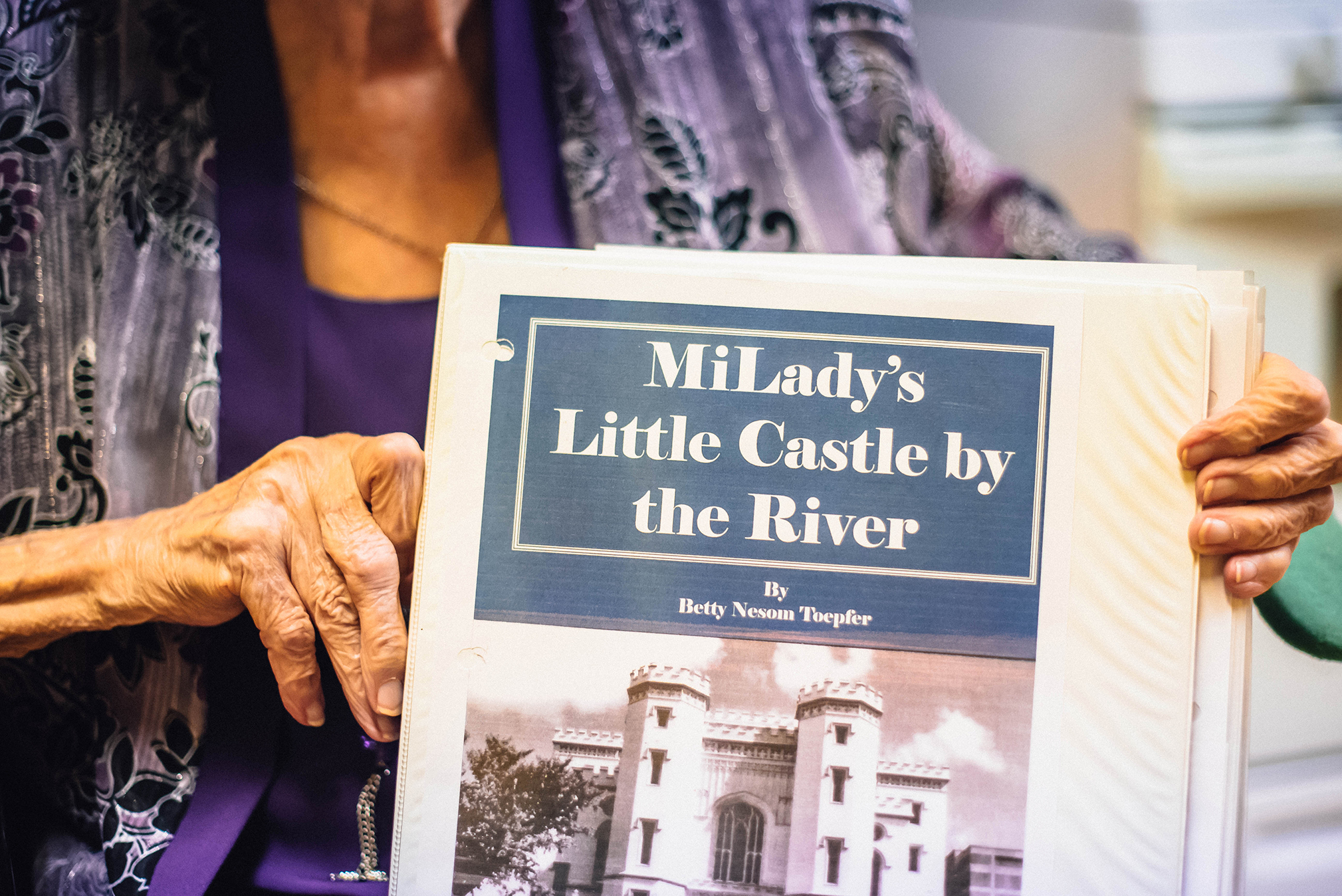 Q: At the time you lived there, did you realize you were living in such a historic building? 
A: Yes, I certainly did know. I was very much impressed. On my wedding day, one of my bridesmaids commented, "You lived in a historic building, the Old State Capitol; you married in a historic church, St. Joseph Cathedral; and you had your wedding reception at a historic place, the old Heidelberg Hotel. You had a historic wedding day."
Q: Did friends visit you, dates pick you up there? 
A: Absolutely. Sometimes we would have riflery sessions in the basement where the State Guard offices with the rifle range were housed. Friends would come over. We would use some of the Home Guard rifles to have rifle team competitions. In those days, all the guys were gone to war. Our South Third Floor apartment served in part as a miniature USO. The hospitality shown to servicemen on leave made them begin to feel it was their home away from home. My dates walked up all those flights of stairs to get to our South Third Floor apartment and then back down to take me out.
Q: Did you have fun there? 
A: Oh, yes. We made up lots of fun stories. My mama could make up a story, keep a straight face, and make you believe it. Daddy told funny stories, too. Nobody believed I lived in a castle. The USO sponsored military maid balls. Soldiers would ask me where I lived. I would tell them in a castle. They would say, "Oh yeah, right." Finally when they walked up all those steps up to the third floor, they believed me. Our apartment was the only one in the building. All the doors opened into a very long, wide hall. We had to make sure to keep our doors locked. Visitors to the Old State Capitol didn't know anyone actually lived there. Once I was sitting on my bed reading when the door opened and a soldier asked if it was the Social Security office. I said, "I don't think so!" I immediately got up and locked the door from the inside. My mail came to me with the envelope showing my name, Old State Capitol, Baton Rouge, Louisiana. That was it. There was no street number, name or zip code.
Q: Was it spooky? 
A: Not really. I thought a castle ought to have something spooky about it, so I wrote a ghost story about Mark Twain and MiLady of the Tower. I explored many nooks and crannies all over that building, on every floor, from atop the dome to the smallest place in the basement.
Q: Were you involved in any activities there? 
A: Absolutely. There was a Catholic Youth Organization in one of the offices. There was always something to do there. I made a pair of silver earrings that I still have. I developed my own pictures using my dad's old box camera. The film was on a wooden spool. There was a shortage of offices. All the empty rooms were used as offices, such as the draft board. I would go to the lookout on the third floor and see my mother, who worked in the draft board on the first floor. I looked out over the auditorium, which used to be either the senate or house chamber.
Q: Now, as you look back, what are your fondest thoughts? 
A: The civilian role during wartime was very important to me. I volunteered on many levels. Civilians held strong patriotic feelings about our country. Civilians banded together during the war to help wherever they could. Women's roles changed to fill employment shortages. Daycare facilities and summer camps were formed to help women who went to work. Many women were employed in airplane factories and ammunition factories. There were teacher shortages. Letter writing to servicemen was encouraged for all civilians. I wrote as many as 11 letters a day.
Q: Now you're finally writing the book about the experience. Is that difficult? 
A: No, those memories have been with me for ages. I started writing some years ago. Then I lost my typist. But now it's finished.
Q: Your birthday is this month, and so is Halloween. What was that like there?
A: That's when I wrote the ghost story about Mark Twain and MiLady of the Tower.
Q: How long did you live there?
A: I lived there from Thanksgiving 1941 until my wedding day, May 31, 1947, when I was 24. My parents were there until 1948. Once Governor Jimmy Davis' term ended, my parents moved out. Jimmy Davis was actually a Louisiana governor twice. The first time, he lived in the Old Governor's Mansion. Twenty years later he was elected again and lived in the new Governor's Mansion.