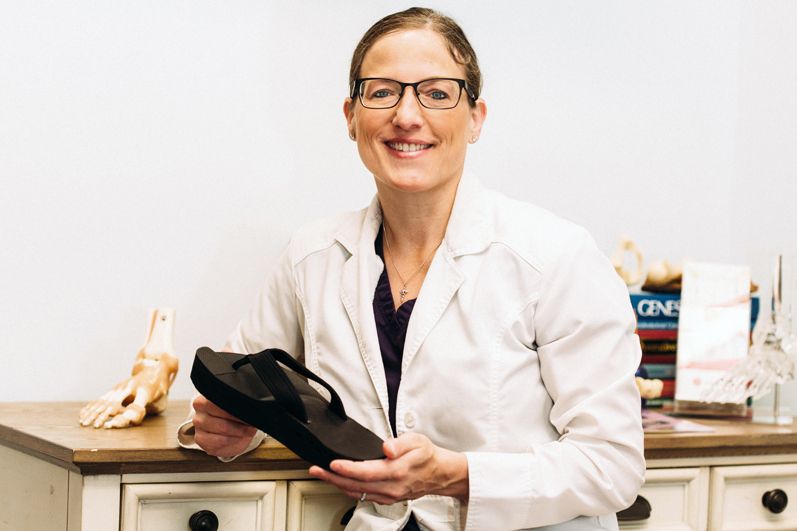 Best foot forward: Dr. Meredith Warner takes steps to end heel pain
To say that Dr. Meredith Warner is a go-getter would be an understatement. Warner boasts both a medical degree and a master's degree in business administration. She was a major in the U.S. Air Force and served as its Chief of Foot and Ankle Surgery. She founded her own orthopedic clinic in Baton Rouge in 2013, and she developed and recently released a revolutionary new shoe designed to combat foot pain.
Feeling inadequate yet?
Warner, who describes herself as extroverted and strong-willed, is quick to put anyone at ease with her friendly and easygoing demeanor. That's part of what makes her successful as an orthopedic surgeon, especially when dealing with the one in 10 people who suffers from a debilitating condition known as plantar fasciitis, which causes pain and inflammation in the tissue that connects the heel bone to the toes. Oftentimes these patients have been told they can never wear flip-flops again, since the popular summer shoe lacks support and can aggravate the condition.
"It's devastating, especially for people in the South," says Warner, who decided to get creative with a solution for people with this foot pain.
The idea came to her after serving in Iraq and Afghanistan as an Air Force surgeon.
"One of the main complaints after a big 10-mile ruck march with 90 pounds of battle rattle is foot pain," says Warner, who explains that her fellow soldiers spent most of their time in combat boots or flip-flops for the shower.
"You need to rest the foot and recover it just like any other body part," says Warner. "At the time, there was no good flip-flop to do that, particularly for athletes or people that work on their feet, and I just thought, 'Well what if we make the problem into the treatment?'"

After six years of development and with significant help from LSU's Business Incubator, Warner released that treatment in late 2015. It's called The Healing Sole and looks similar to an athletic flip-flop. What makes this flip-flop a treatment for plantar fasciitis is its combination of four unique components that work together: a toe ramp to keep muscles in the foot stretched, a firm rocker bottom to relieve stress on the foot, specialized arch support to take the pressure off the ball of the foot, and a unique heel with cushion on one side and strong support on the other.
"Once you explain the science behind it, people are pretty eager to try it," says Warner, who recently wrapped up a clinical trial that showed positive results: Warner says about 80 percent of people who suffered from plantar fasciitis had functional improvement. Average pain reduction was 44 percent after one month of wearing the flip-flops.
"Most everything else out there on the market is a very soft shoe with very large arch support, which I don't think does anything for foot health long-term. This lets the body heal itself," she says.
With traditional treatments for plantar fasciitis such as custom orthotics, steroid injections or surgery ranging from several hundred dollars into the thousands, Warner considers her flip-flops a cost-effective way to prevent or treat the condition at $124 per pair.
"I'd say as far as pain reduction, it's a bit better than most treatments, with far less risk profile, and it's definitely far less costly than other treatments," says Warner, whose patients often use the shoe in conjunction with other treatments to shorten healing time.
Wearing the shoes at night and in the morning, a handful of Warner's patients have experienced recovery within a month, while others have been able to use their other treatments such as therapy or orthotics less often after several weeks.
"If you did nothing, your foot will likely heal itself in 18 to 24 months, but this problem is so common and people can't just stop walking for 18 months," Warner says. "I look at my role as a physician as helping to speed that process up so you can live a normal life."
With a laugh, she describes the past few years of learning about patents, shipping, taxes and corporate structure as "long and arduous," but she remains passionate about her cause.
Ever the dynamo, Warner won't consider her endeavor a complete success until it's in everybody's go-to treatment bag for foot pain and recovery.
In the meantime, she'll focus on expanding her shoe offerings with a slider shoe for people who don't like the feel of a flip-flop thong and a closed-toe option so people can find pain relief no matter the season.
"I am drawn to Louisiana's culture of joie de vivre. There's a festival every weekend, Mardi Gras—people just love life," she says. "This shoe helps people enjoy the joie de vivre—which was one of my goals."