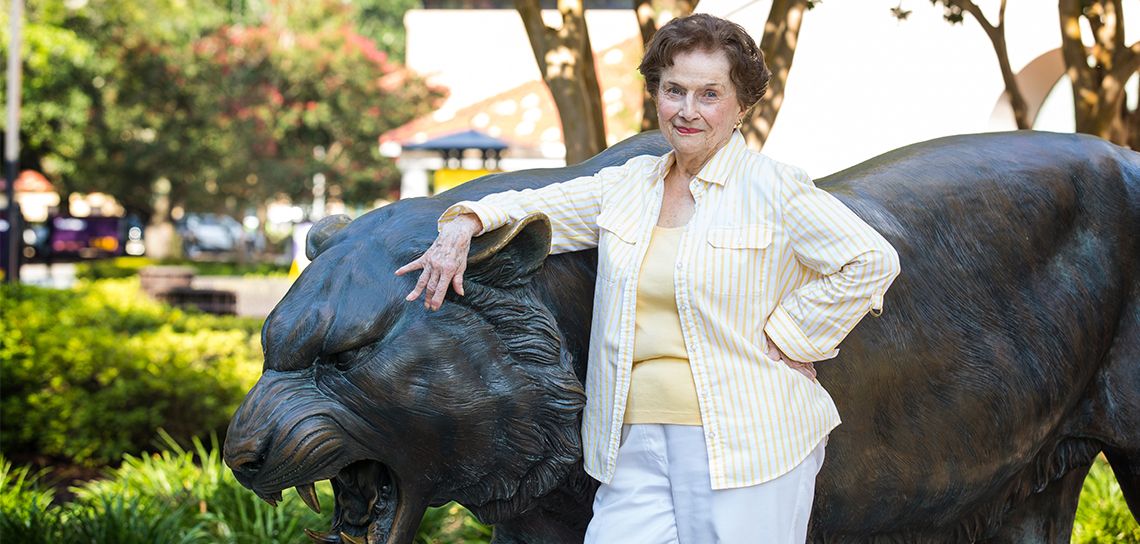 Having a ball: Rooting for the home team is a lifelong pursuit for Mary Lou Turpin
---
September 22 signals another official change of season, but we're already in Baton Rouge's fifth season: football! Ah, the memories of those early years of honing the art of being a fan. Mary Lou Turpin, a woman of a certain age, smiles as the picture comes into view.
"My interest in football began when my family moved from Hammond to Bastrop," Turpin says. "Not only did we move to a new town, we entered a community where the enthusiastic spirit of football lived as well. From late August until mid-November, it hovered over the town and in its citizens. One could not avoid being caught in its force."
Turpin recalls wanting to be part of the football frenzy so much that she joined first the band and then the pep squad at Bastrop High School. "We wore blue pleated skirts, white tops, socks and saddle oxfords," she says of her days rooting on the Rams. "We had parades around the town square ending with noisy pep rallies. The merchants decorated their store windows, whistles blew from the paper mill, car horns joined the maddening noise, posters and people were everywhere. When games were out of town, a caravan of cars filled with fans followed the buses of players, the band and the pep squad."
After high-school graduation, Turpin became even more engaged in the excitement of football as she enrolled at LSU. "The game took on another dimension," she says. "I did not know any of the football players, and very few students attended the pep rallies or exhibited the strong interest I had, but everyone looked forward to the Saturday games, and I adjusted from total involvement to excitement."
Going to the games each Saturday meant first getting a date and then choosing the perfect outfit, she recalls. "Depending on the Baton Rouge weather, the usual code was a nice dress, a coat and hat if needed, high heels, stockings with straight seams, and a large golden chrysanthemum corsage tied with purple streamers—very gaudy but important."
As the players ran out onto the field before each game, the student section roared with enthusiasm. But Turpin saved her own loudest shouts for a few years later, when her younger brother Jack Cole joined the team in the position of defensive quarterback, now better known as linebacker. She and her family were there to cheer him on at every game—including the 1950 Sugar Bowl, when the Tigers took on the Oklahoma Sooners.
"Jack was such a dedicated player himself that he rubbed off on a lot of his teammates," Turpin says. "He played so well on defense under Coach Tinsley. It was right after the war, and they didn't have a strong offensive team, but they really shined on defense."
After his playing days were over, Jack took a career path far from football. "He would have made an excellent coach, but he wound up being a dentist," Turpin says, adding that Jack and his family kept season tickets and she often joined them in the stadium. "Many years later, when he was in his 70s, he and his teammates were recognized on the field before an LSU game."
Over the years, Turpin's own passion for the Tigers became a family affair, as her two daughters and multiple grandchildren also attended LSU. One daughter was an alternate LSU cheerleader, and a grandson took his senior pictures inside Tiger Stadium. "He thought he owned the Tigers the whole four years he was there," she says with a laugh.
In order to be nearer to family, Turpin moved down to Baton Rouge from Bastrop seven years ago, and she now resides at St. James Place retirement community, where residents sometimes gather to watch the LSU games together, while others—including some of the most devoted followers of the team—retreat to their apartments to watch the games alone. "Everyone wears purple and gold on those days," she says.
Turpin has seen football itself, both on and off the field, evolve over the years as well. "The game has changed, the clothes have changed, the fans have changed, the traffic has changed, the players have changed," she says. "Anyone who goes to the games today knows those things. But the enthusiasm and devotion and excitement still fill the stadiums to overflowing."
Her own most recent visit to Tiger Stadium for a game was marred by an unruly crowd as well as "too much drinking and too much foul language," Turpin says, adding that she'll likely stick to her 50-yard-line seat in front of a television for most games going forward. "I still love the game. I still watch the game, and thank goodness the game goes on for those who love football because once a fan, always a fan."