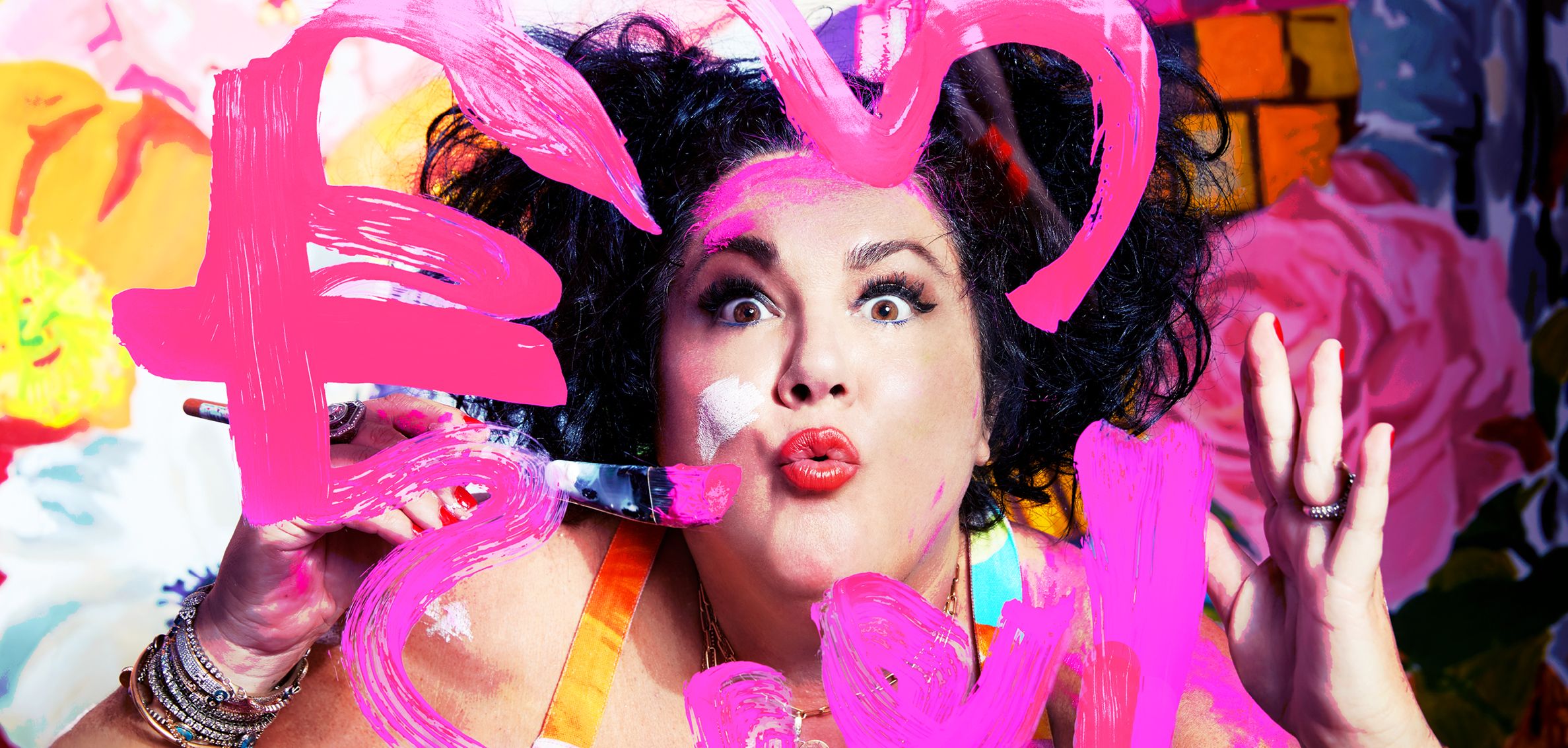 Bold Faced: Artist Ashley Longshore's colorful portraits are the focus of LASM's 60th anniversary gala
---
"The next thing I know, I'm having tea with Diane von Furstenberg, talking about Hedy Lamarr and Malala Yousafzai and Greta Thunberg."
So recalls New Orleans multimedia artist Ashley Longshore of the day she answered an unexpected email in 2018, agreeing to a London meeting with the iconic fashion designer about a collaboration for the DVF flagship store in New York City. The proposition went something like this: In the vein of Longshore's unapologetically pop art aesthetic, could she possibly paint a series of 37 portraits of various sizes featuring some of the most famous women in the history of art, science and activism—oh, and could she get them all finished in the span of two weeks?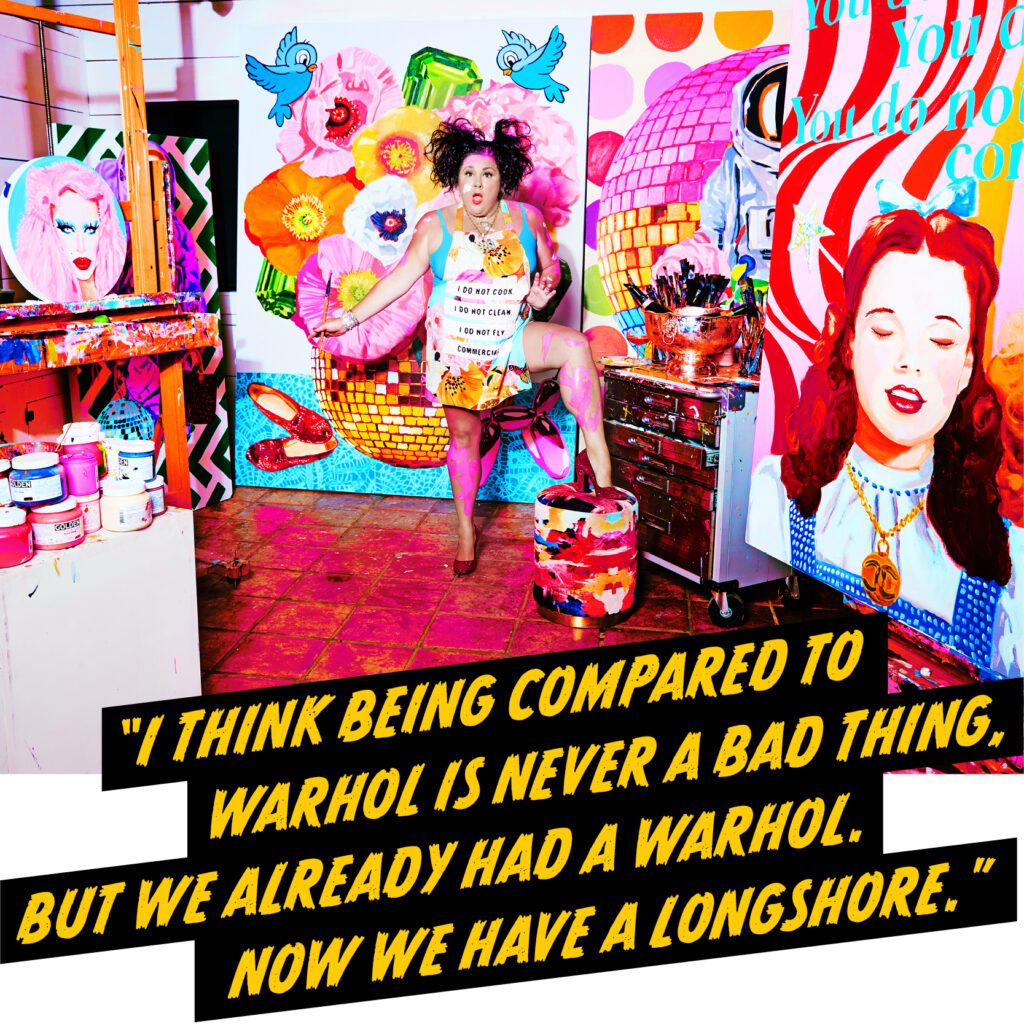 The resulting "Mighty Women" exhibition—also the subject of Longshore's 2021 book Roar!—eventually caught the eye of the Louisiana Art & Science Museum's interim curator Tracey Barhorst and interim assistant curator Beth Welch, who had just begun planning the museum's 2022 diamond-themed 60th anniversary gala. Barhorst, a self-described Longshore fangirl who once visited the artist's show in Bergdorf Goodman with her daughters, agreed with Welch that Longshore's colorful, celebratory art would make a glittering focal point for the gem-themed festivities. When marketer and event planner Lexie Polito agreed to co-chair the gala alongside Ann Connelly Fine Art co-director Chelsea Norris and Studio Annex founder Adrienne Connelly Adams, Polito revealed herself to be yet another longtime admirer of Longshore's work (read more on that here) and the choice suddenly seemed like divine approval. A request was made, and Longshore—who had spent about a year living in Baton Rouge early in her career and frequented LASM's galleries—heartily agreed. 
"Now more than ever, it's important to know not just these women's incredible accomplishments, but also how they dealt with adversity," says Longshore, who has gone on to meet and even befriend some of her portrait subjects, from Gloria Steinem to Iman. "Personally, I need to be surrounded by these women; I need them in my life. So the fact that LASM was excited to hold this big celebration and include these magnificent women just makes me really happy." 
Of the ever-expanding series, museumgoers can expect to see 29 paintings selected for the exhibition that will accompany the gala, with portraits divided into four main categories: Women Shaping Culture, Women Making Discoveries, Women Creating Change, and a "salon wall" that invites viewers to sit down and immerse themselves fully in the stories of the women on display. Out from these painted faces peer the pensive eyes of Anne Frank, the floral confidence of Frida Kahlo, and several other changemakers from the past who may not always have been appreciated for the complexities of their gifts. 
"One of my favorites is Cleopatra, who we often think of as merely a great beauty, but who actually spoke several languages, wrote books on science and medicine, and spearheaded huge building projects," says Barhorst. "The same goes for the Old Hollywood actress Hedy Lamarr, who I didn't realize until researching this exhibition had helped develop the technology used for Bluetooth. She was only just inducted into the National Inventors Hall of Fame in 2014."
Longshore will also create an original "gem painting" specifically for LASM, whose ample gallery space will serve as the first museum (as opposed to a nontraditional venue like Diane von Furstenberg's store) to host the exhibition before the show goes to a new city following its close on January 29, 2023.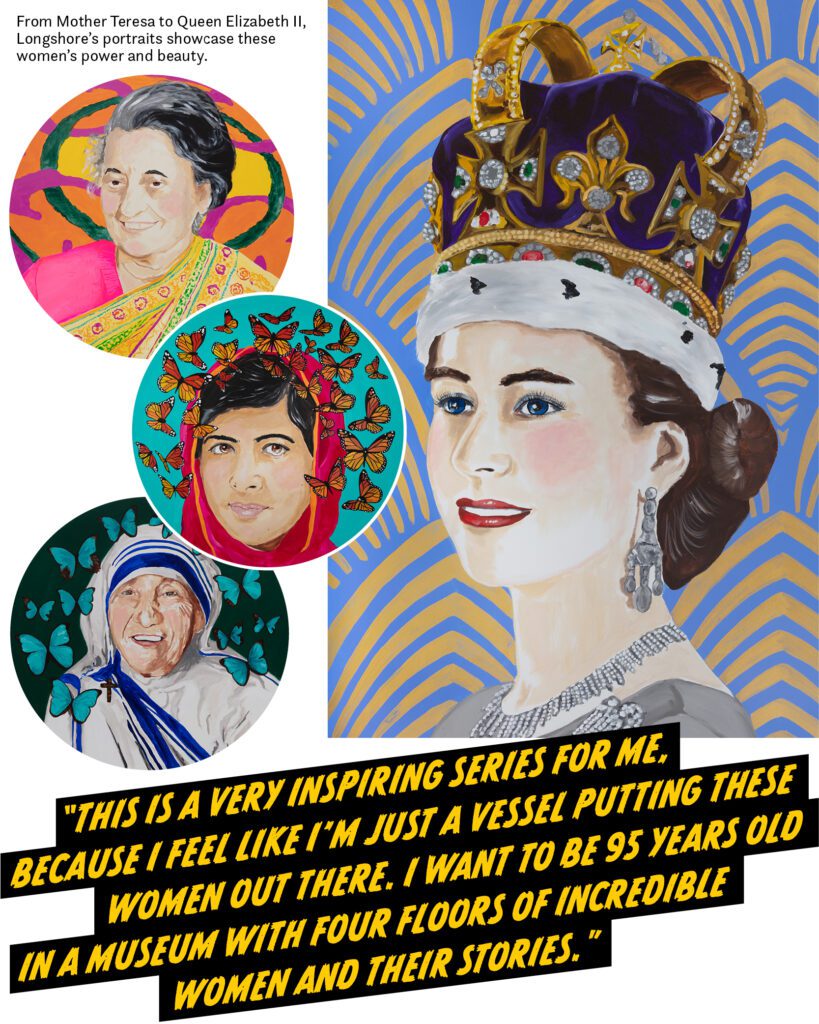 "Art is something that you can appreciate for the rest of your life," says Polito. "As an aesthetic person and a branding person, it's even been fun to play around with the planning team on things like colors and promotions. Our graphic design team has really done a wonderful job."
The paintings themselves won't be the only dynamic feature of the gala, however. "One of the first things we talked about is how we wanted the event to transform throughout the evening," says co-chair Norris. "At certain points the lights will change, the DJ's music will change, and so will the mood—almost like little events within the event."
One such mini-event comes courtesy of Lee Michaels Fine Jewelry, which has supported LASM for more than three decades and will offer a pair of $12,500 18-karat white gold diamond earrings as the grand raffle prize at the event. Lee Michaels will also present a one-night-only display of "Extravagant Jewels" inside the Irene W. Pennington Planetarium on the evening of the gala. For an additional donation, the jeweler will likewise preside over a luxury jewelry try-on experience complete with dripping diamonds and a 360-degree photo op. Small add-on experiences like this will help keep the entry-level ticket price approachable for young people and professionals in the downtown area—key groups impacting Baton Rouge's cultural scene. 
"We'll also be going into the science behind how diamonds are made, and how they're used in medicine and manufacturing," says Welch, "though all of that also ties into the women in the paintings, who likewise learned how to shine under pressure. It's a really great blending of science and art."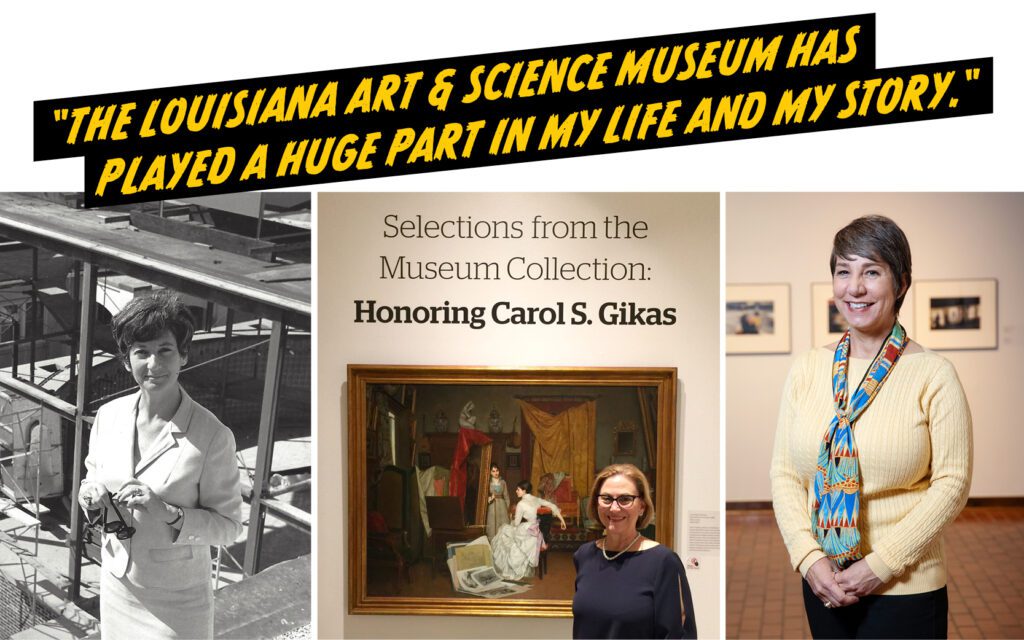 The gala's thematic ties between feminine strength and artistic expression are a reflection of the origins of LASM, which has been led solely by women since its founding in the early 1960s after being launched by another group of local women, the Junior League of Baton Rouge. 
"Ashley's 'Mighty Women' resonate so well with our educational mission, especially when focusing on these women who have emancipated themselves from historically narrowly regulated career paths," says LASM president and executive director Serena Pandos, who joined the staff in 2019 on the tails of the first and second museum top leaders, Adalié Brent and Carol Gikas. "Our greatest hope is that this exhibition will be a springboard for opening up dialogue about the important role women have in cultivating a civil society."
Pandos notes that philanthropic fundraisers like the annual gala have helped to sustain the museum for the past 60 years. "We were one of the lucky ones to emerge from COVID," she says. "Even after being forced to downsize and reinvent ourselves and pivot in new directions with less human and financial resources, we've had an explosion of ideas and energy in terms of improving aspects like our hands-on learning galleries for children, which haven't been renovated in about 20 years."
These improvements fall under LASM's $1 million capital campaign to renovate all four of the existing hands-on areas for children by 2025, the 100th birthday of the historic building. First up: the Science Station, which will be transformed into a STEAM-based gallery called The Seed, where children and families can dive deep into the relationships between science and art. All fundraising from galas in 2022, 2023 and 2024 will go to support these phases of construction, with phases designed to align with the 20th anniversary of the Irene W. Pennington Planetarium in 2023 and the 60th anniversary of the arrival of LASM's mummy in 2024.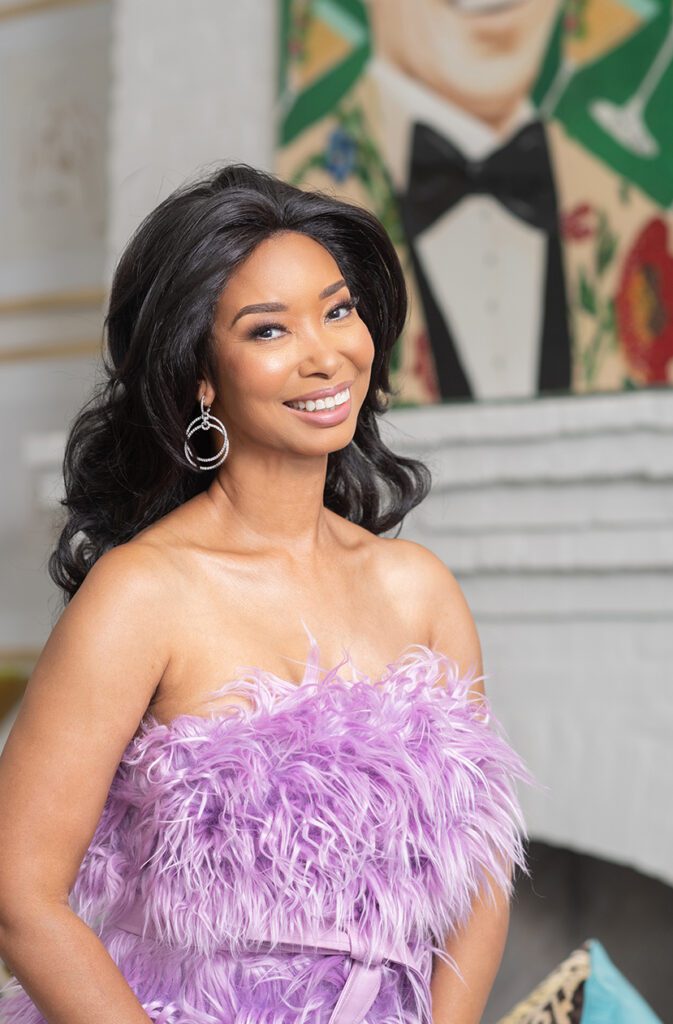 "There will be no traditional silent auction this year, since—especially after COVID—we felt that people want to tie their dollars not just to things for themselves, but to a cause or an idea for improvement," says Norris. "So instead, people can purchase things that fund The Seed directly, like Legos or smartboards. The donations are still attached to a thing, but they're also tied to the mission of why we're all there—to be thoughtful and different, and to create an experience that no one's had before."
With additional grant funding from the Charles Lamar Family Foundation allotted for illuminating the dome of the planetarium in upcoming months, LASM continues to evolve as a significant element of downtown Baton Rouge's revitalization.
"By supporting the LASM over these next three years, you're basically making a mark and forging your legacy for our community, involving future generations and bringing families together," says Pandos. "Especially with Ashley's work opening that dialogue about women locally and globally, and having fun with the theme—it's the start of a renaissance, and we're just so pleased to be part of it."
LASM's 60th Anniversary Gala: Diamonds of History will take place on September 30. For tickets and details, visit lasm.org.