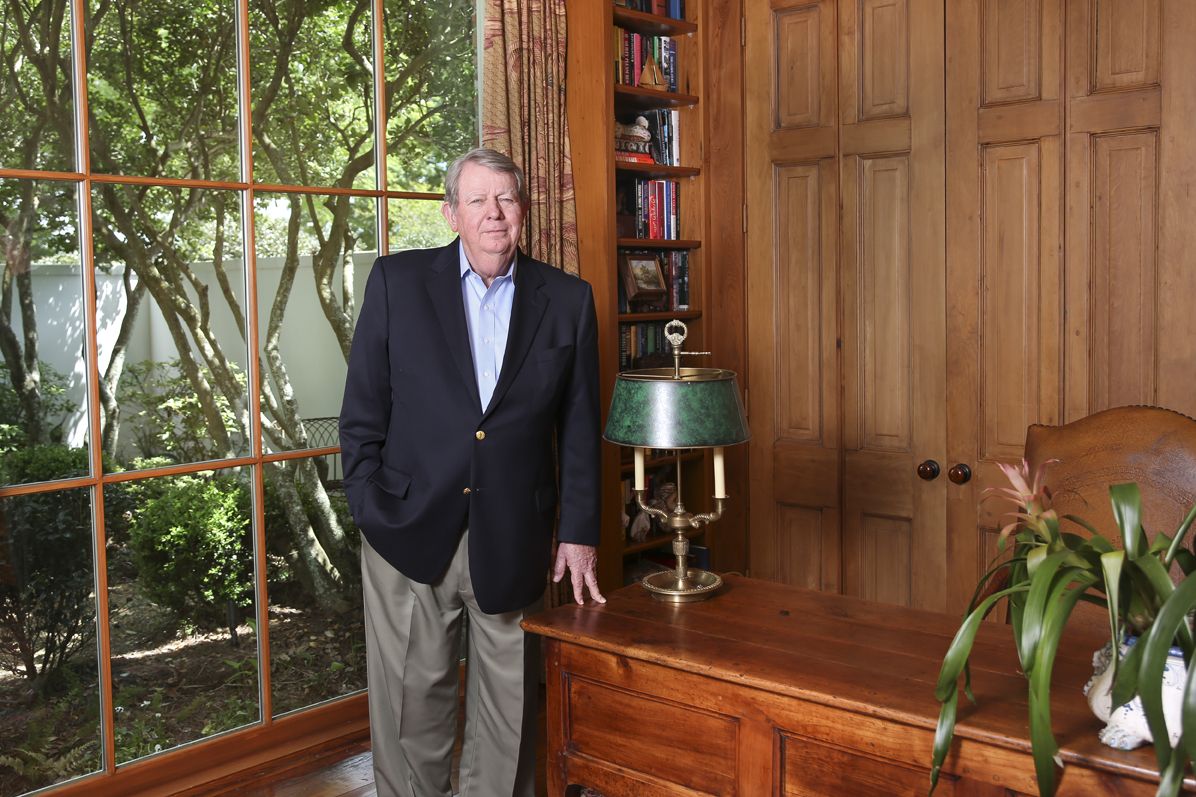 Architect Al Jones: A legacy of his own
Photo by Melissa Oivanki
After early years with A. Hays Town, Al Jones has made his own indelible mark on Baton Rouge's residential landscape
It looks like he's greeting an old friend with a pat across the back when he taps one leather dress shoe lightly on the floor.
"This, I almost feel, is an antique piece," architect Al Jones says of the longleaf heart pine planks as he quietly lets himself inside the Country Club of Louisiana home. "We used old-growth pine—just gorgeous."
The scored, sunset gold boards were pulled from a derelict sugar mill and now form the foundation for the home of Craig and Cole Jennings and their family. If these floors could talk.
At 71, Jones has plenty of memories of his own with more than 40 years' experience as a residential architect, a productive stretch as the acclaimed protégé of Time magazine-approved, Creole-inspired icon A. Hays Town, and decades as one of the more prolific and unique home designers in Baton Rouge.
CCL alone boasts 23 homes designed by Jones, with many more hunting lodges, lake houses and renovation projects scattered throughout the South. This LSU alum—whose Thibaut home earned a "Best of Houzz" honor in 2013—also has recent projects in Jacksonville, Fla., Greenville, S.C., Houston and Nashville.
"I don't know if I ever told you this, but I sure hope you love this house a little more each time you roll into your driveway," Jones says to Jennings as they walk under cypress beams, past brick interior walls white-washed with Jones' own recipe and out into a Euro-Caribbean-influenced courtyard that feels like it's sitting a bead's throw from the Big Easy.
Stepping into a flash of noontime sun, the old-growth pine is replaced by English flagstone beneath our feet—another rarity.
"You see this in the courtyards of New Orleans but you don't see it in homes here," Jones says. "It's a few hundred years old. Every piece has a story, an age-old mystery that whispers to you."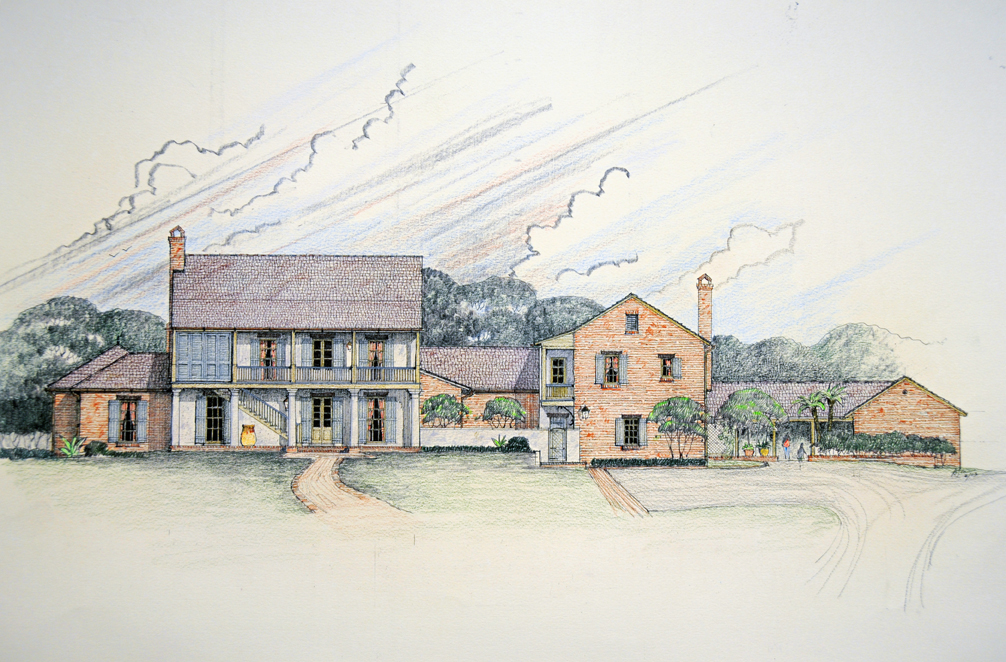 The family has lived here for 15 years, and their architect sourced several architectural accents for the home from The Bank Architectural Antiques, his favorite trove for salvaged materials. Jones has been a regular buyer at the Mid-City New Orleans depot for years and jokes that he "went green" long before doing so was a hot trend. One brick in the Jennings kitchen is marked "1866."
"This is the place—I like to relax out here and smoke a cigar," Jennings says with a short laugh as he surveys the courtyard, his eyes resting on the age-old salvage brick that circles the idyllic fountain. "You know the best thing about Al is his attention to the details. He gets them all."
Jones says his team prides itself on detailed work, scale and proportion, but his favorite feedback speaks less about him and more about the clients' relationship to their new home.
"Every now and then a homeowner will say, 'You know, we're not going on vacation this year—we love the house that much," Jones says. "That's got to be the best compliment."
Jones' tongue is pure Dixie folk, revealing his deep southern Mississippi roots as he describes his work with a blend of grandfatherly pride and childlike wonder.
Having grown up on a farm near Laurel, Jones' approach to architecture is a cozy blend of reverent nature preservation and bold discovery.
"I wanted to be an architect since the fifth grade," he says. "Everywhere there were cattle and horses, and I'd be oil painting them all from the back of Dad's pickup."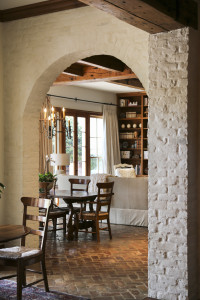 Al Jones incorporates details such as brick floors, archways and antique beams into a new home's design to give it an Old World feel. Photos by Melissa Oivanki.
The architect saw firsthand his father build the family home, and this fascination with design and construction extended even to analyzing and assisting with his mother's desserts.
"When mom would make banana pudding, I'd cut the bananas and wafers and construct it for her," Jones recalls. "I've always loved building things."
Decades later, Jones' dedication to his craft remains stronger than oak. This is no surprise from the man who, as a recent graduate, earned his first spec assignment from rock star architect A. Hays Town by waiting—uninvited and undaunted—for three days outside of Town's office.
"I was determined to sit there until he talked to me," says Jones of the patient sit-in that resulted in Town handing over a gig designing an eight-story building for Blue Cross Blue Shield of Louisiana. The client loved it.
"I guess I'm going to have to hire you," Town told him.
After several years working side by side with the master, Jones launched his own firm in the early 1980s.
Henson Moore, former U.S. Representative and Deputy White House Chief of Staff to President George H. W. Bush, calls Jones "easygoing and pleasurable" to work with. The architect completed Moore's home on the LSU lakes in 2007.
"My wife and I had been to Tuscany and wanted something inspired by the homes there," Moore says. "And Al did that, which just goes to show he can do something well even if it's outside of his normal style."
A husband and father of four, Jones' two sons Ben and John both work for him now, and they help carry on Town's legacy of quality homebuilding in Baton Rouge.
A walk through the Jennings home uncovers an orchestral nature to Jones' work, with each element—be it new or repurposed—placed precisely, not only for strength but also a kind of harmony.
"Even to the novice, they can feel it if something is off," Jones says. "There's a rhythm to a well-made home."
Nowhere strikes these notes of grace and balance better than the European-inspired buildings found in the French Quarter, Jones says. He recalls his first trip to the cultural and historical apex of Louisiana in his teens as nothing short of revelatory, and many of his homes are imbued with its influences both stout and subtle.
"Baton Rouge is, actually, quite architecturally friendly," Jones says. "People know the value of architects here, more so than in many larger Southern cities like Atlanta."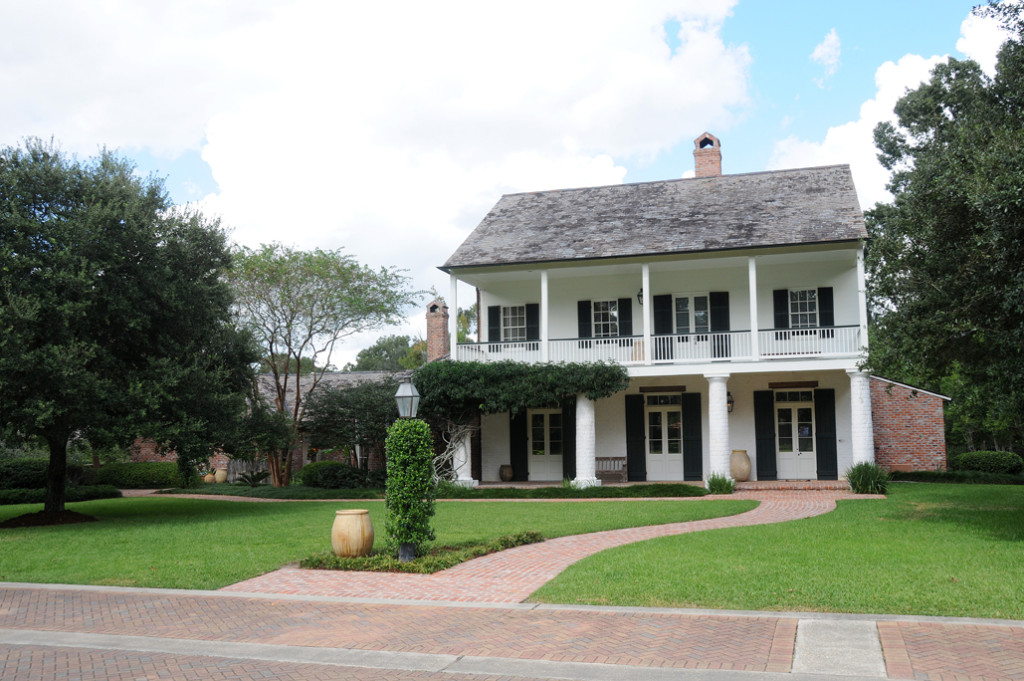 Jones still begins every design by putting pencil to paper for a series of sketches. As he walks past a hand-carved sunburst mantel created from his design and into the piney sunroom wing of a guestroom, he gazes through the windows as if recalling the spark that birthed its unique features.
"Not a bad way to wake up in the morning," he says to himself.
Nearby, on an antique desk, sits a series of photos of the Jennings children whose bare feet know every score along the grain of this old-growth pine floor.
Jones pauses. Memories upon memories.
"This isn't a one-shot thing, you know, and it's not disposable," he says. "Even when the world seems to be obsessed with disposable things, this is about something that lasts, that's handed down through generations. And for a good home, the older it gets, the better it looks, and the more a part of you it becomes."
For more on Jones and his work, visit aljonesarchitect.com.