30 things to do along 30A
A favorite destination of people throughout the South, the communities that lie off of Scenic Highway 30A in northwest Florida's South Walton area form a seaside paradise that is just a convenient 5 1/2-hour drive from Baton Rouge. With five-star restaurants, white sand beaches, and tons of familiar faces, this once rural beachside highway is the place to be not only in the summer, but the winter too. To spice up your next stay, we narrowed down some of our favorite activities that make 30A more than just a vacation, but a way of life.
---
1. Rent a beach house (or condo) that fits the entire family.
There are tons of houses and condos for rent throughout Watercolor, Seaside, Seagrove, Alys Beach, Rosemary Beach and every other community along the constantly developing seaside road. Consider using an agency like Cottage Rental Agency to help with booking and getting everything lined up for your stay.
Travel tip: There are plenty of pet-friendly options (like this one) if you want to bring along your four-legged friend–just don't bring him on the beach without a permit!
2. Grab a few bikes for transportation.
Bikes are the main mode of transportation throughout the communities, which are connected by sidewalks and back passages. Not only do they allow your older kids the freedom to choose their own adventure, but because parking can be tight, especially in the height of summer, they are the easiest way to get from point A to point B. Plus, you don't want to miss the views.
Travel tip: You can rent bikes, as well as baby equipment, paddle boards, and more, ahead of time and have them delivered to your rental. Butterfly Bike & Kayak is one of the many that offer these services.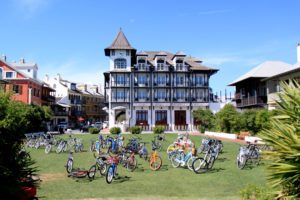 3. Engage your inner child at The Sugar Shak.
A staple in Rosemary Beach since 1999, this shop looks like something right out of the mind of Roald Dahl. With candy draped from every possible surface and over 30 ice cream flavors, this spot is a must.
4. Get up early for Charlie's Donuts.
This donut truck located in the center of the clean-lined community of Alys Beach may not look like much but, trust me, it's worth the early call time.
Travel tip: The truck starts serving at 6:30 a.m. and only serves until it runs out of the fried treats, so be sure to get there early.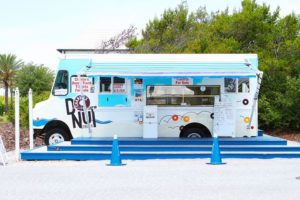 5. Take a surf lesson.
Who doesn't dream of "hanging ten" like they do in the movies? Father-son duo Austin and Gary Magee are sharing their love of surfing with everyone who visits the Emerald Coast with lessons for children and adults taught right in the heart of Seaside. They even offer group and private lessons, as well as a Kids Surf & Beach Camp during the summer.
6. Grab a snack at Modica Market in Seaside's Central Square.
This old-fashioned market is more than meets the eye. Established in 1988, the store offers homemade favorites, a curated wine selection and all the necessities. The store even makes a cameo in the 1998 film The Truman Show, starring Jim Carrey, which was filmed in Seaside.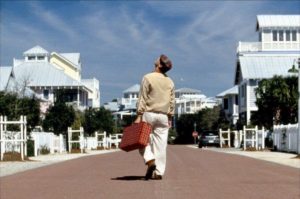 7. Take a sunset cruise on Lake Powell.
30A is special because of its beautiful mixture of beach and forest. Salt Air will take you and your friends on a tour to explore and enjoy the area's coastal dune lakes. Fun fact: lakes of this kind have only formed in a few locations worldwide. You can learn more about them here.
8. Pick up Mi Casita for authentic Mexican cuisine by the pool.
OK, this place may not look like much, but it's well worth walking through the doors. Despite its break with the refined look of the rest of the road's restaurants, this Mexican destination is the ultimate guilty pleasure. We suggest opting for the quesadilla burger–it's worth the calories.
9. Stop by Luke Bryan's cigar store, Shore Thing Cigars.
A recent addition to the 30A scene, this "lifestyle lounge" is the embodiment of the country star's easy-going hits. Fun fact: Bryan, as well as many other big names, frequent the Emerald Coast, so keep your eyes peeled for some familiar faces!
10. Play bocce ball in Rosemary Beach.
There are small, grassy areas dotted throughout Rosemary Beach that make for the perfect bocce ball courts. You can pick up a set from a local store to play casually or even compete in the community's annual Bocce Ball Tournament in November.
11. Eat the lobster mac and cheese at Café Thirty-A.
Or eat anything on the restaurant's delectable menu. With a cozy atmosphere, this place is popular for a reason. We suggest making reservations and stopping in early for a drink at the bar.
Travel tip: Entrées are buy one, get one free every night from 5 to 6 p.m.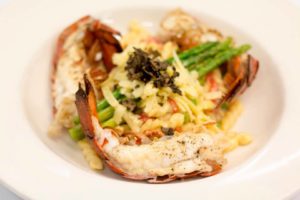 12. Get a massage at The Pearl.
Take a little time alone to reflect and re-center yourself at Spa Pearl in Rosemary Beach, which offers a variety of treatments, some of which utilize the healing and invigorating qualities of the ocean gemstone itself. For a full list of spa offerings, check out the menu here.
13. Have brunch upstairs at the Bud & Alley's beachside bar.
Located in the center of Seaside, this waterfront restaurant is a can't-miss, especially for brunch. The laid-back bar area features classic favorites like eggs Benedict paired with a menu of "sunrise cocktails."
14. Watch a concert and dine outside at The Hub.
Great for families, this "backyard party" offers a plethora of food and drink options as well as constant entertainment in its large courtyard. Be sure to check the venue's event schedule for everything from movies to live music to dance parties.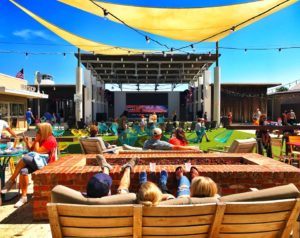 15. Grab a beach read at The Hidden Lantern Bookstore.
Forgot to pack some much-needed beach entertainment? Diane Brady Cravalho, owner of The Hidden Lantern Bookstore in Rosemary Beach, along with her team, are on hand to help you pick something new and perfect. The quaint bookstore features best-sellers and a slew of more obscure titles that are definitely worth a second look.
16. Attend Digital Graffiti.
Utilizing the iconic white walls of Alys Beach, this bright festival showcases the work of artists from around the world who combine art, technology and architecture to create larger-than-life masterpieces known as "photon bombings" or "urban projections." This annual festival brings these artists together for an experience like no other, all culminating in a huge celebration at Alys Beach's famed Caliza Pool.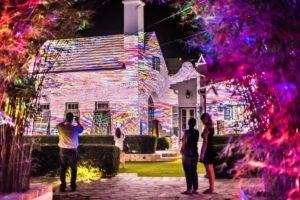 17. Behave or misbehave at George's.
Whether you're a "treat yourself" kind of person, or a strict adherent to healthy living, George's has something for everyone. With a menu divided into good and bad, but both equally indulgent, this restaurant is an Alys Beach staple that is worth the wait.
18. Try paddle board yoga.
Yoga on the ground is fun, but yoga on a floating board is a whole new experience. Run/Sup offers classes for every skill level, with group class options available.
19. Enjoy a bonfire on the beach, complete with s'mores.
What could be more picturesque than ending the day with an old-fashioned beach bonfire? Live Well will take care of all the dirty work by dealing with permitting, setup, cleanup, and even supplying freshly made favorites like barbecue or seafood, as well as games to keep everyone entertained.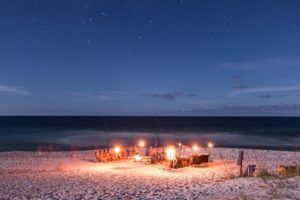 20. Have a Bloody Mary at The Red Bar.
Eclectic and definitely out of the ordinary, The Red Bar offers a funky atmosphere with nightly live music and amazing cocktails. Known down 30A, its bloody mary is actually the restaurant's "house salad."
21. Get lost on a wilderness trail.
As you drive toward the water, you might notice the beautiful landscape that surrounds both sides of Country Road 395 and beyond. Multiple State Parks are woven into the beach landscape with trails throughout for hiking, biking and more with the family. Here is a guide to some of the parks and trails throughout the area.
Travel tip: In the center of Grayton Beach State Park is Black Bear Bread Co., a vibrant bakery and café. We suggest stopping in for a bite after enjoying a morning among the trees.
22. Check out the cuisine in Airstreams in Seaside.
From snowballs to grilled cheeses to freshly made juices, the vintage Airstreams that line 30A in the center of Seaside are as delicious as they are adorable. The "architecture" actually harks back to the early days of the community when owners would live in the trailers while their homes were being built–dubbing them "land yachts." For a full list of Airstream restaurants, check here.
23. Take a picture in front of one of the smallest United States Post Offices.
In the center of the Airstreams is the quaint post office that serves the greater Seaside area. Painted a bright white and always bearing an American flag, this building is a great place to snap a picture of the kids–or the dog.
https://www.instagram.com/p/-etBzAp0XC/?taken-at=1180269
24. Try the shrimp and grits at Seagrove Village MarketCafé.
Despite recently upgrading to a brand new building, this restaurant has been a Seagrove staple since long before the days of million-dollar mansions and built-up neighborhoods. Opened in 1949 as a gas station, the comfort food on this restaurant's menu has become a tradition for families who frequent the area.
25. Get a taste of the world at one of the many wine festivals.
Good news–you don't have to travel all the way to Europe to try some of the world's best wines. In addition to permanent wine bars, like The Wine Bar in Watercolor, there are multiple festivals down 30A all year long. Some local favorites are the 30A Wine Festival, Sandestin Wine Festival and Seeing Red Wine Festival.
26. Dine with 360-degree views of the gulf at Pescado.
This restaurant is new to 30A, but its views are too beautiful to ignore. The rooftop bar and grill, located centrally in Rosemary Beach, is open from 3 to 10 p.m. daily and is absolutely Insta-worthy.
Travel tip: You must be 18 years or older to enter, so leave the little ones at home.
27. Buy a T-shirt from whichever community you're calling home.
T-shirt or it didn't happen, right? The classic shirts you've probably seen all over Baton Rouge and beyond are available at shops around each of the picturesque communities along 30A. Make sure to check multiple stores to ensure you see all of your color options.
28. Catch a glimpse of a surfing deer–or just eat there.
Because 30A lies near acres of preserved wilderness, for some early risers, the scene of deer playing in the surf has come to life. However, if you're not up for spending your time scoping out wildlife, you could just grab a drink and a seaside meal at the Surfing Deer in Seagrove.
Travel tip: This restaurant has views of the beach and is open for lunch from 11:30 a.m. to 2:30 p.m. Thursday through Saturday (during the summer). The bar area also hosts a happy hour with discounted drinks and dishes from 5 to 6:30 p.m. daily.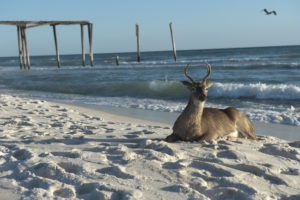 29. Shop 'til you drop.
There are plenty of high-end and specialized stores across 30A and Highway 98. For a beachy marketplace, check out Cabana (formerly Perspicasity) in Seaside. For bathing suits and everything trendy, check out one of Ophelia's locations. Shop Baton Rouge native Dee Keller's designs at Kiki Risa. Let your kids pick out something special at Seaside's premier toy store Duckies. Find one-of-a-kind pots, plants and more at Clay 30A. And learn more about all the shops in the area here.
30. RELAX.
Of course, the real reason you go to the beach–to sit in the sand and soak up the sun. The white sand beaches and turquoise waters that characterize 30A, and the entire Emerald Coast, are what dreams are made of. Whether you're with the entire family or just there for a romantic weekend getaway, the beaches that are within walking distance of every community offer an idyllic scene that is surprisingly close to home.
Travel tip: During major holidays like the Fourth of July, we suggest renting chairs rather than bringing out your own. Not only does it cut down on what you have to carry, but it saves your spot so you don't have to worry about waking up early to claim a space.