10 questions with Yoglates II co-founder Susan Marchand
For Yoglates II founders Susan Marchand and Lorilin Braymer, fitness is much more than just a trend. This duo has found the perfect workout that will leave even professional athletes exhausted and sweaty. But you don't have to be a fitness guru to participate. The studios' classes are designed for men and women of all ages and abilities and are held throughout the day. We sat down with co-founder Susan Marchand to learn more about why Yoglates is so effective and the special events the studio offers.
---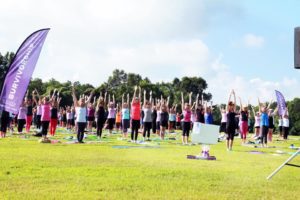 1.What is a typical day like for you and your team? A typical day for the Yoglates team consists of teaching five to six classes in one of our 90-degree studios. We provide a fusion of yoga, pilates and calisthenics, with a new routine every week. Our team is constantly analyzing feedback from each other and our members to make our program accessible and valuable to all fitness levels and ages. Classes begin at 5:30 a.m. and go throughout the day until our last class at 6 p.m. We also try to make sure every client feels valuable and gets the best experience possible each time he or she walks into the studio. And then there's the glamorous stuff like making sure we have toilet paper in the bathrooms.
2. What is your professional background? How did you get into the fitness field? My professional background started with a career as a registered nurse. I learned so much about the human body and its functions and malfunctions during my 16-year nursing career, so this was a very natural transition. I've always been interested in athletics and fitness, and I cheered for LSU in college. This kept me active at a time when most people quit any physical activities they were doing before, so I was lucky. I began practicing Yoglates almost 16 years ago and became certified and began teaching it shortly thereafter.  I fell in love with the program during my very first class, and I haven't looked back or found anything more effective and safe for my body.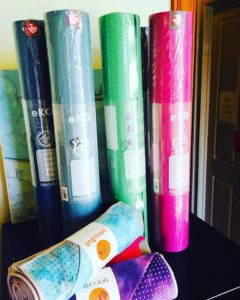 3. What are the first things clients see when they walk through the doors? Our clients walk in and see one big room, which is the actual workout space. They see lots of instructors and clients hanging around the desk or mingling. The studio is painted in a creamy white, and we have beautiful paintings by local artists adorning the walls. It's a very calm, serene space. Nothing fancy, though! We have a warehouse look that's perfect for sweating. Our Yogalates II South studio location is a mirror image, but has lobby space to accommodate more retail. We strive to maintain a similar look for both studios.
4. What sets your studio apart? The thing that sets our studio and workouts apart the most is that we provide total body conditioning, stretching, cardio and weight training without impact or the use of other equipment, all in 90-degree heat!  We design and change our routines weekly, and our members see results quickly and become "addicted" to the feeling the workout gives them without getting bored with the same old thing week after week. The heat allows for deeper stretching, increased intensity of the work, an increase in lymphatic and organ system detoxification, and a reduced risk of injury. And we aren't just a place to work out. Clients truly value the bonds they build with our incredible staff, as well as with each other. It's a family. Many of our instructors have been with us for over eight years, and their dedication rubs off on our members. Because they've taught our workouts for such a long time, they just keep getting better and better at it.  We stick to one thing so we can ensure our members always get what they came for.
5. What is one thing you think your clients should know about your studio that they may not be aware of? Our clients may not be aware that we work closely with LSU and its athletes to provide core rehabilitation, as well as strength and conditioning, lean muscle building, and balance and coordination. These athletes know that a strong core is essential to being successful in their sport. We are VERY proud to have worked closely with the LSU gymnasts in particular, who were SEC champions as well as second-place finishers at nationals for the second year in a row. You might even see the team in our studios this summer! We also train professional athletes, former LSU football players and normal people like me and you, every day. ANYONE can participate. 
6. How do you keep your studio's classes innovative and challenging? It's not always easy to keep our workouts innovative and challenging, but my business partner Lorilin Braymer and I work very hard to do just that. We are constantly evaluating and creating new routines that will be challenging and effective. We spend a lot of hours taking and teaching classes so that we feel what our clients feel. Lorilin and I have over 25 years of combined experience in Yoglates, and it's great when our creative juices are flowing!
7. Can you share a hint about what clients will see in your studio in upcoming months? People LOVE our 90-minute classes, which we usually hold only about once or twice a year.  We make it a big event with fun door prizes, healthy snacks and beverages after the workout and a variety of instructors participating in teaching parts of the routine. Look for these to occur more frequently throughout the year.
8. What was your reason for opening the studio? When did it open, and how has it grown or changed since then? We opened the current studio eight years ago because we believed in the program and knew that we wanted to make it accessible to anyone and everyone who wanted to feel as passionately as we do about it.  There was a definite need in Baton Rouge for a streamlined workout facility, and we were one of the first. We grew the business exponentially and opened a second location near Highland Road and the Country Club of Louisiana shortly thereafter. Baton Rouge has exploded in the fitness area since, with a boutique studio on every corner all advertising the latest "in" workouts. Yoglates has maintained a presence in Baton Rouge for over 18 years because we've remained true to what has worked. As fitness in our area has evolved, so have our workouts. Clients have become more fit than ever before, with higher expectations due to increased competition. And while other studios may attempt to imitate what we do in our studios, the work cannot be duplicated anywhere else.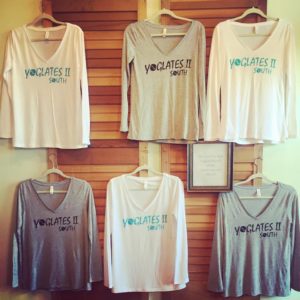 9. What are a few must-have items clients should bring to a class? Because the work is done on concrete floors, clients must have a yoga mat. We like Lululemon's 5mm "The Mat" and any Manduka Prolite mat, which we sell at both our Perkins and Highland studios. They also need a sweat towel and water bottle, and we do have rentals. We sweat A LOT.  It's recommended that clients come to class well hydrated and open minded. No judging goes on here.
10. What are some of your most popular events? Our most popular events are our 90-minute classes. We also love having classes in remote locations, such as our Yoga on the Roof event last June at the new Commerce Building downtown. We've also partnered with Lululemon and Magpie Cafe for an incredible event with over 200 attendees. Another favorite is Yoglates South's annual Yoga on the Lawn, which benefits the Mary Bird Perkins Cancer Center.  It's held at Mockler Beverage and led by April Hill.  It's a wonderful event for a worthy cause.