10 Questions with Rebekah Burch of The Priceless Collection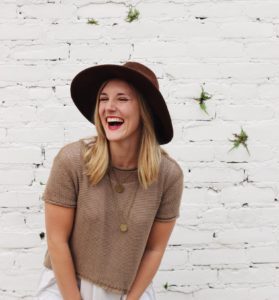 Drawing from an inspiring blend of symbolism, faith, advocacy and adventure, Rebekah Burch of The Priceless Collection has built a quickly growing brand while making a difference in the lives of women worldwide. Her handmade pieces each feature a coin from one of over fifty countries. The coins represent a triumphant paradox, their purchase serving to set women, purchased by such coins, free. Twenty five percent of the proceeds from sales of The Priceless Collection's products is donated to Freedom418, an organization that works to free women from human trafficking. Burch shares with inRegister the story of The Priceless Collection from its humble beginnings of a Peruvian coin on a chain, to its continuing mission to show every woman that she is, indeed, priceless.
---
1. What is a typical day like for you and your team?
A "typical day" is a much different phrase in our most recent stage in life due to just going "full time" with The Priceless Collection and also the addition of our sweet new baby girl, Haven Joy. She is almost three months old now, so I am currently learning how to balance working from my home office and raising her. However, as of recently, we have gotten into a pretty nice routine. Usually, I will spend the early morning getting us both prepared for the day. For me, that means spiritual and mental preparation for everything the day has to offer. I always start with my Bible in one hand, my coffee in the other, and soft worship music in the background. It keeps me focused on what is important, teaches me to trust in Jesus no matter the circumstances of the day, and gives me a supernatural joy that nothing else can. Then I begin to start my work day–checking emails, social media posts, making jewelry and customer care are all part of the daily routine. Weekly to-do's include sales tracking, inventory checks, website updates and content creation days (this is easily my most favorite thing to do). And then on a larger scale, we participate in retail and wholesale shows both here in Baton Rouge and in neighboring states. Occasionally, I have girls work for me part time to help me create jewelry and sell at shows, but for the most part, it's me and my fabulous family helping me along the way!
 2. What is your professional background? How did you get interested in jewelry?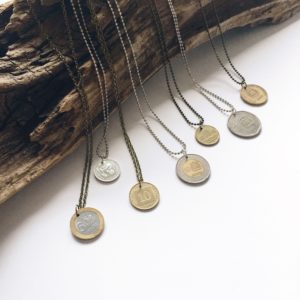 I initially started LSU with plans of becoming an interior designer, but one week into school, God changed my plans to Spanish. My love for Spanish (and travel) began when I went on my first mission trip to the Dominican Republic in 2011. When I was there, my heart immediately fell in love with sharing God's love with people, so I had a desire to learn another language to be able to share with them as well. Since that year, I have been out of the country 16 times, and the number continues to grow. On that trip, God implanted a love for people inside of me, and since then, my life's mission has been to make His love known to the world. In May 2015, I graduated with a B.A. in Spanish with a concentration in secondary education. However, during my time in college, a missionary couple came to our church and spoke on their ministry in the human trafficking realm, where they help women who have come out of trafficking in southeast Asia through rescue housing and a holistic healing program. Once they began speaking on the daily trials that these women face, my heart sunk. I knew that I had to do something to impact their lives, and I began to pray for a way to do so. Well, the next day, I was cleaning out my closet, and I discovered a box of coins that I had gathered while traveling throughout high school and college. Immediately, God brought these women back to my remembrance and told me, "These women are purchased with mere coins every night and are used for trafficking purposes. I want you to turn these coins into something in order to set them free and show them that they are priceless." HOLY COW. It was the most amazing moment. Immediately, I drilled a hole in one of my coins from Peru, strung it around a chain, and wore it for a year. After that year, I gathered coins from everyone I knew, built a website, and began The Priceless Collection in May 2015. Today, we donate 25% of our profits to those same missionaries and their organization, Freedom 418. With every purchase you make, we help provide women rescued from trafficking with rescue housing, career training, education and a gospel-centered curriculum. Never once did I see myself owning a jewelry business. But isn't that the coolest part of it all? God took my desires to make His love known around this world and gave me an idea on how to do it through everyday life. It's been a heck of a ride.
3. What do you hope a customer's first impression is when they see your pieces?
The most important part of our brand is the life-changing story and impact it provides to our customers. When someone sees that a simple piece of jewelry can help fight injustice, while also telling a part of their own unique story, my hopes are fulfilled. They are simple, minimal pieces, but they have a huge storytelling component that creates conversation and raises awareness for an ever-growing epidemic, and to me, that's what makes them so beautiful.
4. What sets your products apart?
The storytelling aspect, hands down. We currently have coins from over 50 countries in stock, so customers can choose which coins they want and then which setting to put it in. When a customer is able to pick a country that has a special meaning to them, it becomes that much more fun. I have had customers choose coins for all kinds of beautiful memories and stories–where they went on their honeymoon, where they adopted their child, where the child they give monthly support to lives, etc. I have also made the most beautiful pieces out of sobriety coins and other pieces. It's coins like these that make each piece unique and personal while also showing women rescued from trafficking that they are priceless.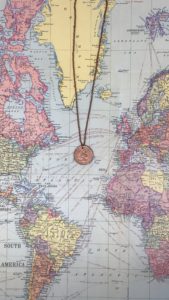 5. What is one thing you think customers should know about your business that they may not be aware of?
One of the newer things we have done is add a Coin Gallery to our website, so customers can see all of the coins we currently have in stock. You can scroll through countries alphabetically to see which coins we have from the countries offered and then purchase from our site with your desired setting!
6. How do you keep your inventory fresh and up to date?
Now that I am running the business full time, we have plans to release a handful of new items every spring/summer and fall/winter. I love introducing new pieces for our growing community and retailer partners, so they can continue to tell their stories and fight trafficking with a number of different items from our line.
7. Can you share a hint about anything new coming up for The Priceless Collection?
I am over the moon excited about one of our new spring/summer items! Let's just say it isn't a necklace or a bracelet … You're just going to love it!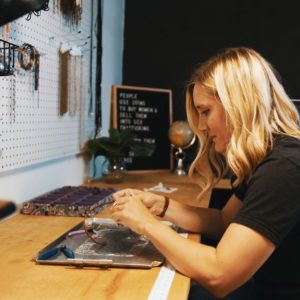 8. What was your reason for starting this business? How has it grown or changed since then?
As previously stated, it was all for the women rescued from trafficking. I actually originally started my own little corner of the internet as a blog titled "Praising Hands, Traveling Shoes" as a way to document and blog my travels and encourage others around me. When I had the idea to start The Priceless Collection, and saw that it was resonating with others, I eventually dropped the original name and converted the blog to a site for The Priceless Collection. It's crazy to see how much it has changed since day one. I can vividly remember the hideous WordPress site I threw together, and now seeing where my business is today, just makes me so giddy inside. Today, we are currently sold in 30 stores all around the nation, and our community following continues to grow. It's fun seeing how far we have come and where we are headed. I cannot wait to change more lives together as we press on in 2018.
9. What are a few of your favorite pieces?
My favorite staple piece is our Signature Necklace (in bronze). It is a gorgeous, minimal piece, easily stackable with our other items (or some of my other favorites), and truly highlights the coin of your choice, which always strikes up fun conversation. Recently, I love wearing our Charm Bracelet, which showcases all of the countries I have traveled to. This is a great piece for the world traveler, so you can wear the world on one piece.
10. What are some of your best-selling products?
Our best-selling products are our Signature Necklace (which comes in silver, bronze, and copper) and our leather wrap bracelet (which comes in brown and black). The best part? Customers have the ability to choose from over 50 country coins to personalize their piece!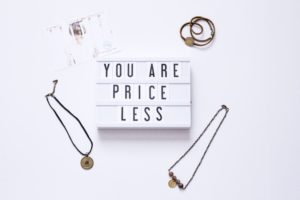 To learn more about The Priceless Collection's mission, and to shop the collection, visit thepricelessco.com.