10 Questions with Rebecca Gardner of The Hope Shop
Dignified work. Ethical manufacturing. One-of-a-kind products. Making a difference.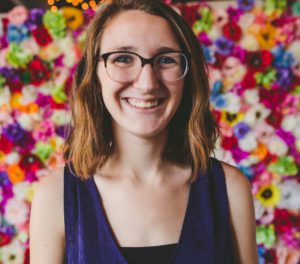 These ideals have long been on the heart of Rebecca Gardner, founder of the nonprofit Hands Producing Hope. After years spent developing her initiative to foster dignified work for women all over the world through ethically made artisanal products, she has finally brought that initiative into a permanent retail space. Nestled inside Light House Coffee, The Hope Shop offers a variety of unique products, all ethically sourced and all making an impact.
inRegister reached out to Gardner to learn about the causes represented in The Hope Shop, and the exciting new products to look out for.
---
1. What is at typical day like at The Hope Shop?  
The Hope Shop is a beautiful byproduct of collaboration and community. The shop opens right when Light House opens each day (as customers check out at the main register), and I am usually in there within a few hours of opening to restock inventory, merchandise, and check on things. Customers often meander in while waiting for their drinks to be made or when they need a break from their work.
2. What is your professional background? How did you get into the retail field? 
I am the founder of Hands Producing Hope, a local nonprofit that provides job training, dignified work, education and mentoring for disadvantaged women around the world. We create and sell various artisan products, so for the past five years I have been working as a fair-trade brand, selling our products to retail stores and directly online. So while this is my first time in a permanent retail space, I have been around different fair-trade brands and have seen how retail stores function.
https://www.instagram.com/p/BkVIr5sgTnH/?hl=en&taken-by=thehopeshopbr
3. What is your reason for opening the store? 
I started this shop to bring the ethical brands that I know, love and trust to Baton Rouge. Being in the nonprofit and fair-trade world, I have had the opportunity to learn about and even become friends with people at so many amazing organizations that are providing meaningful work and life-changing services all through the fair-trade model. Buying ethically is important but can feel overwhelming to people at times. I wanted to start this shop to create an easy avenue for people to shop and know it was making an impact in someone's life. I also wanted to create a space where my Hands Producing Hope products could be available all the time so locals don't need to shop online but can come in The Hope Shop and always find any HPH product they may be looking for.
4. What are the first things customers see when they walk into the space?
The first thing that will likely catch their eye is our beautiful peg-board wall that houses anything from fair-trade jewelry and give-back T-shirts to refugee-made wall hangings. The next thing that may catch their eye is the stunning Honduran pillows sitting inside a eco-friendly wicker basket. A recent draw has been our shelf of notebooks and cards by Pen+Pillar, an awesome company that gives to local refugee resettlement organizations. Each shelf has something unique on it to browse through.
https://www.instagram.com/p/Bj78xAUgJZr/?taken-by=thehopeshopbr
5. What sets your store apart? 
Every single product in the shop is ethically made and is making a significant impact around the world. It showcases products you'd already want in your home or to give as gifts but that are made by women coming out of trafficking or indigenous women in remote areas of the world. In our shop, you can confidently pick up any item and know that it is not only well made but doing good in the world around you.
6. What is one thing you think customers should know about your store that they may not be aware of?
We have something for everyone! I work hard to keep our prices affordable and to keep a wide range of products in the shop. I want college students and parents alike to find something they love as a gift or for themselves. I want ethical shopping to be accessible, fashionable and affordable. I believe The Hope Shop is achieving all of those things.
7. Tell us a little bit about The Hope Shop's vendors.
Each vendor is unique in its impact, but their common thread is that they are ethically made and are making a global impact with every purchase. Rahabs Rope is the brand that sells our favorite recycled journals and headbands. The brand works with women coming out of sex trafficking in India. Prosperity Candle makes stunning candles and employs refugees resettling in the U.S. And of course, Hands Producing Hope is in the shop and we have handwoven baskets, jewelry and wall hangings that provide employment and education for disadvantaged women around the world (and here in Baton Rouge!).
https://www.instagram.com/p/Blq6aB8gWsN/?hl=en&taken-by=thehopeshopbr
8. Can you share a hint about what shoppers will see in your store in the future? 
We haven't announced this yet, but really soon we will be getting in beautiful handmade cards from Good Paper, and later this fall we will be getting one of my favorite items in the world–handmade mugs! Be on the lookout on our Instagram for more info soon.
9. What are a few must-have items? 
A unique wall hanging is definitely a must-have in our shop. They are handmade by local refugees here in Baton Rouge and are stunning. Another must have is our large tote bag from Rahabs Rope–it's sturdy, unique and oh so lovely.
https://www.instagram.com/p/BiCTOVSAc7n/?hl=en&taken-by=thehopeshopbr
10. What are some of your best-selling items? 
Items we can barely keep in stock are the journals and headbands from Rahabs Rope, the Kaia bar necklace and Splendid Strands bracelet from HPH, and our woven goods from Freeleaf!