10 Questions with Painting with a Twist manager Meagan Smith
At Baton Rouge's Painting with a Twist studio, anyone can be an artist. Our local studio of the nationally recognized Paint and Sip franchise started by New Orleans natives in 2007 offers a judgment-free haven of color,  creativity and good times. Manager Meagan Smith shared with inRegister what she hopes Painting with a Twist customers leave the classes with, besides their paintings.
1. What is a typical day like for you and your team?   
The daytime is pretty relaxed during the week, setting up private parties and registering guests for upcoming classes. The evenings and weekends are when the excitement really happens. We start by setting the stage and the classroom for the featured painting. Guests are welcome to arrive a little early to socialize and start getting "twisted." Once the class begins, we spend the next two or three hours teaching the chosen painting, step by step. Our main goal is to end the class with happy, confident guests who feel pride in what they have accomplished, while having a great time!
2. What is the history of Painting with a Twist? When did it open, and how has it grown or changed since then? 
Painting with a Twist began after Hurricane Katrina, when two enterprising ladies, Cathy Deano and Renee Maloney, wanted to rebuild their community while at the same time giving everyone an outlet to relax and enjoy themselves. The first classes were held in Cathy's barn, but since then they have expanded to 365 franchised locations across the country.
3. What is your professional background? Have you always been interested in art? 
I earned a Bachelor of Arts degree in art history with a minor in oil painting from the University of South Alabama in 2004. After that, I pursued a bachelor's of psychology at Southeastern Louisiana University, which I received in 2007, with the hopes of incorporating art and therapy together. I have always loved art. Even as a child, I was constantly doodling. Once I discovered colors and paint, I realized that was where my heart lay. Colors, particularly with oil and acrylic paints, have endless and amazing potential.
4. What is it like inside the Painting with a Twist studio? 
Painting with a Twist is first and foremost a place to have fun. Yes, we are teaching you techniques, but if you aren't having a great time, then we missed the mark. As we say, "We are Fun Art, Not Fine Art!"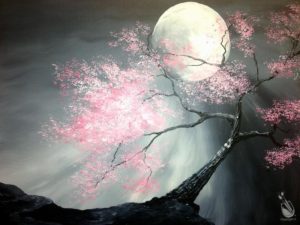 5. What sets your company apart? 
This studio is not only a part of the No. 1 "Paint and Sip" franchise in the country, but we are also No. 1 in Louisiana and No. 12 in the nation. Baton Rouge studio has amazing instructors, helpful friendly staff, and a great selection of paintings. Our online gallery has thousands of paintings. We find the best paintings in the gallery and bring that selection to the customer each month. There is always something fun, new and different to choose from.
6. What is one thing you think customers should know about your classes that they may not be aware of? 
We have so many paintings to choose from, and some may be a bit intimidating for first-timers. In actuality, all of our paintings as designed for everyone. If there is a difficult shape, we will have a sketch or stencil to help them along the way. We know people come here to have a good time, not to stress out.
7. How do you keep your ideas for paintings up to date? 
We have over 365 studios in the Painting with a Twist family. Artists from across the country help build the library and make it as large and diverse as it is with almost 9,000 paintings.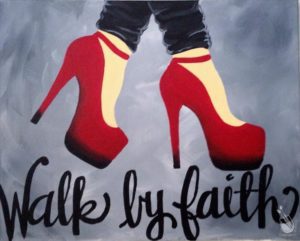 8. Can you share a hint about anything fun coming up this summer? 
We have three kids' camps coming this summertime. Kids' camps are a great way for fledgling artists to explore their potential. We will do a different painting each day and a big self-portrait throughout the week. Each camp will have a different theme: Across the Country June 4 through 8, Into the Deep June 25 through 29, and It's Magical July 16 through 20. 
9. What are some paintings that have been favorites over the years?
We have a great selection of paintings to choose from, but there are a few classics that are always customer favorites. Some of our most popular paintings are "Walk by Faith," "Happy Hydrangeas," and "Wicked Moonlight."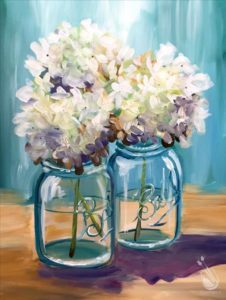 10. Do you have any tips for first-time painters at Painting with a Twist? 
Painting can be very intimidating for a first-timer, and oftentimes people do not realize how important the brush strokes are. You are twisting and turning the tip of the brush to lay down the paint & create the image–only ever working with the paint on the end of the brush. I recommend playing with the brush strokes and getting comfortable with the shape and size before trying to create a painting for the first time. The great thing about acrylic paint is that it dries very quickly and you can paint right over any "mistakes" you may have. However, the most important thing to remember is to have fun and don't give up because practice makes perfect!
For more about Painting with a Twist, visit paintingwithatwist.com.