10 questions with Gabe Daigle of Mid City Craft Wine & Brew
The streets of Baton Rouge's Mid City are home to another new local jewel. Owned by brothers Gabe and Jacob Daigle, Mid City Craft Wine and Brew opened its doors just a few weeks ago, offering regional and family-owned craft beers and wines. We reached out to Gabe for all the details on the shop's mission to feature small-production brands and for his recommendations on some of the best.
---
1. What is a typical day like for you and your team?
Mid City Craft's team is a small one. We have two employees outside of my brother, Jacob, and me. My wife Robin handles social media. A typical day consists of receiving products from our vendors and building displays. We often meet with wine makers and breweries in order to understand their stories. Our focus is on small-production, family-owned brands. Every brand has a story.
2. What is your professional background? 
I studied graphic design at LSU before leaving school to tour with my band, Becky Sharp, after signing a record deal with MCA. Then I worked in wine distribution for 12 years for a few different companies in New Orleans and Baton Rouge.
3. Have you always been interested in craft wine and beer?
I've always represented small-production, family-owned wineries as a sales representative in distribution, so it was a natural fit. Craft beer is exciting and growing so quickly. The sky's the limit. These breweries have a real knack for design and recipe. Plus, the visual aspect of the products add so much to the feel of our store.
4. Mid City Craft and Brew just opened very recently. How have the past few weeks been?
Business is good. The neighborhood is excited that we are here, and we are excited to be a part of Mid City.
5. What sets your company apart?
The shop itself. It's open and clean, and our staff is approachable, so if you have questions, just ask. Wine makers are farmers who make you feel at home in their vineyards. Mid City Craft wants you to feel the same way.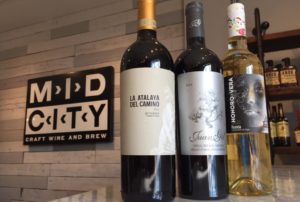 6. What is one thing you think customers should know about your products that they may not be aware of?
Don't be afraid of wine in a can. There are amazing wines for under 15 bucks! Also, ask about natural wines because it is a trend that is not going away, and they really are delicious. The world of craft beer is an easy transition if you love wine. Try a sour.
7. How do you source your products?
We taste, and if we like it, we buy it. We also educate customers on our products with free tastings every Thursday from 5 to 8 p.m.
8. Can you share a hint about anything to look forward to this summer?
We are expanding our beer department!
9. What is your favorite craft beer you offer? Wine?
I'm liking Gnarly Barley's lineup. They are one of the fastest-growing breweries in the country. We've got a large variety of summer-wine-based cocktails that are French and perfect for the pool, beach and backyard barbecue. You should try Pampelonne Sparkling Wine Cocktails. They're already a big hit.
10. What is your best-selling product?
Actually, the first night we were open for the Art Walk, we sold more Mid City Craft Wine and Brew shirts and hats than anything else. It was encouraging, to say the least!
To learn more about Mid City Craft Wine and Brew, visit its website here or follow along on social media here and here.