10 questions with Caroline Boudreaux of Southern Marsh
Back in 2008 before its takeoff, Southern Marsh was sold strictly by word-of-mouth. Since then, the Baton Rouge-based brand has catapulted itself to Southern-style stardom. Arguably one of the most easily recognized brands in the South, Southern Marsh has a strong presence in stores across the country. For Caroline Boudreaux, the senior graphic designer at Southern Marsh, this success is due largely in part to the brand's desire to tell the story of a Southern lifestyle through high quality, versatile products. We sat down with Boudreaux to learn more about Southern Marsh and the process behind its classic designs.
---
1. What is a typical day like for you and your team at Southern Marsh?
Every day is something new— we may be putting the finishing touches on T-shirt designs, coming up with patterns for pullovers, brainstorming ideas for upcoming seasons, or designing new features for our website and marketing emails. No matter what our tasks are for the day, there's always a large degree of team collaboration.
2. What is your professional background? How did you get into the retail field?
Ever since I can remember, art and design have been part of my life, and it was my love of painting and fine art that led to my career in graphic design. I began working at Tilt, a local design agency, while I was finishing up my degree at LSU. We handled projects ranging from corporate websites to craft beer labels, and over the five years spent there, I was able to gain experience in all facets of the design process. In addition to my day job, I also stayed very busy with commissioned paintings. Ultimately, this combination of fine art and graphic design skills proved to be a great fit for Southern Marsh and the ever-changing trends in the fashion industry.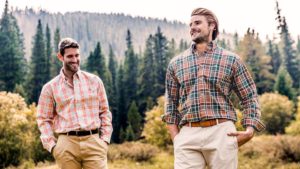 3. What was the idea behind Southern Marsh?
The original idea was to create high-quality, comfortable T-shirts that tell the story of Southern culture and the lifestyle that goes along with it. The founders wanted to create a brand that people could relate to in a real sense, and I think we've done a great job of continuing that idea into our current line of products.
4. What sets Southern Marsh apart from other clothing brands like it?
Whether it's a fine, embroidered pocket logo or a unique garment dye, we are always paying attention to the details. A lot of thought and revisions go into the creation of each product and our customers can really tell the difference.
5. What is one thing you think customers should know about Southern Marsh that they may not be aware of?
Southern Marsh has a long-standing tradition of supporting land and wildlife conservation. Since 2013 we've helped place nearly 10,000 acres of land into conservation easements, providing permanent, legal protection for land that in turn provides benefits for the environment, wildlife, and surrounding communities.
6. How do you keep your inventory fresh and up to date?
Everyone on our team keeps up with current trends and contributes to the brainstorming process for future seasons. We also make sure to pay attention to our customers' needs and continually build on what we learn from past seasons.
7. Can you share a hint about what shoppers will see with Southern Marsh next season?
In the spring, customers will notice the addition of several new performance styles for men, women and kids. We're also offering a large variety of new colors and patterns so our customers will have several options when it comes to making a selection from our spring line.
8. How has Southern Marsh changed or grown since its beginning?
Southern Marsh has really grown over the past 10 years. We started selling T-shirts in 2008 by word-of-mouth, and now we have thousands of products in hundreds of stores across the United States. In addition to tees, we now have dress shirts, polos, shorts & pants, loungewear, swimwear, outerwear and lots of accessories. We expect this growth trend to continue as we are constantly adding to our product offering and bringing more team members on board.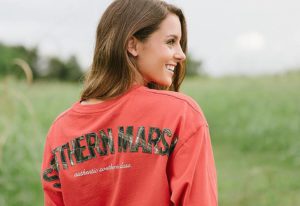 9. What are a few must-have items this season?
We made several new outerwear pieces this winter that our customers loved—one of them being the Pawleys Rope Pullover with its unique style that combines the look and feel of a high-end sweater and the comfort of a pullover. We also released our first line of flannels this season, and they've been a hit with our customers (and most of the Southern Marsh team). They're made of super-soft brushed flannel with corduroy detailing on the inner neck & cuffs for that custom look we're known for. And I couldn't talk about must-haves without bringing up our Sherpa pullovers. The Appalachian Peak Sherpa Pullover is the new patterned version of on one of our most popular products. A bold Aztec-inspired pattern mixed with extra-fluffy fleece is a definite must-have for this season.
10. What are some of your best-selling products?
All of our best-sellers are staples in any Southern closet: comfy T-shirts, performance polos, and fleece pullovers. These products are our best-sellers because they're classic, versatile styles designed with the utmost care and made with the highest quality materials—and they've only gotten better over the years.
To learn more about Southern Marsh and to shop the items mentioned here, visit southernmarsh.com.